Pomegranate Banana Smoothie
This post may contain affiliate links, meaning that I may receive a commission at no cost to you if you use a link provided. All opinions shared are my own. You can review my full disclosure policy here.
A Pomegranate Banana Smoothie that is healthy and delicious! A great treat for the new year!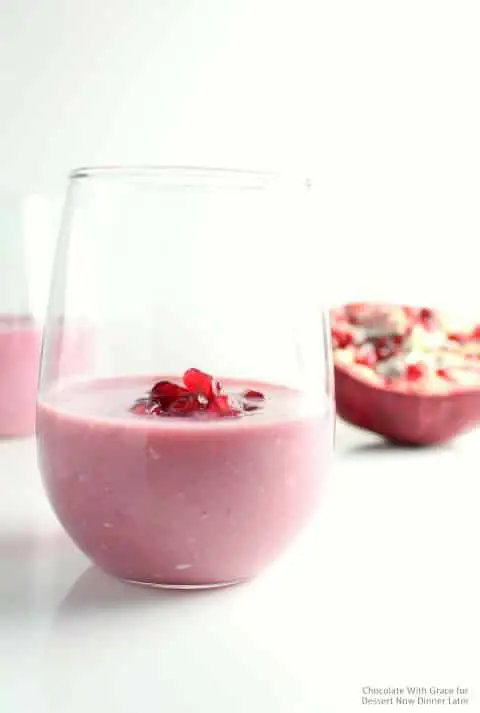 Hi Friends! It's Mallory again from Chocolate with Grace. Christmas is over and the sweets are gone. Although that makes me a little sad (I've been lovin' these molasses crinkle cookies!), its definitely time for me to start eating healthier again. The flu has been making serious rounds in my family, so I need to make sure that I'm getting lots of healthy fruits and vegetables.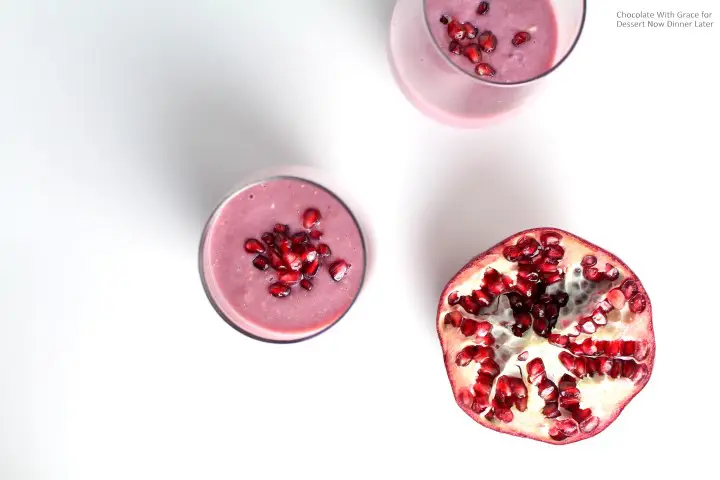 This time of year it can be hard to find good fruits and vegetables in season. Forget the strawberries and blueberries, they're either mushy or way too expensive. Some of my favorites fruits to buy in the winter are oranges, grapefruits, kiwi and pomegranates. Right now, I'm eating all the pomegranates I can get my hands on. There is something about those bright red little jewels that make a person happy.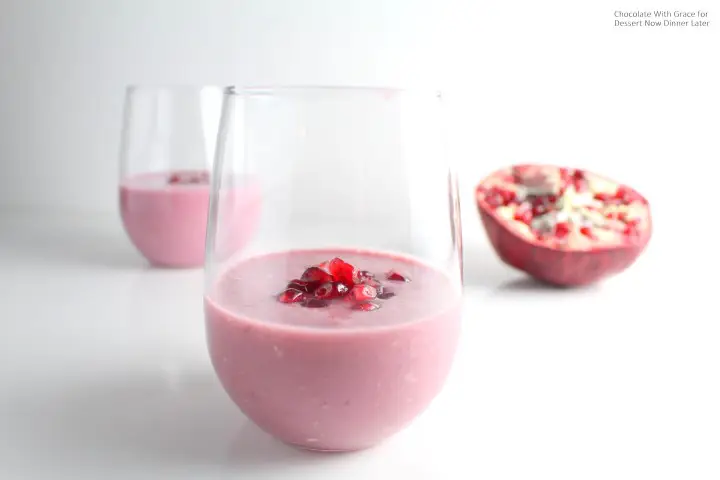 Making this smoothie is a snap too. Especially for those early back-to-work mornings when no one wants to get up early just to make breakfast. It's about 4 ingredients that get thrown in a blender until smooth. I used the actual pomegranate arils in this smoothie, but I will put up a fair warning that using them will give you a textured smoothie from the seeds, and I wouldn't recommend it for a wimpy blender, either. If a textured smoothie doesn't appeal to you, feel free to substitute pomegranate juice instead. Just be sure to cut down the other liquids and add a bit extra banana. I love the banana paired with the pomegranate; its smooth sweetness compliments the tartness of the pomegranate perfectly.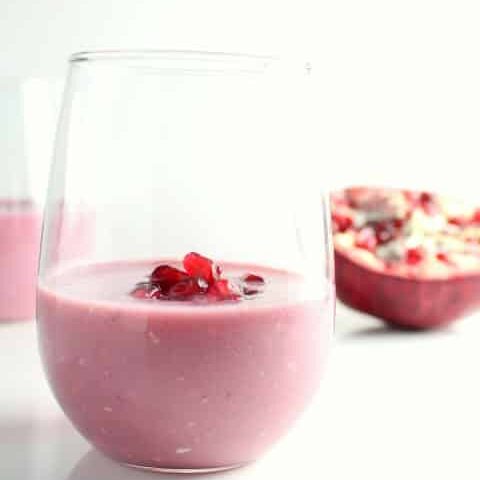 Pomegranate Banana Smoothie
The banana in this Pomegranate Banana Smoothie pairs so well with the tartness of the pomegranates and makes a delicious and healthy treat.
Ingredients
1 ripe banana
3/4 cup pomegranate arils, the jewels/seeds
1/3 cup Greek yogurt
4 to 5 Tablespoons of milk or pomegranate juice to thin to desired consistency
Instructions
Place banana, pomegranate arils, greek yogurt and milk into a blender. Blend until smooth and serve immediately.
Please note, using the pomegranate arils in the smoothie will make it textured. For a smoother texture, use pomegranate juice and add a few strawberries or increase the banana.
Nutrition Information:
Yield: 1
Amount Per Serving:
Unsaturated Fat: 0g
Check out these other healthy recipes for your new year.
Pear and Gorgonzola Quinoa Salad