Single-Serving Triple Berry Cobbler
This post may contain affiliate links, meaning that I may receive a commission at no cost to you if you use a link provided. All opinions shared are my own. You can review my full disclosure policy here.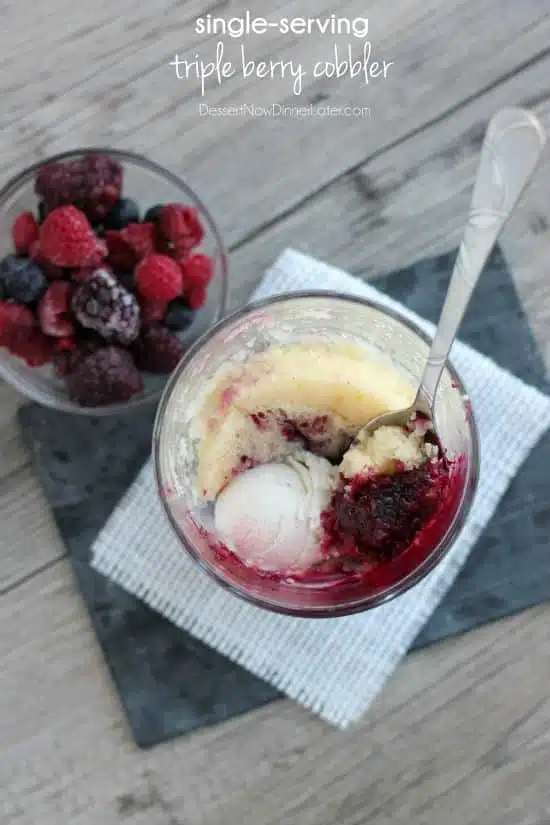 You know those days where your sweet tooth is raging, but you feel like you have nothing good to munch on? Or you don't want to bake a whole cake or full batch of cookies because you know you are going to shamefully eat most of it yourself?
Well, this Single-Serving Triple Berry Cobbler is the perfect fix for a sugar craving and I typically have all of the ingredients on hand because I love frozen fruit for my morning smoothies.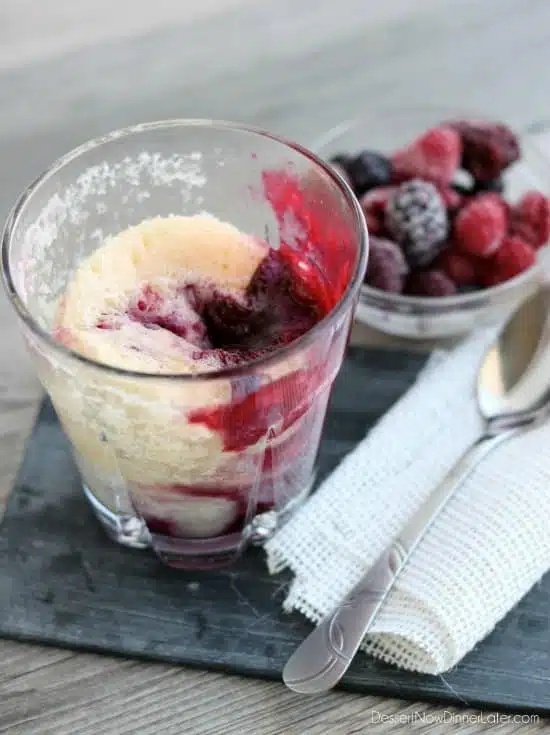 This single serving cobbler is the kind of cobbler with fruit on the bottom and cake on the top. It's not the crisp/biscuit type cobblers, just to make things clear. I was pretty darn shocked that my cake turned out moist and fluffy from the microwave as well. This dessert was just awesome!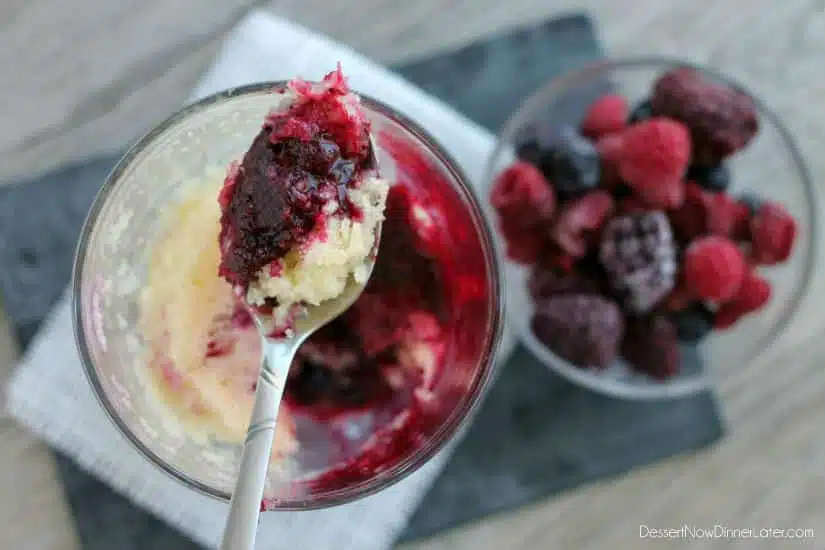 If you happen to have vanilla bean ice cream in your freezer, then this is even more delicious, because who doesn't like warm desserts with cold, melting ice cream on top?!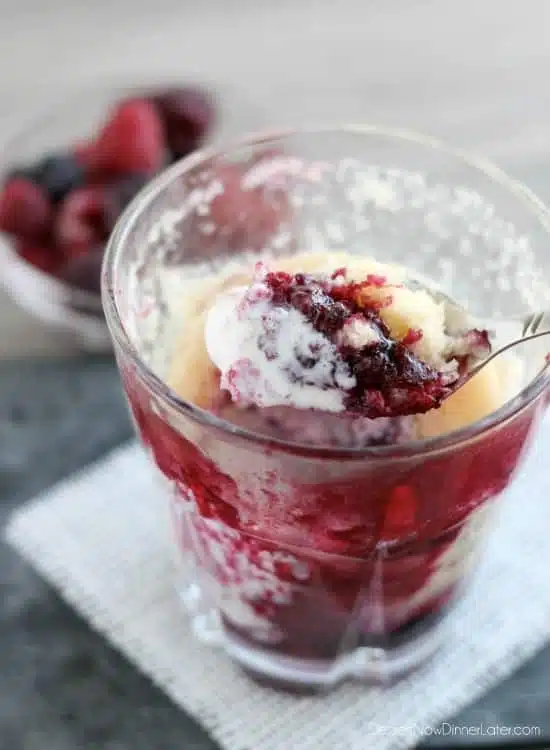 Microwave desserts are just the best! Have you tried my Apple Crisp for One or my Single Serving Chocolate Cake? These kinds of recipes are the best to have on hand for those "NEED. SUGAR. NOW!" moments. I hope you like this microwave fruit cobbler concoction!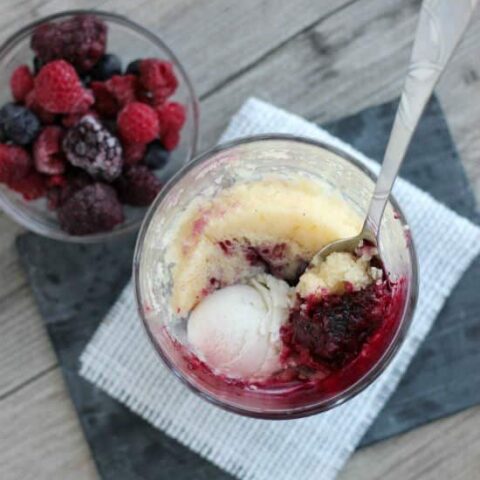 Single-Serving Triple Berry Cobbler
Ingredients
Berries:
1/2 cup frozen triple berry blend berries (blackberries, raspberries, & blueberries)
1/2 Tbsp sugar
1/2 Tbsp cornstarch
Vanilla Cake:
1/4 cup flour
1/8 tsp baking powder
1 1/2 Tbsp sugar
1 Tbsp butter, melted
3 Tbsp milk
1/4 tsp pure vanilla
Instructions
In a mug or microwave safe glass cup (that holds at least 1½ cups of liquid) combine the berries, sugar and cornstarch. Fold with a spoon until everything is covered in the sugar/cornstarch mixture. Microwave 1 minute.
Meanwhile, in a small bowl, combine the flour baking powder and sugar. Stir. Add the melted butter, milk and vanilla. Whisk until only small lumps remain. Pour mixture over the fruit and microwave for an additional 2 minutes (the cake will puff up and be cooked through.) Eat warm with a scoop of vanilla bean ice cream if you have it.
*Note: You can eliminate microwaving the fruit separately and immediately pour the cake batter on top; microwave 2 minutes instead of 3 minutes total. The only difference is that the cake batter drips down between the fruit so the fruit is more within the cake instead of below it.
Nutrition Information:
Yield: 1
Amount Per Serving:
Unsaturated Fat: 0g