Blueberries & Cream Pie Parfaits
This post may contain affiliate links, meaning that I may receive a commission at no cost to you if you use a link provided. All opinions shared are my own. You can review my full disclosure policy here.
As you know, some of my blog buddies & I are doing a Sink or Swim party themed giveaway this week. We have also decided to do a virtual party of our own. Just combine all of our blog posts & you can have one fun beach party!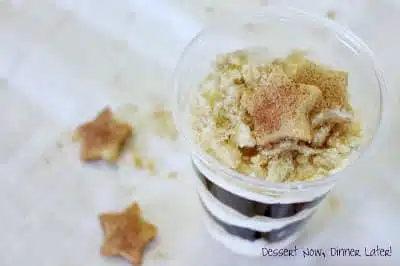 I am contributing dessert for the party. I thought it would be fun to make a Sandy Beach type parfait. So I am sharing one of my favorite pies, layered into a parfait. The pie crust is the sand & I even cut out some stars to use as "star fish." We gobbled these up real quick!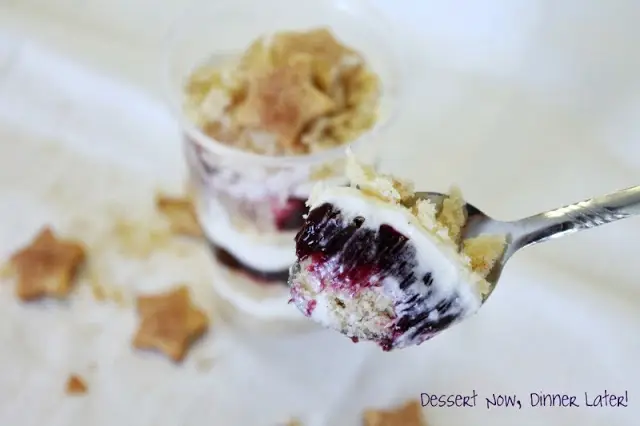 Check out what the other girls made & you will have everything you need for a beach party of your own!
Artsy Fartsy Mama: Printable Nautical Thank You Cards Cupcake Diaries: Cookie Oysters Not Picture Perfect: Summer Party Games
Events to Celebrate: Decorations for a Swim & Splash Party Dessert Now Dinner Later: Blueberries & Cream Pie Parfaits Homemade Toast: Sea Salt Scrub The Bucket List Girl: Tillamook Ice Cream Sandwich
Clarks Condensed: Summer Fruit Cobbler Like Mother Like Daughter: 7 Layer Dip Our Thrifty Ideas: Party Pleasing Potato Salad Rae Gun Ramblings: Mermaid Cookie Pops
Don't forget to enter the giveaway! You can win some fun kitchen gadgets & party supplies. It ends Sunday night! Just click the link below & fill out the Rafflecopter.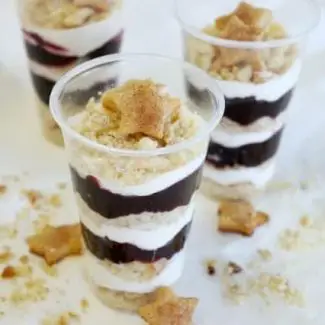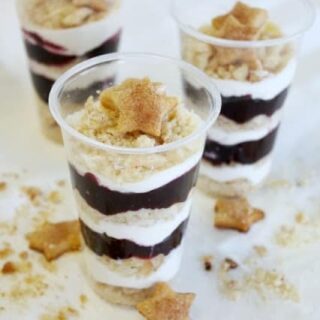 Blueberries & Cream Pie Parfaits
Ingredients
1/2 cup butter flavored Crisco
1/2 tsp salt
1 1/2 cups all-purpose flour
1/2 whisked egg
2 1/2 Tbsp ICE cold water
1/2 Tbsp white vinegar
Cinnamon Sugar
10 oz frozen or fresh blueberries
1/4 cup sugar
3 Tbsp corn starch
1/4-1/2 cup orange juice or water
8 oz cream cheese
1/2 cup sugar
1 cup cool whip (or 1/2 cup heavy cream + 2 Tbsp powdered sugar, whipped)
Instructions
For the pie crust: In a bowl, combine salt & flour. Cut Crisco into flour mixture with a pastry blender or fork. Add egg, water & vinegar and work dough into a ball. Flatten, double wrap with plastic wrap & let sit in the freezer for 10 minutes.
Remove pie crust from freezer & roll out to about ¼" thickness on a floured surface. Cut out several stars now. Place stars & extra pie crust onto an un-greased baking sheet. Sprinkle tops with cinnamon sugar & bake at 425*F for 6-8 minutes or until golden brown. Remove from oven & cool completely.
Meanwhile, to make blueberry pie filling: Combine sugar & cornstarch together. Pour over blueberries in a small saucepan. Stir. Cook over medium heat, stirring constantly, until mixture bubbles, berries burst, & it becomes thick. Add enough orange juice to thin it out, but still coat the back of a spoon. Allow to cool completely.
For the whipped cream cheese: Place cream cheese & sugar into the bowl of a stand mixer with the whisk attachment. Whisk until sugar dissolves. Add Cool Whip & whisk on high until the whisk leaves ripples in the cream cheese mixture. Keep cold until ready to assemble.
To assemble: Break up the pie crust, except the stars, to make crumbs. In small, clear, plastic cups, layer alternately with crumbs, cream cheese, & blueberry filling; starting & ending with crumbs. Place stars on the very top layer for decoration. Enjoy!
Nutrition Information:
Yield: 6
Amount Per Serving:
Unsaturated Fat: 0g