Cafe Rio Style Cilantro Ranch Dressing
This post may contain affiliate links, meaning that I may receive a commission at no cost to you if you use a link provided. All opinions shared are my own. You can review my full disclosure policy here.
This Cafe Rio Style Cilantro Ranch Dressing is tangy, super creamy, and has a just the right kick of jalapeño. You'll want to put it on everything!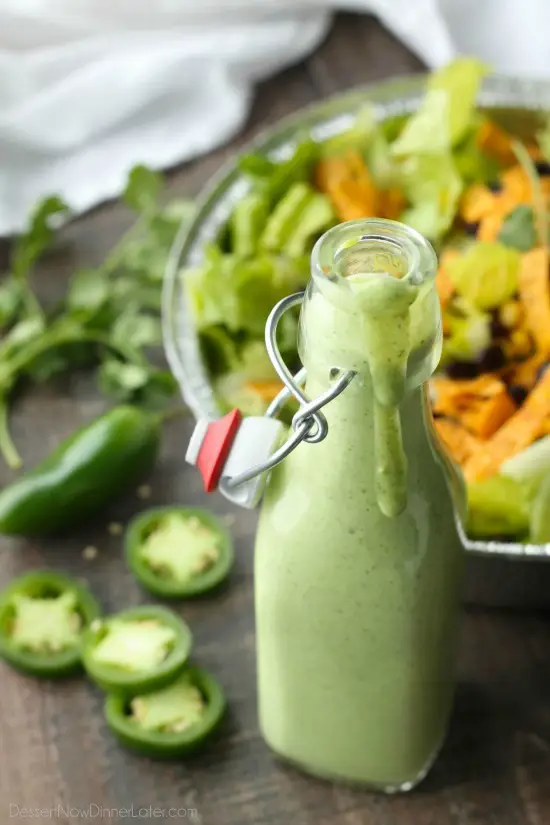 I have literally had this Cafe Rio Dressing recipe in my back pocket for 9 months now. My mom made it at one of our get togethers and I was like, "I NEED that recipe!" So she emailed it to me and I've been meaning to post it, but I kept putting it off, and then it didn't seem seasonally appropriate in the middle of all of the end-of-year holidays.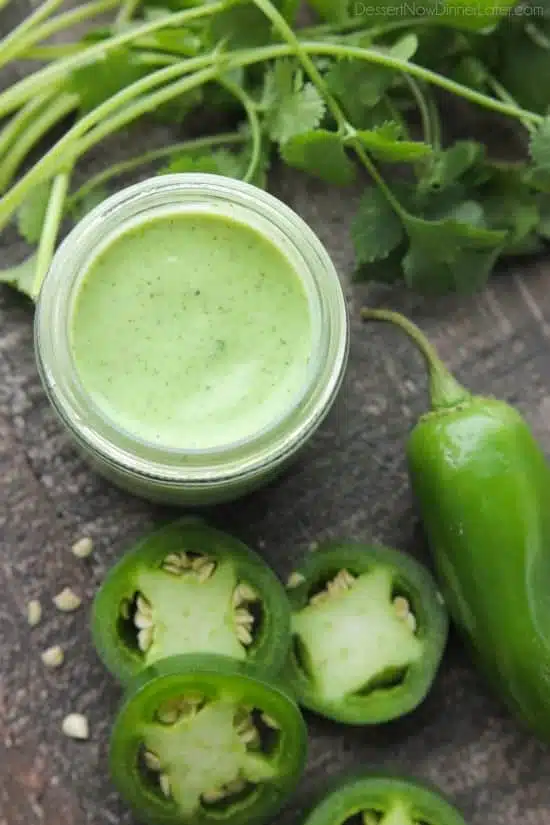 But, with the new year and the hope of spring on everyone's minds, I thought now would be the perfect time to share this Cafe Rio dressing recipe with you all.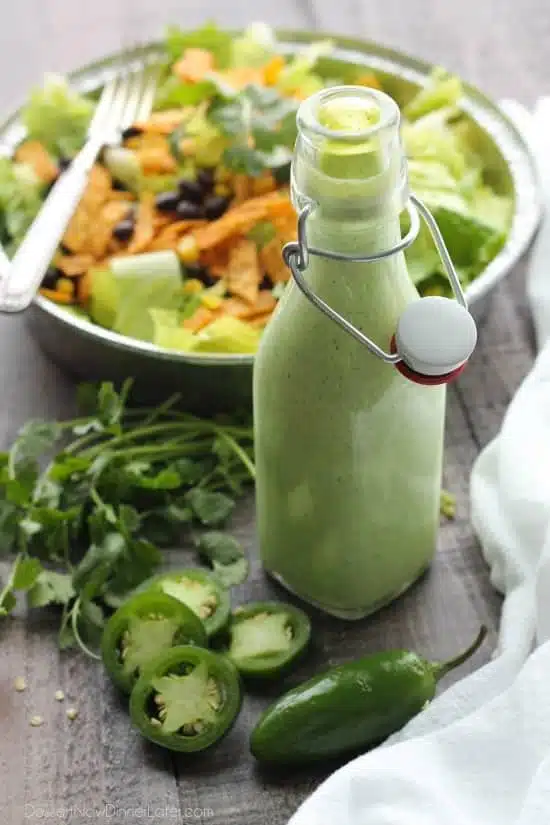 Now, I do have a small confession to make. I actually like Costa Vida better than Cafe Rio, even though they are basically one and the same. We just happen to have more coupons to use at Costa Vida (I'm a frugal gal, what can I say?) and they have a horchata machine with unlimited refills. That's a win-win for me.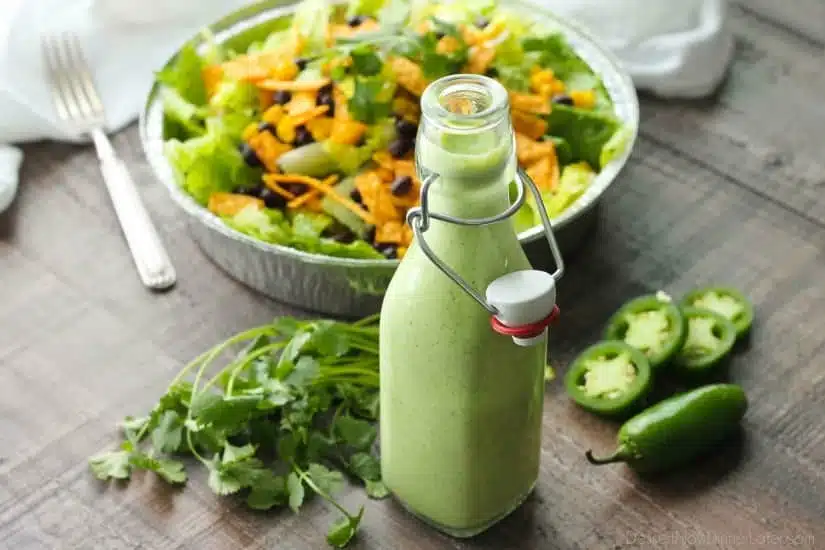 Either way, this Cafe Rio dressing is tangy, creamy, and has a nice kick to it. The original restaurant recipe uses tomatillos, but I can't always find those at the supermarket, and you honestly can't tell a difference anyway. Plus, having less ingredients makes this even easier to make!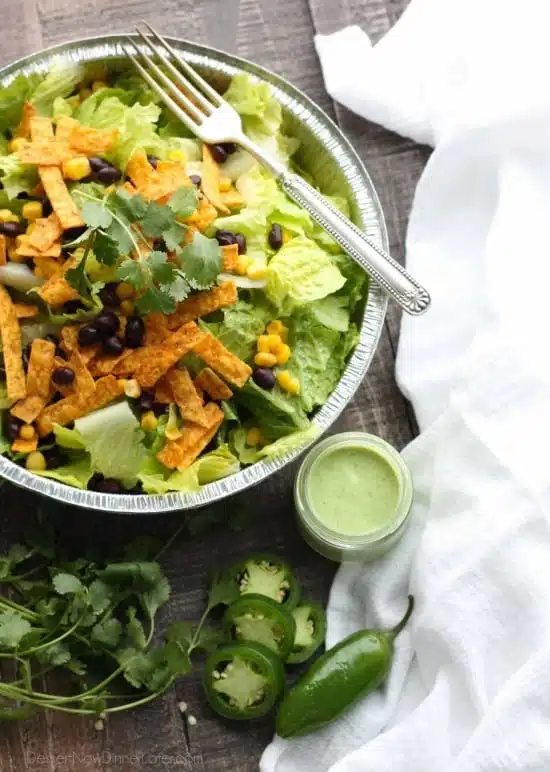 I will say, this homemade version is quite thick. So be prepared to add extra buttermilk, milk, or even water if you want it as thin as you get it at the restaurant.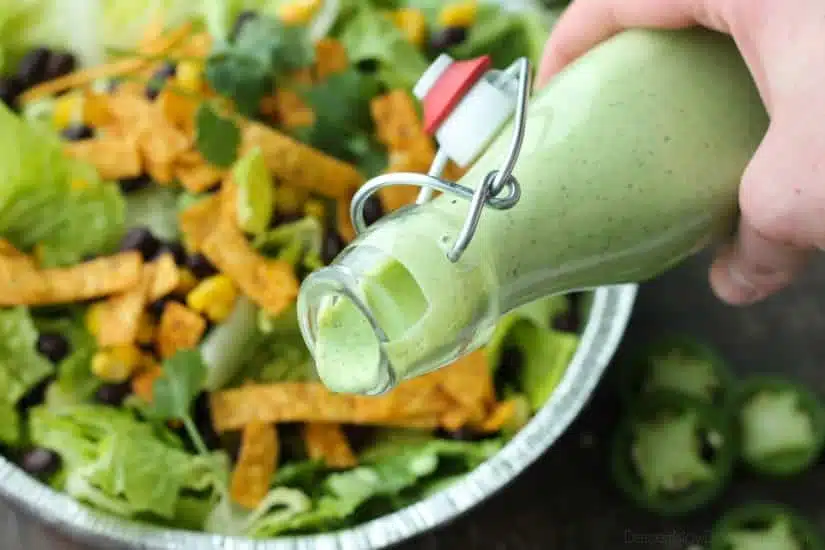 If anything, I can guarantee that you will be licking the bottle clean! It's so good, you will want to put it on EVERYTHING! It's basically grown up ranch dressing. Enjoy!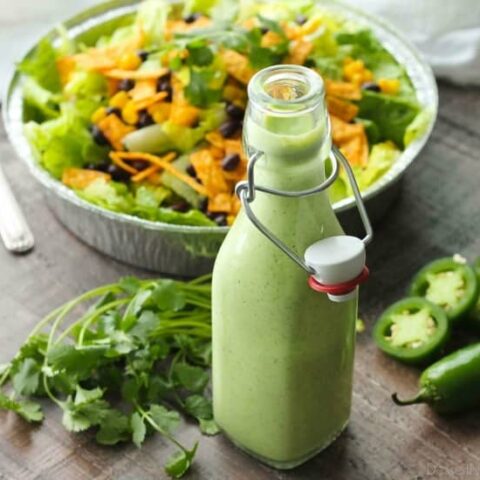 Cafe Rio Style Cilantro Ranch Dressing
Ingredients
1 packet dry ranch dressing mix (I prefer Hidden Valley Original/Buttermilk Dry Ranch Dressing Mix)
1 cup mayonnaise (I use light)
1 cup buttermilk + more to desired consistency
1 cup cilantro leaves (1 full bunch)
3 to 5 slices jalapeño, to taste (with seeds = spicier / without seeds = less spicy)
Instructions
Add all ingredients to a blender and run on medium speed for 2 to 3 minutes until smooth and creamy.
Add extra buttermilk/regular milk/water 1 Tablespoon at a time, if needed, until desired consistency is reached. Store in an airtight container in the refrigerator up to 2 weeks.
Notes
*To make it even more like the restaurant's original recipe, add 2 medium-sized tomatillos, husked and chopped. Blend well.

**Substitute ½ cup light mayonnaise and ½ cup plain Greek yogurt for the full cup of mayonnaise for a lighter, yet equally tasty dressing.
Nutrition Information:
Yield: 20
Serving Size: 2 Tbsp
Amount Per Serving:
Calories: 85
Total Fat: 8g
Saturated Fat: 1g
Trans Fat: 0g
Unsaturated Fat: 7g
Cholesterol: 5mg
Sodium: 205mg
Carbohydrates: 2g
Fiber: 0g
Sugar: 1g
Protein: 1g
This data was provided and calculated by Nutritionix, and is an estimation only.