Cheesecake Stuffed Strawberries + Video
This post may contain affiliate links, meaning that I may receive a commission at no cost to you if you use a link provided. All opinions shared are my own. You can review my full disclosure policy here.
Try these easy red, white, and blue Cheesecake Stuffed Strawberries for a healthier patriotic dessert! A super easy to make, no-bake dessert that is light, fruity and delicious. Low carb and keto friendly.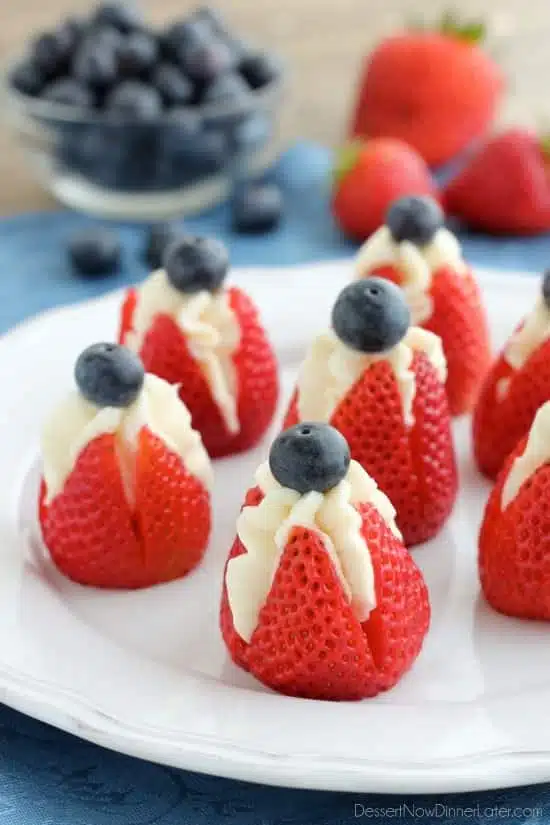 In case you didn't know, I will be taking most of June off to spend time with my new baby boy who should be here anytime in the next 2 weeks!!! No worries though! I will have some amazing food blogger friends posting recipes on my blog while I'm away!
But, since I'm going to miss sharing new recipes with you for one of my favorite holidays, I've decided to share another patriotic recipe to help you all gear up for the 4th of July. After all, it's never too early to plan fun holiday themed food to serve your family and friends!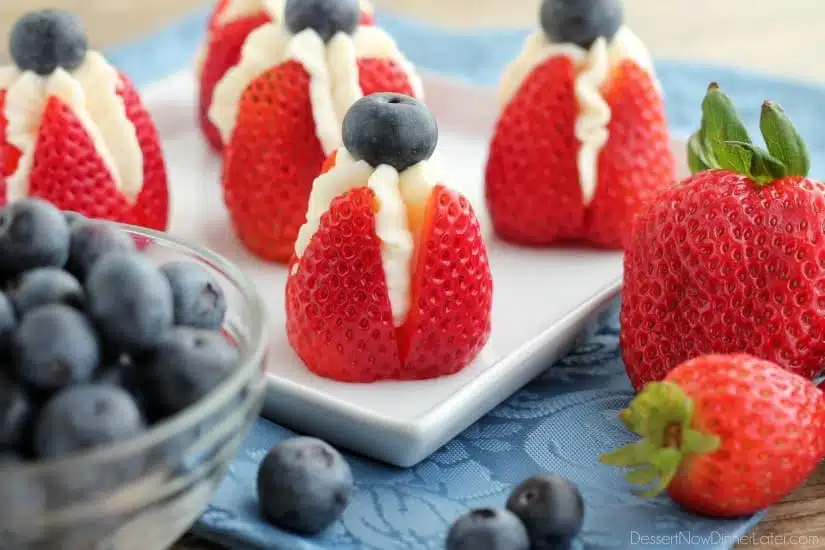 These cheesecake stuffed strawberries couldn't be easier! I've seen so many versions out there. Some of which make you cut off the top and bottom of the strawberry and scoop out the centers. Why would you give yourself more work to do and waste yummy fruit like that?! Not me! Nuh-uh!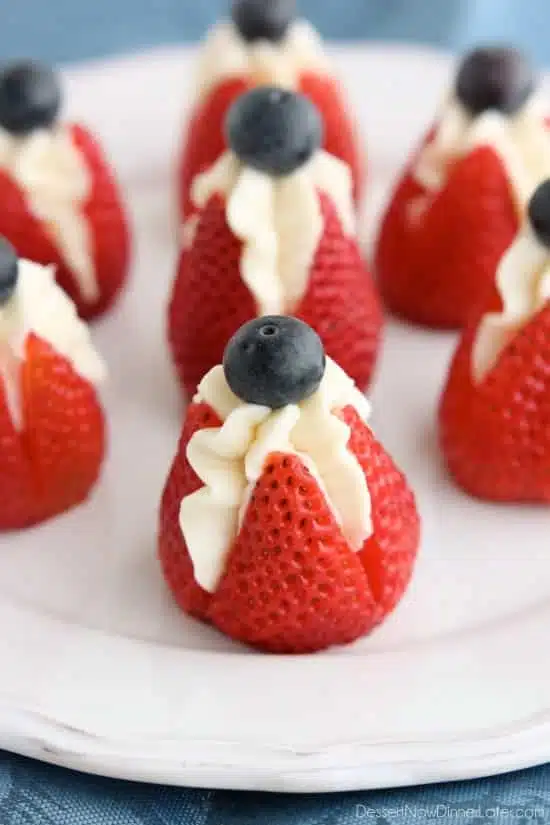 Simply cut off the stem so you have a flat end, cut an "X" in the tip, and pipe the filling inside. It opens up as you fill it. Don't go wasting that fruit!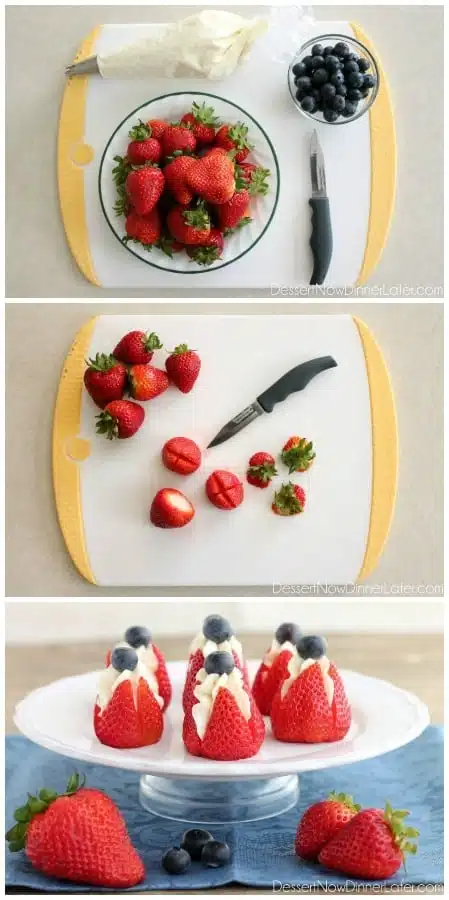 To make these patriotic, instead of sprinkling the tops with crushed graham crackers, we're topping these with a fresh, plump blueberry. Voila! Red, white, and blue cheesecake stuffed strawberries! These are a great healthier alternative for your 4th of July dessert and are guaranteed to get gobbled up!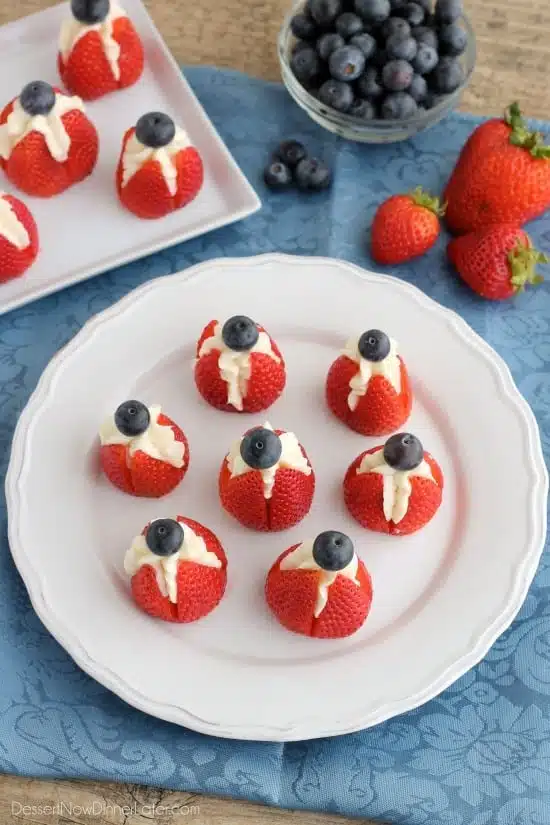 The naturally sweet fruit paired with the cool, creamy, and lightly sweet cheesecake filling is the bomb! I dare you to only eat one of these, it's impossible, quite frankly! You will need at least 2, or 3 …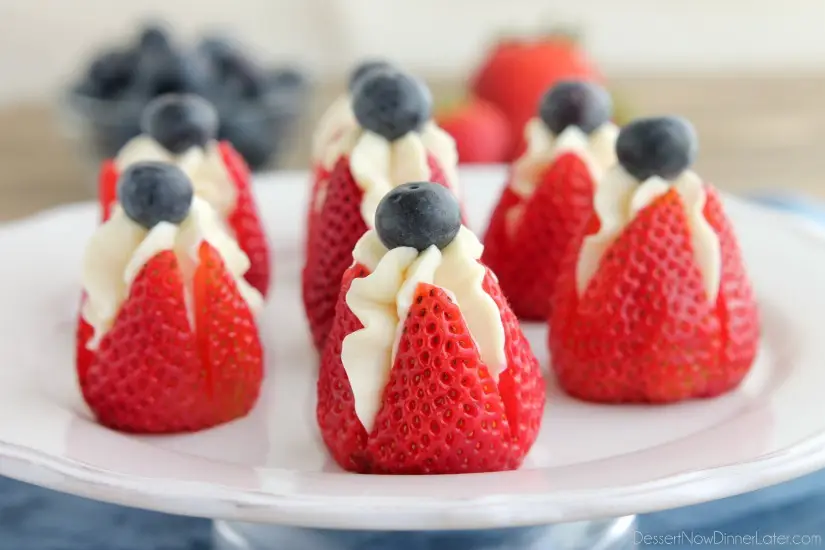 Depending on how ripe your berries are, you can prep these ahead of time too. My strawberries were still quite firm, so they lasted a couple days in the refrigerator without leaking juices all over the place and dissolving the cheesecake centers. You should really make these though… they are pretty darn tasty!
Be sure to try these Chocolate Cheesecake Stuffed Strawberries too!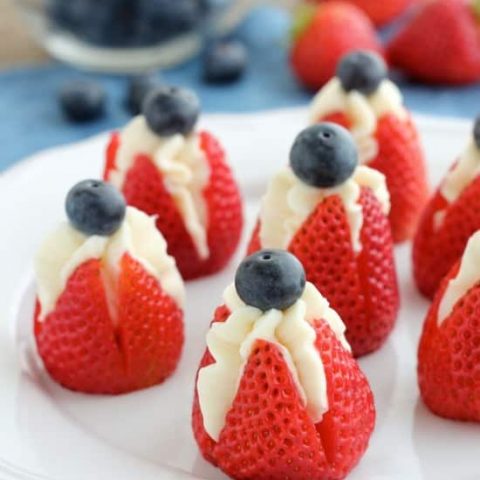 Cheesecake Stuffed Strawberries
Prep Time: 15 minutes
Chill Time: 1 hour
Total Time: 1 hour 15 minutes
Yield: 24 strawberries
Try these easy red, white, and blue Cheesecake Stuffed Strawberries for a healthier patriotic dessert!  A super easy to make, no-bake dessert that is light, fruity and delicious.
Ingredients
24 + large fresh strawberries (1 1/2 to 2 lbs, depends on how much you fill them)
1 (8oz) package cream cheese, room temperature or softened slightly
1/2 cup powdered sugar
1 tsp vanilla extract
1/2 cup fresh blueberries
Instructions
Cut the stems from the strawberries, so the strawberries can sit cut-side down.
Cut a deep "X" from the tip down, being careful not to cut all the way through.
Beat the cream cheese, powdered sugar, and vanilla in a bowl with a hand mixer until nice and fluffy.
Gently open up each strawberry and pipe the filling inside using a pastry bag or zip-top bag with a star piping tip. Don't have a pastry bag or piping tip? Just cut off the corner of a zip-top bag and squeeze the cheesecake filling inside the strawberries that way.
Top each filled strawberry with a blueberry. These are best served after the strawberries have been chilled for at least an hour. Store in an airtight container in the refrigerator up to 3 days depending on how firm/soft the strawberries are.
Recommended Products
As an Amazon Associate and member of other affiliate programs, I earn from qualifying purchases.
Nutrition Information:
Yield: 24
Serving Size: 1 strawberry
Amount Per Serving:
Calories: 21
Total Fat: 0g
Saturated Fat: 0g
Trans Fat: 0g
Unsaturated Fat: 0g
Cholesterol: 1mg
Sodium: 4mg
Carbohydrates: 4g
Fiber: 0g
Sugar: 4g
Protein: 0g
This data was provided and calculated by Nutritionix, and is an estimation only.