Lactation Cookies + Video
This post may contain affiliate links, meaning that I may receive a commission at no cost to you if you use a link provided. All opinions shared are my own. You can review my full disclosure policy here.
It works! These lactation cookies help boost your milk supply thanks to 3 key ingredients. Freezer friendly, and super delicious, these lactation cookies are a breastfeeding mama's best friend.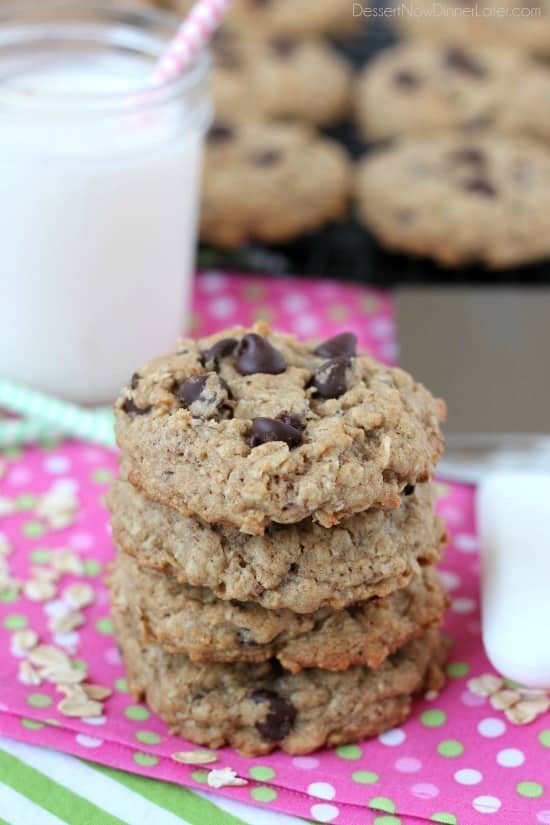 We're getting personal in here today! Haha. If you've followed my blog regularly, you know I have a baby boy, who is 8 1/2 months old now. So I've been nursing him, but when I started my health challenge in January, about 2 weeks into it, my milk supply dropped dramatically!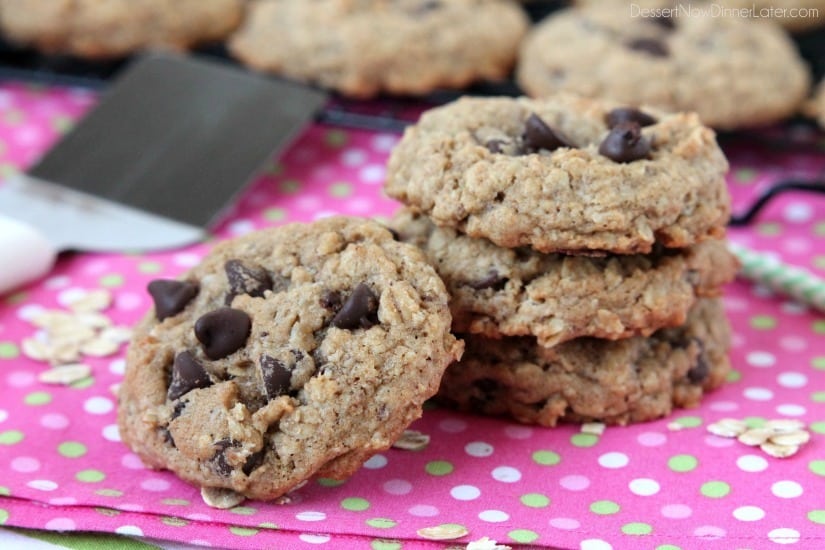 He was waking up constantly in the night to nurse, but he would try to eat and just cry. Repeat that during the daytime, and I felt so awful, but I really wanted to lose weight while nursing, so I had to figure out a way to do both. I know I was getting plenty of water (I was drinking 12 cups a day), and I had tried increasing my caloric intake by 300 calories (to about 1600 calories a day), but nothing was working. It's been said that as long as the baby stimulates the breasts, your body will make more milk, but I got desperate.
I scoured the internet for a lactation cookie recipe that sounded legit, and I tweaked it to have less sugar, chocolate chips instead of raisins, and I used half coconut oil & half butter to incorporate some healthy fats (compared to just using all butter). Those adjustments created super delicious (and almost healthy) oatmeal chocolate chip lactation cookies. My husband and kids all love these too, and you don't have to freak out. It's not going to give them milk making abilities just by eating them. Everyone can enjoy these tasty cookies!
I ate 2 cookies the day I made these, and 1 each day after that. My supply was back and even better than before by the 2nd day, roughly 24 to 48 hours later! I continued my 6 week health challenge, eating 1 cookie a day for my milk supply, and I still lost 11.8 pounds by the end of it. Success!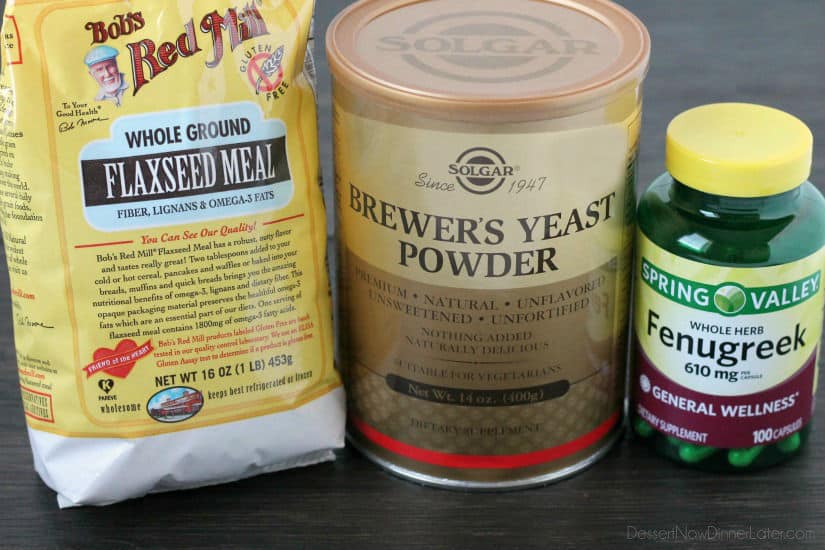 The 3 milk boosting ingredients in these lactation cookies are: flaxseed, brewer's yeast, and fenugreek. I found everything but the brewer's yeast at Walmart. I had to go to a health store for the brewer's yeast, which is the most effective ingredient out of the three. (I hear if you have a Whole Foods, they have it there. Or you can buy brewer's yeast on Amazon.) All-in-all, I spent around $22 on those three key ingredients, which isn't bad when you think about having to continually buy formula.
The old fashioned oats in these cookies also help with milk production, but I was eating oatmeal and that alone wasn't helping. The combination of all 3, or rather all 4, saved my milk production! I even gave some to another one of my nursing friends, and she said they tasted better and worked better than a different recipe she had tried, so there you go!
Breastfeeding can have so many ups and downs, making milk shouldn't have to be one of the stresses. Thank goodness I have these cookies! My favorite thing is to individually wrap them and put them in the freezer. I pull one out each day after lunch and nuke it in the microwave for 30 seconds. It's a delicious treat that helps me continue feeding my cute baby boy. Win-win!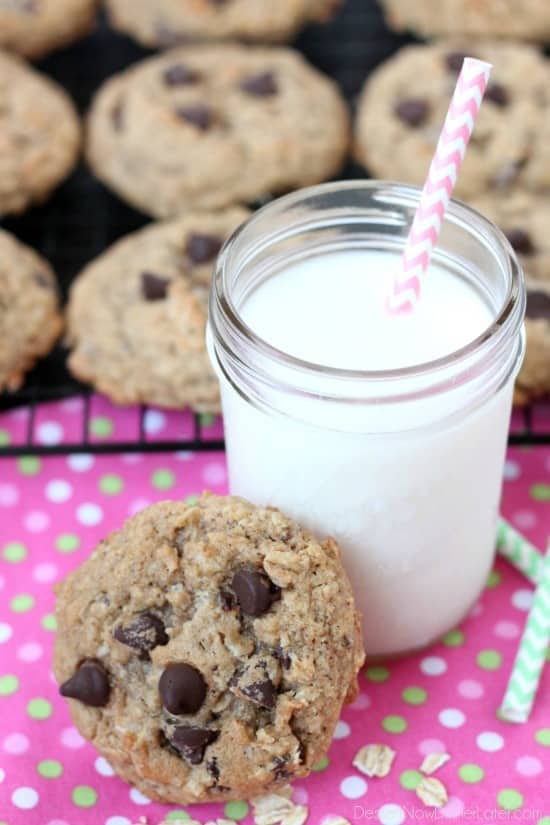 Print or pin the recipe now! You won't want to lose it! Share this post with your breastfeeding friends, it's a great resource to have in case of emergencies. 😉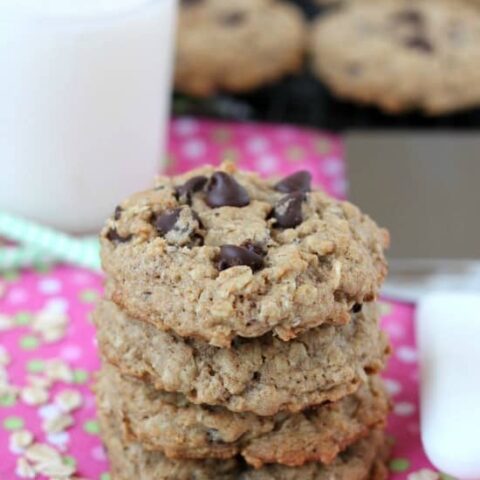 Lactation Cookies
Prep Time: 15 minutes
Cook Time: 10 minutes
Total Time: 25 minutes
Yield: 34 cookies
It works! These lactation cookies help boost your milk supply thanks to 3 key ingredients. Freezer friendly, and super delicious, these lactation cookies are a breastfeeding mama's best friend.
Ingredients
2 Tbsp flaxseed meal
1/4 cup of water
2 cups whole wheat flour
1/4 cup of brewer's yeast (this is the main ingredient for milk production)
1 tsp salt
1 tsp baking soda
9 fenugreek capsules (empty capsules and discard)
1/2 cup butter, softened
1/2 cup coconut oil, softened
3/4 cup sugar
3/4 cup brown sugar
2 large eggs
1 tsp vanilla extract
3 cups of old fashioned oats
1 cup of semi-sweet chocolate chips
Instructions
Preheat the oven to 375 degrees Fahrenheit.
Mix flaxseed meal and water; set aside.
Stir together the flour, brewer's yeast, salt, baking soda and fenugreek, set aside.
Blend butter, coconut oil, and sugars well. Blend in eggs. Stir in flaxseed mixture and vanilla; mix well.
Add dry mixture. Mix until just combined. Stir in oats and chocolate chips.
Scoop 2 Tbsp of dough, 1 to 2 inches apart, onto a silicone lined baking sheet. (About 8 cookies per tray.)
Bake for 9 to 10 minutes, until matte on the top.
Once cooled, individually wrap cookies in plastic wrap and place them in a container the freezer. Eat at least 2 cookies the first day, and one each day afterwards. (I have one every day after lunch. Just unwrap it and nuke it in the microwave for 30 seconds.) Enjoy!
Notes
*Recipe altered from
columbia sc moms blog
WARNING: Consult your doctor before making this recipe. Discontinue use and consult your doctor if any adverse reactions occur.
Recommended Products
As an Amazon Associate and member of other affiliate programs, I earn from qualifying purchases.
Nutrition Information:
Yield: 34
Serving Size: 1 cookie
Amount Per Serving:
Calories: 176
Total Fat: 8g
Carbohydrates: 23g
Protein: 3.5g