Parsnip & Carrot Mash
This post may contain affiliate links, meaning that I may receive a commission at no cost to you if you use a link provided. All opinions shared are my own. You can review my full disclosure policy here.
This post is part of the Healthy Traditions campaign for Squatty Potty.
Thanksgiving is coming up & I have the BEST side dish ever! This is one we love to make in the fall. I could eat it as the main dish because I love it so much! Parsnips are the perfect fall vegetable too because they are ripe towards the middle/end of October if you plant them early in the spring. We actually used the ones from our garden in the photos for this recipe. If you don't know, parsnips are like carrots, but with a little sass to them. They aren't sweet like carrots, which is why you combine the two to create the perfect side dish. The parsnips mash better than the carrots do once they are boiled, but I like to leave mine a little chunky when I serve them. These are simple, but incredibly delicious & would be perfect to serve alongside turkey & a roll 🙂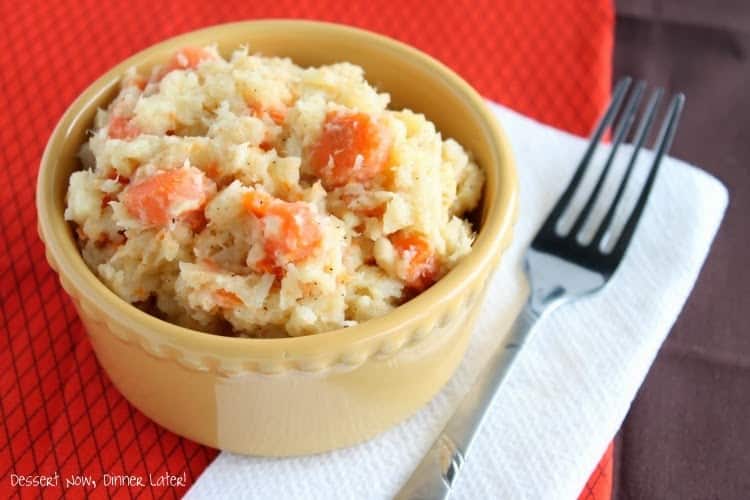 Not only is this dish incredibly flavorful, but it's a perfect substitute for mashed potatoes, since carrots & parsnips are full of vitamins & fiber. If you are going to swap one food to make your holiday a little healthier, swap the taters for the root vegetables! This recipe is part of a Healthy Traditions campaign! You might not know, but a little over 2 years ago I started a weight loss journey. I had my daughter 3 months beforehand & I was weighing in at 172lbs. I got down to 123lbs in about 9 months & have kept it off since. So holidays kind of freak me out. All that hard work & dedication just to pig out during the holidays? No way! But it is hard to not overeat when you are having a good time with family & friends. So I really hope you consider making at least one of your dishes healthier.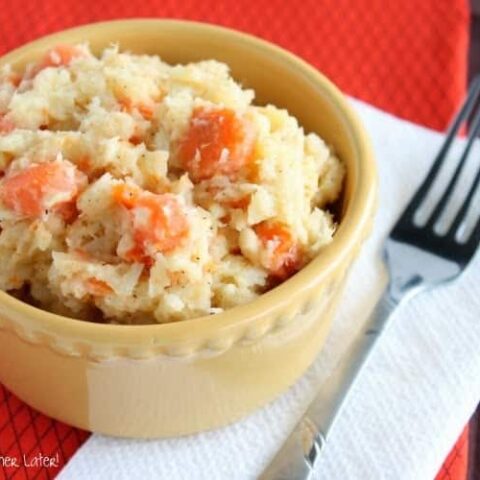 Parsnip & Carrot Mash
Ingredients
2 1/2 cups parsnips, peeled & diced (about 8-10 parsnips)
1 1/4 cup carrots, peeled & diced (about 3-4 carrots)
4 Tbsp butter
2 to 4 Tbsp milk
1 tsp salt
1/4 tsp ground pepper
Instructions
Peel & dice parsnips & carrots. Place into a large saucepan. Cover with water. Bring water to a boil & cook for 20-25 minutes or until fork tender.
Drain water. With a potato masher, mash mixture with butter, milk, salt & pepper. Adjust seasonings as needed. You may also add more butter or milk to desired consistency. The parsnips mash better than the carrots. If a smooth consistency is desired, place mixture into a food processor & blend until smooth.
Nutrition Information:
Yield: 4
Amount Per Serving:
Unsaturated Fat: 0g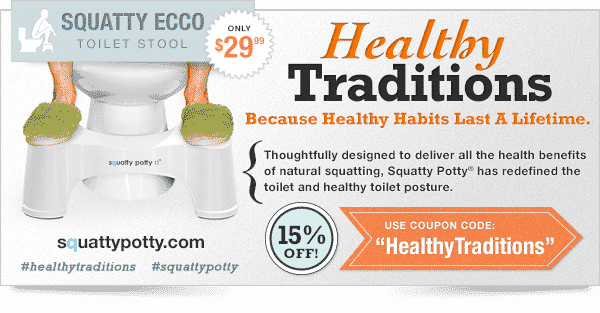 Along with eating healthier, I am excited to introduce you all to a new product you may not have heard of yet! The Squatty Potty! Let's just get passed how the name might make you giggle a little bit causing you to feel like a kid again, & get to the benefits of this product. I know potty talk isn't polite when we were just talking about food, but this Squatty Potty toilet stool is amazing! I won't go into too many details, but I have struggled from time to time with regularity, especially during my pregnancies, & I will be honest, I occasionally would use my kids' step stool to help me squat on the pot. It's the same concept of giving birth to my daughter, unmedicated, in a squatting position. Your body naturally bears down & things release easier. If you want to get all science-y, here's a brief explanation: Your colon has a natural kink caused by the puborectalis muscle that maintains continence. This "kink" doesn't fully relax until you are in the squatting position.
There are also colon care pills, which, you can take my word, work like a charm! If you want to learn even more about the Squatty Potty toilet stool & other products, visit Squatty Potty's Facebook page, or Pinterest account. Check out & follow the Healthy Traditions pin board, while you are on Pinterest, for more delicious & healthy food ideas for the upcoming holidays. You can also check out this other video or the Squatty Potty website for more information. So let's get to the giveaway! One lucky reader will win their own Squatty Potty & $100 Visa Gift Card that you can use for whatever you want! Since we are talking healthy traditions, you could even use that money to buy some veggies with. How about some parsnips & carrots so you can try today's recipe. 🙂 Just fill out the rafflecopter form to get entered! If you just can't wait to try the Squatty Potty toilet stool, use the code HealthyTraditions for 15% off anything on the Squatty Potty Website.