Breakfast Stuffed French Bread
This post may contain affiliate links, meaning that I may receive a commission at no cost to you if you use a link provided. All opinions shared are my own. You can review my full disclosure policy here.
This Breakfast Stuffed French Bread is like a huge breakfast sandwich stuffed with soft scrambled eggs, meaty sausage, and sharp cheddar cheese inside a fresh baked loaf of French bread. (Substitute your favorite meats or cheeses to create your own!)  
*This post is brought to you by Rhodes Bake-N-Serv. Thanks for supporting the brands that make Dessert Now Dinner Later possible.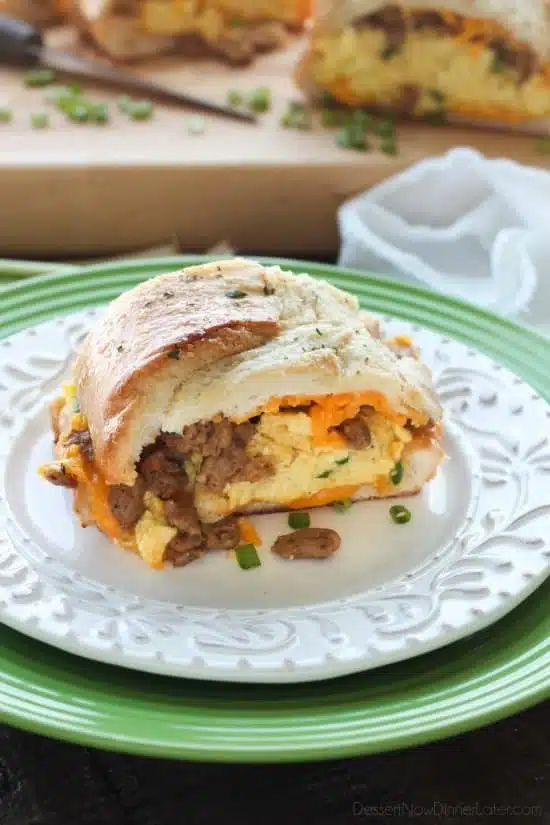 Breakfast for dinner is a twice a month or even weekly event at our house. It's definitely one of those meals that I can count on everyone eating because our family LOVES breakfast food.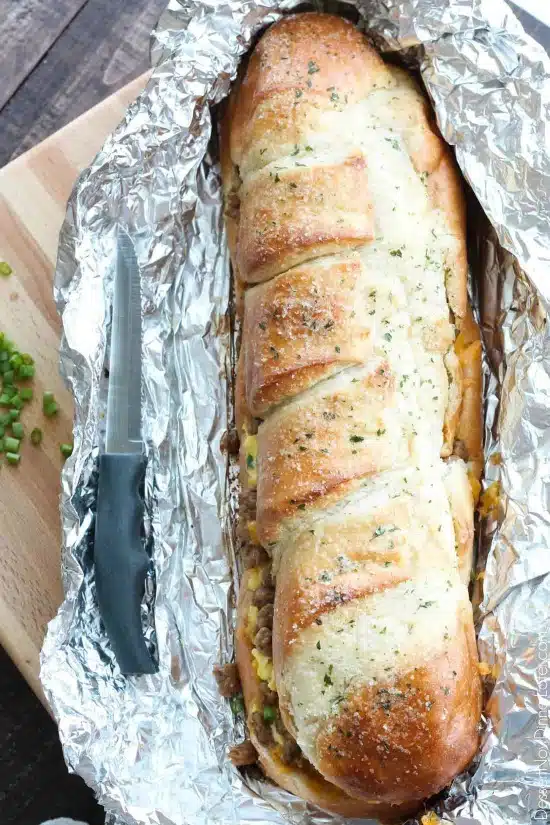 We typically have pancakes or French toast with scrambled eggs on the side. My kids love that sticky-sweet syrup, but I was craving a breakfast completely savory, so I decided on this Breakfast Stuffed French Bread and it was AMAZING!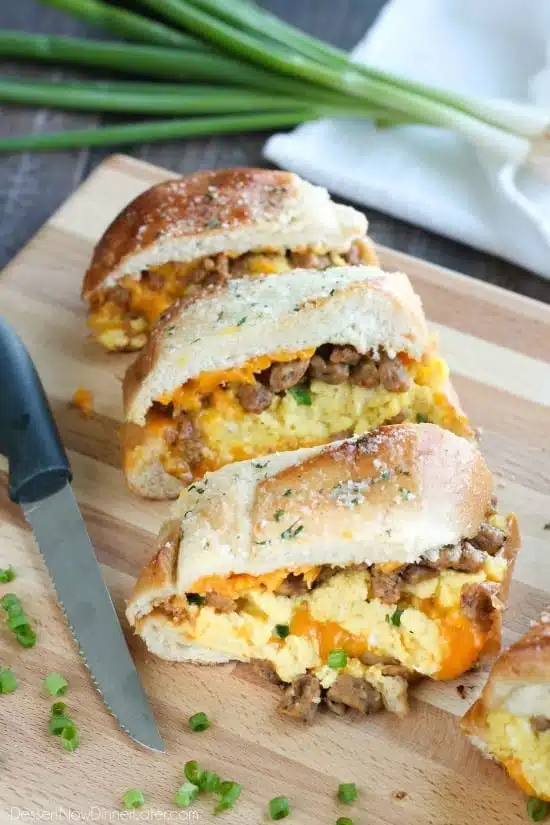 I can't tell you how nice it is to make one big breakfast sandwich for everyone instead of a bunch of pancakes or French toast slices. This was a cinch to make, and that buttery garlic salt topping was the icing on the cake so to speak. My husband and oldest child (7 year old boy) have already requested that I make it again. My boy ate 2 SLICES! And these slices are mega stuffed with eggs, sausage and cheese. I even bought the sausage crumbles pre-cooked, which makes it nice and easy.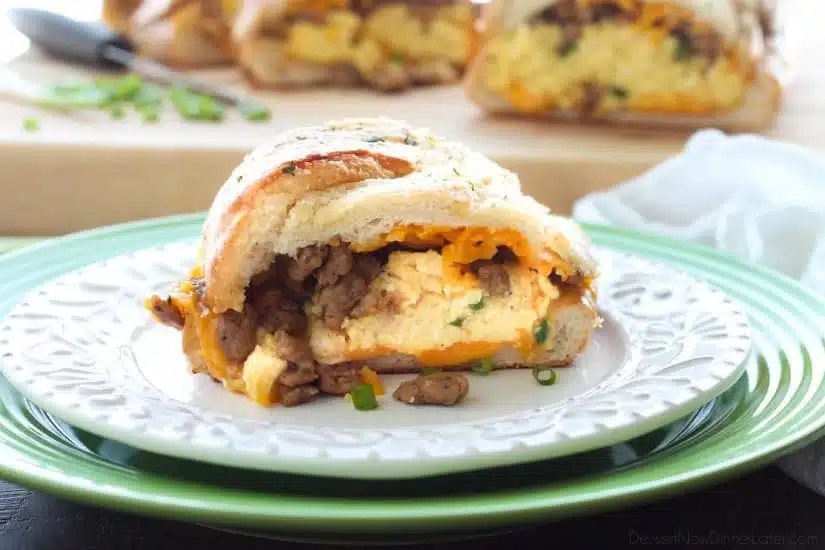 The one thing I won't skimp on in this recipe, is the bread. Store-bought, pre-made French bread is convenient, yes, but tastes too much like cardboard to me. I use Rhodes bread for my pizza, dinner rolls, and pretty much anything requiring yeast dough, so I absolutely used it for this Breakfast Stuffed French Bread too.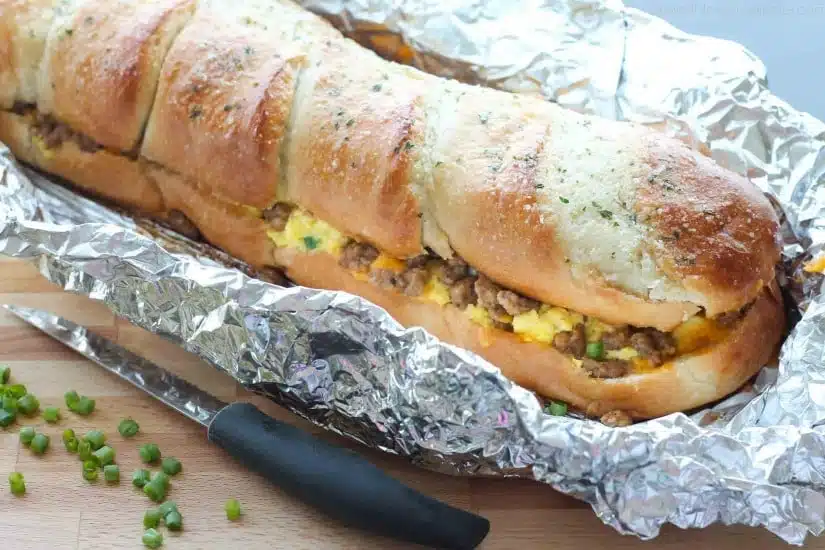 We have made "French bread" loaves with Rhodes bread before. We sometimes do that with soup. I've even given neighbors soup and French bread loaves of Rhodes white bread. It's so fresh and tasty! You can definitely tell a difference. Also, I've found the best trick to making scrambled eggs fluffy and amazing! SOUR CREAM! Legit folks! These were the best scrambled eggs I've had in a while.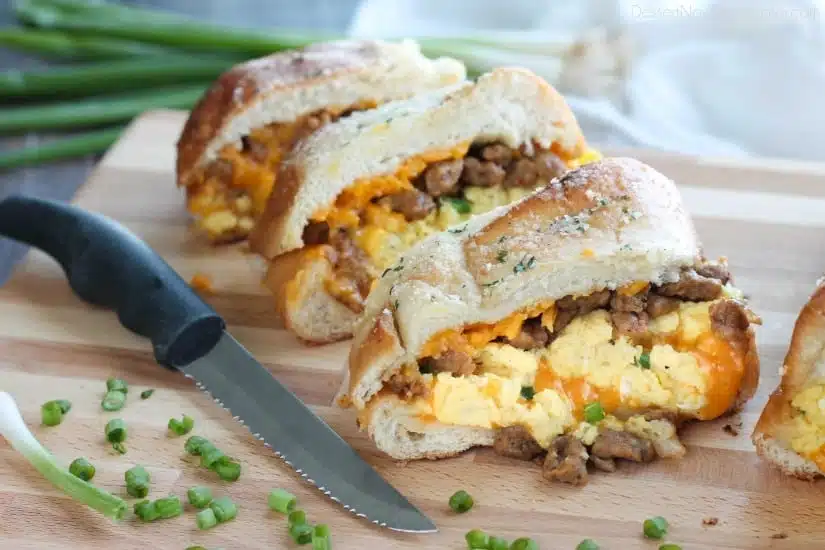 Are you a breakfast foods person? Do you eat it just for breakfast, or do you like brunch and brinner (breakfast for dinner) too? We are all of the above! LOVE IT! Enjoy this recipe! It's a good one! We'll definitely be making it again!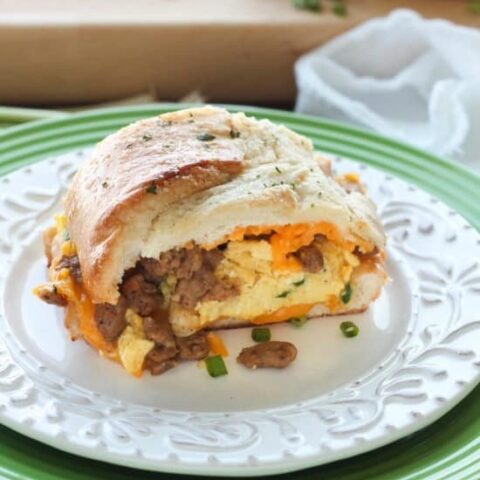 Breakfast Stuffed French Bread
Prep Time: 20 minutes
Cook Time: 40 minutes
Total Time: 1 hour
Yield: 8 servings
Ingredients
1 loaf Rhodes white bread
8 large eggs
1/4 cup sour cream
2 green onions, sliced
salt & pepper, to taste
2 cups shredded sharp cheddar (or other cheese), divided
8 oz breakfast sausage, cooked, crumbled and drained of any fat (Can buy pre-cooked sausage crumbles– just heat them before filling the bread with it.)
3 Tbsp unsalted butter, divided
1/4 - 1/2 tsp garlic salt
Instructions
Place 1 loaf Rhodes white bread on a greased baking sheet. Cover with sprayed plastic wrap. Let it thaw slightly without letting it rise too much. Remove the plastic wrap and roll the bread into a longer loaf (the length of the pan). Place the plastic wrap back on top of the bread and let rise at room temperature until double in size. Cut 5 slits diagonally across the top of the loaf with a serrated knife. Bake at 350 degrees Fahrenheit for 15-20 minutes or until golden brown. Remove from oven and allow to cool. (TIP: Thaw loaf in the refrigerator overnight. Take it out of the fridge in the morning, roll it, and continue with the rising and baking instructions.)
Whisk the eggs, sour cream, and sliced green onions together. Season with salt and pepper. Melt 1 Tbsp of butter in a skillet and soft scramble the eggs. Set aside (keep warm).
Cook and crumble sausage; drain any fat. If using pre-cooked sausage crumbles, heat in microwave until hot (keep warm).
Cut the loaf of bread in half width-wise. Flatten the inside of the bread slightly to make room for the fillings, by pressing down with your fist/fingers. Sprinkle 1 cup of cheese inside the bottom half. Top with scrambled eggs, then sausage crumbles. Place the remaining 1 cup of cheese inside the top half of the loaf. Stack the two halves together carefully, so as to not spill the filling.
Transfer the loaf onto a large piece (or two smaller pieces) of foil. Melt 2 Tablespoons of butter and generously brush the top of the loaf of bread, then sprinkle with garlic salt, to taste. Tightly wrap the foil around the loaf, compacting it tightly.
Place the foil wrapped bread onto a baking sheet. For a crisp loaf, bake at 425 degrees Fahrenheit for 12-15 minutes. For a softer loaf, bake at 350 degrees Fahrenheit for 20 minutes until the cheese is melted and the filling is hot. Be sure to periodically check the bottom of the loaf to keep it from browning too much. Carefully unwrap the bread from the foil and place onto a cutting board. Cut with a serrated knife and enjoy warm!
Nutrition Information:
Yield: 8
Amount Per Serving:
Unsaturated Fat: 0g