Chimichurri Steak with Pineapple Salsa
This post may contain affiliate links, meaning that I may receive a commission at no cost to you if you use a link provided. All opinions shared are my own. You can review my full disclosure policy here.
This restaurant-quality steak is marinated in an herbed chimichurri sauce, grilled to perfection, and topped with a spicy-sweet pineapple salsa.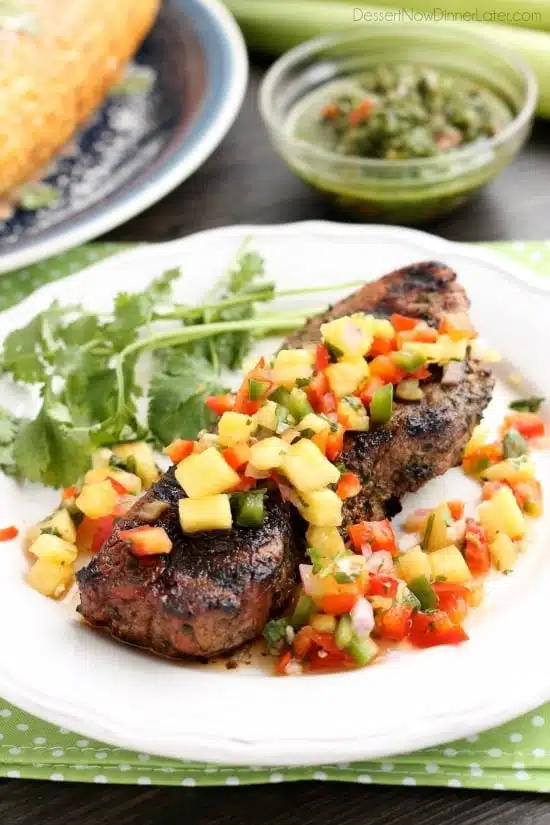 We made these steaks for Father's Day, which shows you how long it's taken me to get it up on the blog! Haha. Having 3 kids is chaotic! 😉 Anyway, the meat is SO flavorful! It's marinated in a green chimichurri sauce, then grilled and topped with pineapple salsa. We saved half of the chimichurri sauce for dipping, and the combination of the steak, chimichurri, and fruit salsa was out-of-this-world bursting with flavor!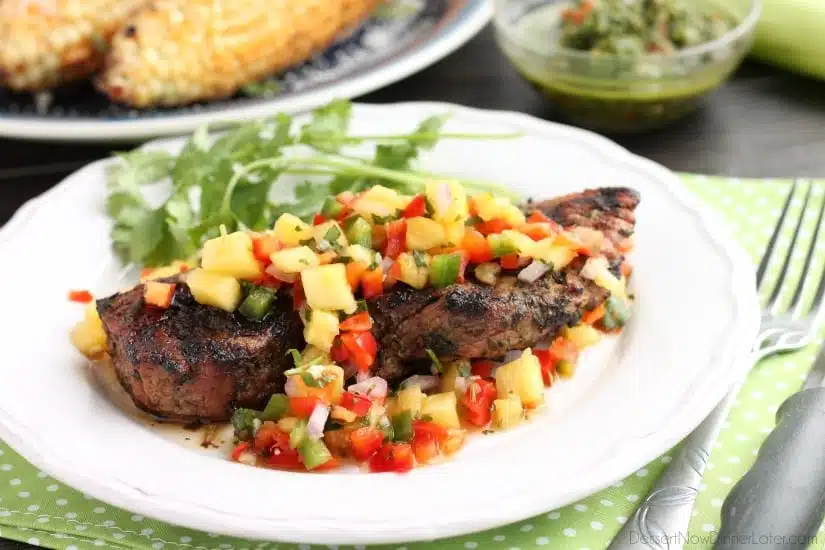 This recipe uses a lot of herbs and produce for maximum freshness. We also used tri-tip steaks and marinated them overnight for optimal flavor. We were not disappointed!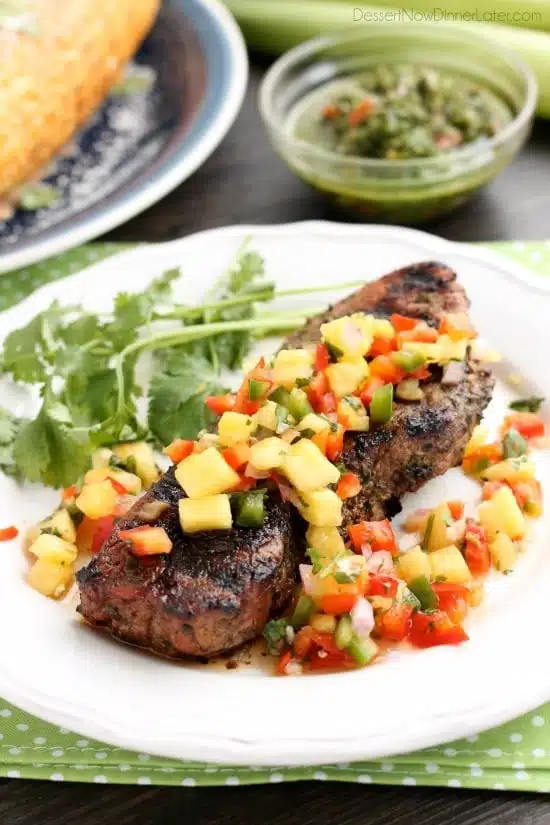 This is one of those recipes that you make for special occasions, but definitely put it on your list to make because holy deliciousness! These steaks were absolutely amazing! They taste like they came from a fancy restaurant, but they are fairly simple to make. This recipe is a little bit time consuming because you have to marinade the meat and cut up the ingredients for the salsa, but it will be well worth your time. I promise!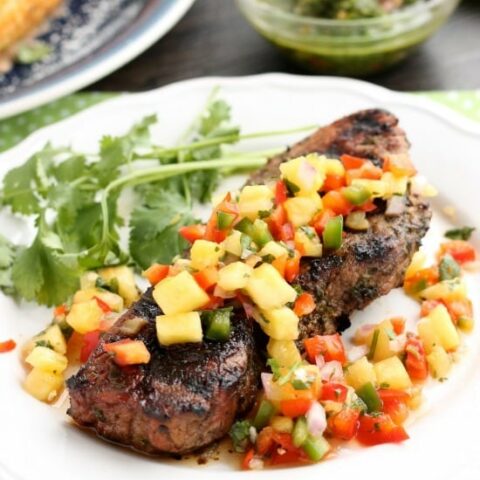 Chimichurri Steak with Pineapple Salsa
Ingredients
2 1/2 to 3 lbs of tri-tip steaks, or any other favorite cut of beef
Chimichurri Marinade/Sauce:
1 large shallot, peeled
1/2 red bell pepper, stem and seeds removed
1 jalapeño, stem removed with half of the seeds
1 bunch cilantro, stems removed
1 bunch parsley, stems removed
1 bunch (0.75 oz) container oregano, stems removed
4 cloves of garlic, peeled
3/4 cup olive oil
1/2 cup red wine vinegar
3 Tbsp lime juice (about 1 medium lime)
salt to taste
Pineapple Salsa:
2 cups fresh pineapple, diced small (about 1 whole pineapple)
1 red bell pepper, diced small
1/2 cup cilantro, chopped
1/4 cup red onion, diced small
1 jalapeño, stem and seeds removed, diced small
2 Tbsp sugar, optional (to help pineapple release its juices and balance the heat)
Instructions
Place the chimichurri ingredients into a food processor or blender and pulse until combined.
Place steaks and HALF of the chimichurri sauce into a zip-top bag. Marinade meat in the refrigerator overnight or 3 hours minimum. Refrigerate extra chimichurri sauce in an airtight container as well.
Prepare pineapple salsa, by dicing/chopping each ingredient. Combine ingredients into a bowl. Cover and refrigerate until ready to serve. (The salsa is better the 2nd day, so if you have time to marinade the meat overnight, let the salsa merry overnight too.)
Once the steaks have marinated, grill to desired doneness.
Serve steaks with pineapple salsa and extra chimichurri sauce.
Nutrition Information:
Yield: 6
Amount Per Serving:
Unsaturated Fat: 0g