Grilled Ham & Pineapple Kabobs
This post may contain affiliate links, meaning that I may receive a commission at no cost to you if you use a link provided. All opinions shared are my own. You can review my full disclosure policy here.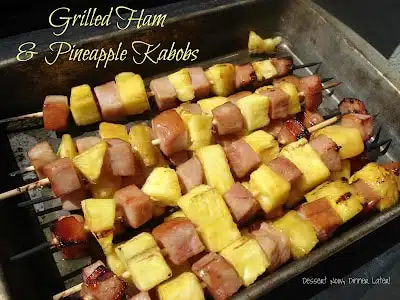 We are pretty plain when it comes to grilling. My husband is a hamburger pro! He cooks them perfectly. We love our juicy hamburgers! We have dabbled in grilling chicken, but to me, BBQ-ing means BURGERS!
Anyway, we had my family over to have a lunch & our last BBQ was at my parent's house & we had burgers, so my mom requested that we do something else. We were kind of bummed because we really love burgers & my husband's expertise in cooking them.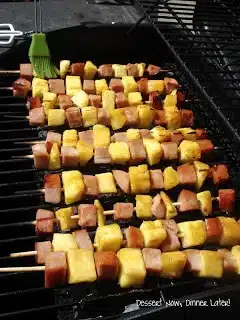 We ended up making these Grilled Ham & Pineapple Kabobs & they were so sweet & moist! My parents would not stop talking about how good soft & juicy the ham was! We even marinated some chicken with the same glaze & everything was just perfect. I can now look forward to more than just amazing burgers from our grill!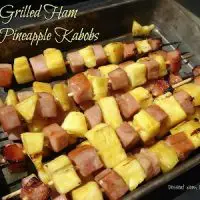 Grilled Ham & Pineapple Kabobs
Ingredients
2.5 lbs Pre-Cooked Boneless Ham, casing removed & large diced
1 Large Fresh Pineapple, peeled, cored & large diced
1/2 cup pineapple or orange juice
1/4 cup soy sauce
1/4 cup brown sugar
1/4 tsp dried ground ginger, or to taste
1-2 Tbsp cornstarch + 1-2 Tbsp COLD water
Instructions
Combine juice, soy sauce, brown sugar, & ginger.
Marinade ham dices in the mixture at least 2 hours or overnight in the refrigerator; I like to use a ziploc bag to keep mine in & occasionally mix it up by squeezing the ham around in the bag. Drain ham & SAVE marinade.
After soaking your skewers in water, alternate your ham & pineapple. Leave a little bit of space between them for more even cooking.
Heat marinade in a small saucepan over medium heat. You may add additional brown sugar & ginger to taste, if desired. Wait for mixture to come to a boil & add cornstarch/water slurry. Whisk until boiling & thickened up. Keep warm until ready to grill. This makes a nice thick glaze to add to your kabobs.
Grill skewers until heated through & starting to caramelize, basting on both sides with your warm glaze.