Salted Caramel Pretzel Brownies
This post may contain affiliate links, meaning that I may receive a commission at no cost to you if you use a link provided. All opinions shared are my own. You can review my full disclosure policy here.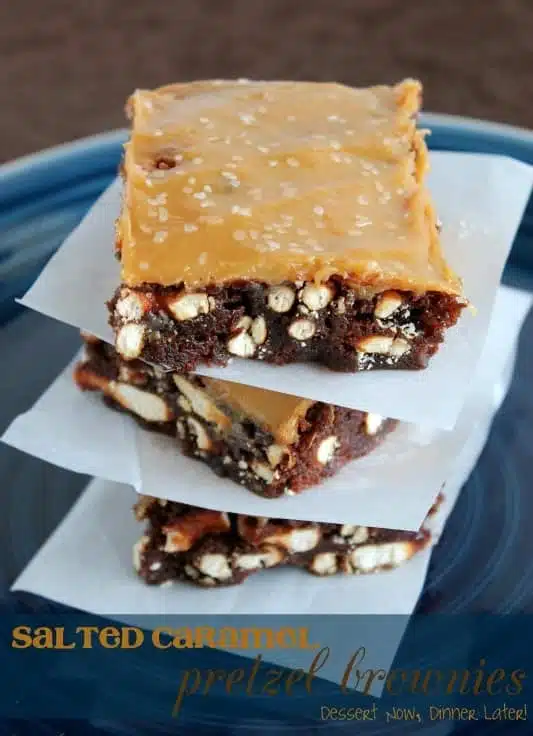 I have a salty-sweet addiction! I have to eat something sweet after dinner, & if I eat something too sweet, I need a chip or cracker to balance out the sweetness in my mouth. It's a problem I have with my taste buds, I am weird I know, but I also know that a lot of people really like salty-sweet treats! Caramel & pretzels go really well together too, just take alook at my Caramel Pretzel Magic Bars or Caramel Pretzel Chocolate Chip Cookies.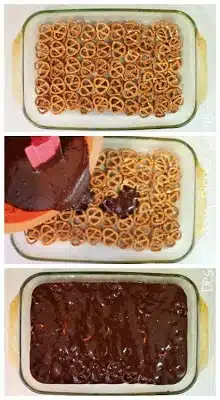 If you don't like caramel, but you like peanut butter & pretzels, I've got some of that action on my blog too: Peanut Butter Pretzel Granola Bars or Peanut Butter Chocolate Chip Pretzel Bars. Basically if it's a recipe with salty & sweet, I have made it, or will make it soon. Some may say this recipe is too salty with the salt from the pretzels & the sprinkle of salt on top of the caramel, so be careful when you top your caramel with the salt. Just a tiny pinch or you can feel free to leave it off of the top. I know everyone's salt tolerances are different, but I think this was a delightful salty-sweet creation.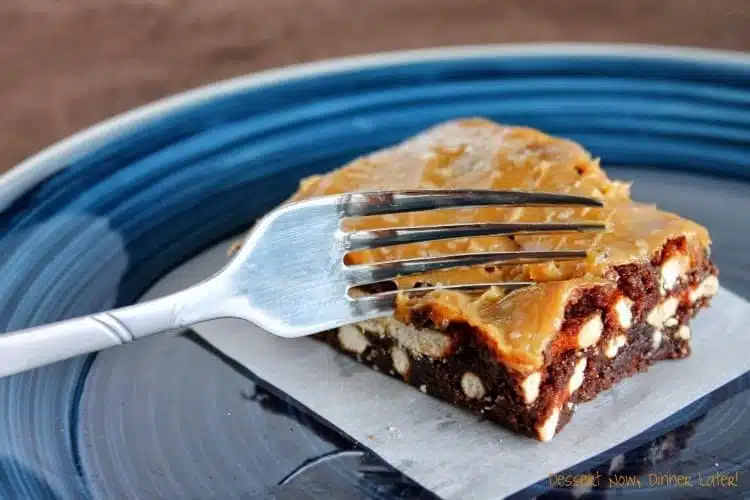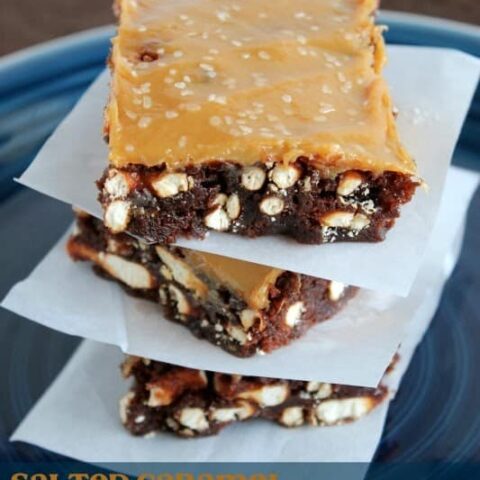 Salted Caramel Pretzel Brownies
Ingredients
1 (18 to 19oz) box brownies (usually labeled as family size or for a 13x9" pan)
Ingredients for the brownies - Mine called for 1/4 cup water, 2/3 cup vegetable oil, & 2 eggs.
100 pretzels
1 1/2 cups Caramel; I used homemade caramel or you can melt caramel squares with a little heavy cream. You want a THICK caramel.
Kosher or Sea Salt
Instructions
Mix batter for brownies according to directions on the package.
Grease a 13x9" pan. Stack two layers of pretzels across the bottom.
Pour brownie batter evenly over the pretzels.
Bake at 350*F for 25 minutes. Check doneness with a toothpick. Allow to cool completely.
Spread caramel over the top (might help to warm the caramel up.) Refrigerate brownies long enough that the caramel solidifies & you can cut squares without it running over the edge.
Cut squares & top with a pinch of kosher or sea salt. Enjoy!
Nutrition Information:
Yield: 24
Amount Per Serving:
Unsaturated Fat: 0g