Upside-Down Apple Cinnamon Roll
This post may contain affiliate links, meaning that I may receive a commission at no cost to you if you use a link provided. All opinions shared are my own. You can review my full disclosure policy here.
This single serving Upside-Down Apple Cinnamon Roll cooks in 2 minutes in the microwave! The perfect fall dessert for one!
*This post is brought to you by Rhodes Bake-N-Serv. Thanks for supporting the brands that make Dessert Now Dinner Later possible.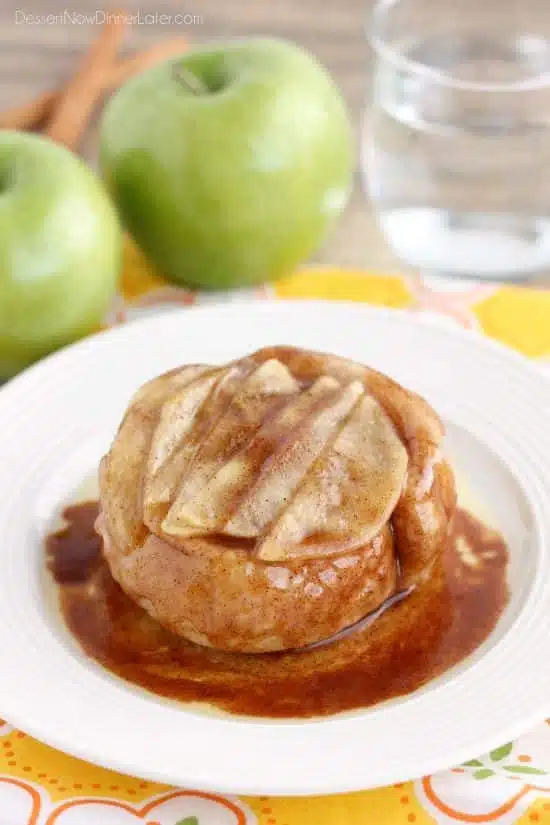 There are some days that I want dessert, without all the fuss and the mess. That's when I think, "A single serving dessert would be great!" Then I can take care of my sweet tooth, without having a bunch leftover STARING at me the rest of the week, convincing me to indulge more than I should. We all know I don't have the willpower to resist a delicious dessert!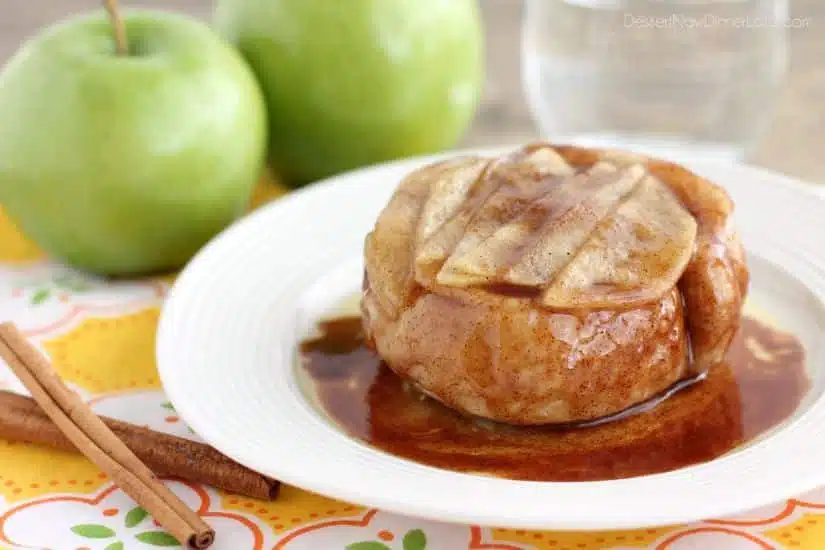 Luckily, I can make this upside-down apple cinnamon roll in the microwave, in one dish, in 2 minutes! Yes, I said TWO minutes! Two minutes is all it takes to get this ooey, gooey, apple dessert! It's almost too good to be true, right?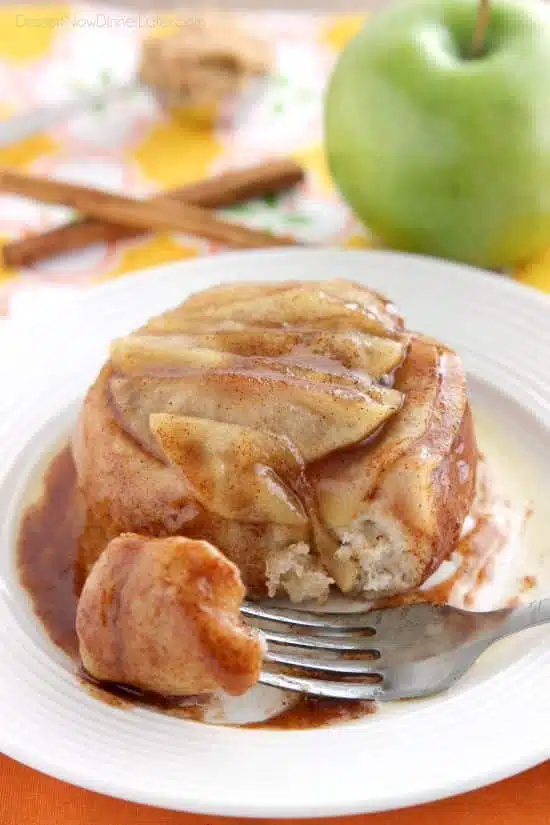 Well, it's not! Rhodes Bake-N-Serv® has come out with a new product: Microwave Cinnamon Rolls. Technically, they only take 60 seconds when you make them all by themselves (the apple-cinnamon mixture adds one extra minute). There are six cinnamon rolls in a package, and there are even six individual cream cheese frosting packets, so you really can only make one at a time if you need/want to. Awesome!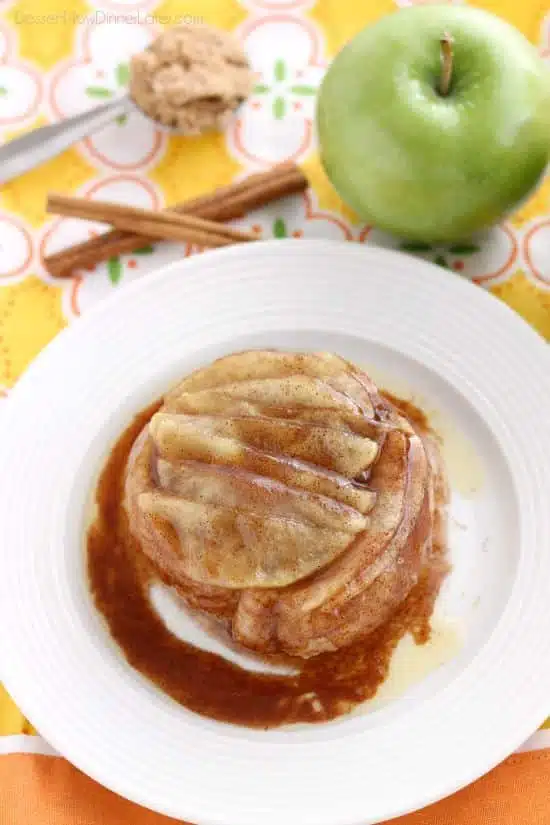 This recipe is easy enough for the kids to make, and they will love to make their own individual dessert!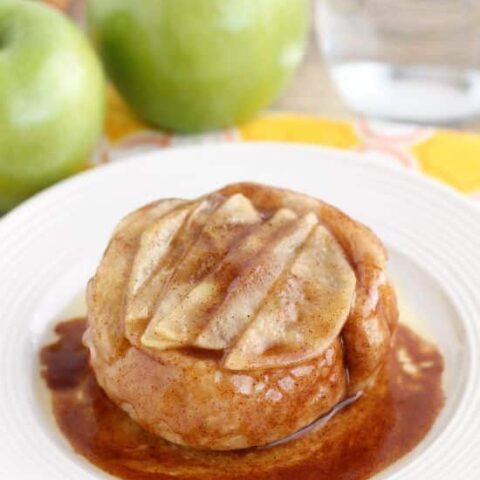 Upside-Down Apple Cinnamon Roll
Prep Time: 10 minutes
Cook Time: 5 minutes
Total Time: 15 minutes
Yield: 1 serving
Ingredients
1 Tablespoon butter
1 Tablespoon brown sugar
1/4 tsp cornstarch
1/4 tsp cinnamon
1/2 tsp lemon juice
1/4 to 1/2 of an apple, peeled and thinly sliced
1 Rhodes Microwaveable Cinnamon Roll
Instructions
Place 1 Tablespoon of butter in a 3½ to 4-inch microwave-safe ramekin. Melt the butter in the microwave for 30 seconds, or until melted.
To the melted butter, add 1 Tablespoon brown sugar, ¼ tsp cornstarch, ¼ tsp cinnamon, and ½ tsp lemon juice. Stir until combined.
Peel an apple and slice it thin. Use about ¼ to ½ of the apple slices to layer in the bottom of the ramekin with the cinnamon-sugar mixture.
Place one of the Rhodes Microwave Cinnamon Rolls on top of the sliced apples.
Cook in the microwave for approximately 2 minutes until the cinnamon roll puffs up and bakes completely. It should almost touch the sides of the dish.
Using a hot pad, immediately remove the dish from the microwave and invert it onto a plate. Enjoy while warm!
Optional: Drizzle one of the cream cheese frosting packets that come with the cinnamon rolls on top, for an extra sweet upside-down apple cinnamon roll.
Nutrition Information:
Yield: 1
Amount Per Serving:
Unsaturated Fat: 0g