Better Than…Beef Stroganoff
This post may contain affiliate links, meaning that I may receive a commission at no cost to you if you use a link provided. All opinions shared are my own. You can review my full disclosure policy here.
*Disclaimer: I received free jars of Better Than Bouillon from Superior Touch as inspiration for this post. This post is written by me. All opinions are 100% mine. You can read my advertising & disclosure policy HERE.
I love quick dinners that take less than 30 minutes from start to finish. This is one of those meals. It might even be closer to 20 minutes or less. We have been having this meal a lot lately, because life has been a bit crazy, so it's great to know I can count on this easy meal. And with the exception of my super picky son, my husband, daughter & I all inhale this dish.
I typically use beef broth for this recipe, but when I received a jar of Mushroom Base from Superior Touch, I knew I had to use it on this recipe. I actually don't like mushrooms. It's a texture thing, but I do love the flavor that they provide. When I opened the jar of mushroom base, the aroma was amazing! It was condensed yumminess that I could not wait to try!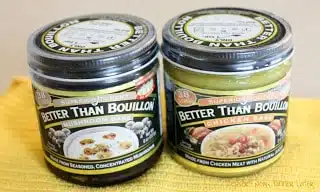 My husband recognized the amazing flavor that it gave to this meal right away! He said that it was the best stroganoff I have made yet! I felt the same way! I have always been fond of Better Than Bouillon. We used it frequently in a restaurant I worked in. We even used it when I was in Culinary school, so I am very familiar with how rich & flavorful it makes broth. I use the chicken base in a lot of meals like: Quick Sausage Jambalaya, Sausage Tomato Tortellini Soup, Honey Glazed Carrots, Zuppa Toscana, Chicken Pot Pie Crumble & Hawaiian Haystacks, to name a few.
It's extremely versatile! Now I can experiment more with this mushroom base, because if it made this stroganoff absolutely amazing, I know it can make other recipes incredible as well. If you haven't tried Superior Touch's Better Than Bouillon premium food bases, then there is something wrong with you! Really! Nothing compares to the flavor profile you get using these bases. They are only $3.44 a jar at my Wal-Mart so they're incredibly inexpensive for a really flavorful & easy to use product (just add HOT [boiling] water.) I urge you to pick up a jar & try it for yourself. Start with this recipe or one of the recipes I mentioned above; or any favorite family recipe you have that uses broth. Do it! You know you want to!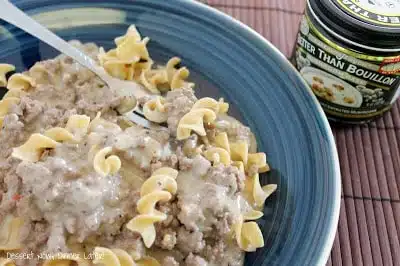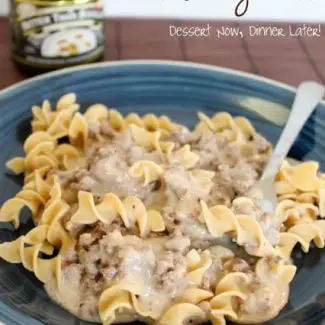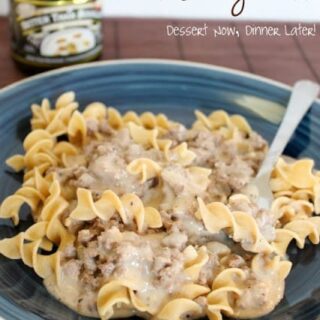 Better Than…Beef Stroganoff
Ingredients
8-10 oz whole wheat egg noodles (not a full 16oz package, just a little over half)
1 lb ground beef (I use 85/15)
1 tsp Superior Touch Better Than Bouillon Mushroom Base (can sub Beef Base)
1 cup HOT water
1 1/2 Tbsp cornstarch
1 scant Tbsp Montreal steak seasoning
1 cup light sour cream
Instructions
Start to cook egg noodles according to the directions on the package.
Meanwhile, brown beef in a non-stick skillet. Drain fat.
Dissolve Superior Touch Better Than Bouillon Mushroom Base into 1 cup of HOT water. Add cornstarch & whisk until combined.
Return cooked ground beef to skillet. Add Montreal steak seasoning, broth mixture, & sour cream. Heat until it bubbles, & simmer until it thickens; a few minutes.
Drain noodles when they are done & top with the meat gravy. Enjoy!
Nutrition Information:
Yield: 6
Amount Per Serving:
Unsaturated Fat: 0g