Flower Pretzel Bites
This post may contain affiliate links, meaning that I may receive a commission at no cost to you if you use a link provided. All opinions shared are my own. You can review my full disclosure policy here.
Flower Pretzel Bites are sweet, salty, and delicious – an easy and fun treat for Easter, Spring, or Mother's Day.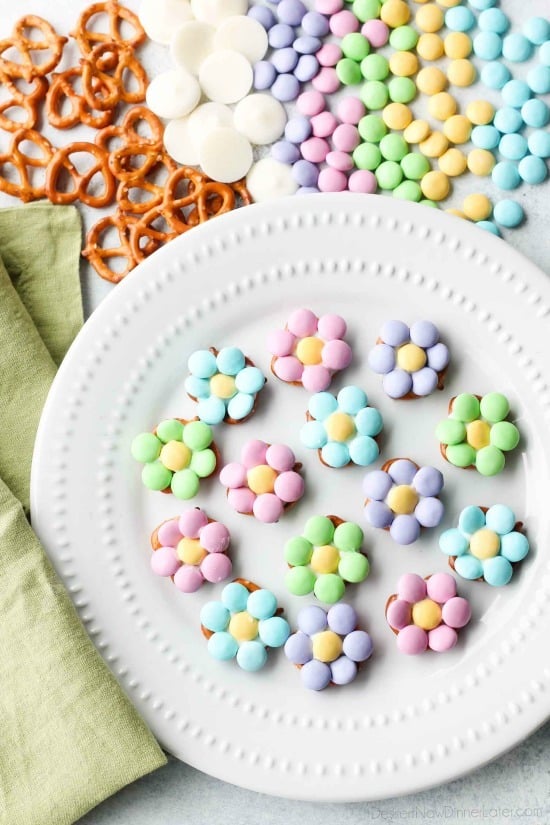 Spring is in the air, or WAS, until it started snowing again. Just after everything had finally melted too! (Boo!) This is typical crazy Utah weather though. We've had 3 snow days this year where school was cancelled, and to be honest, I don't remember a single one when I was a kid. So to say we are excited for spring is an understatement, which is why we made these super cute and easy Flower Pretzel Bites.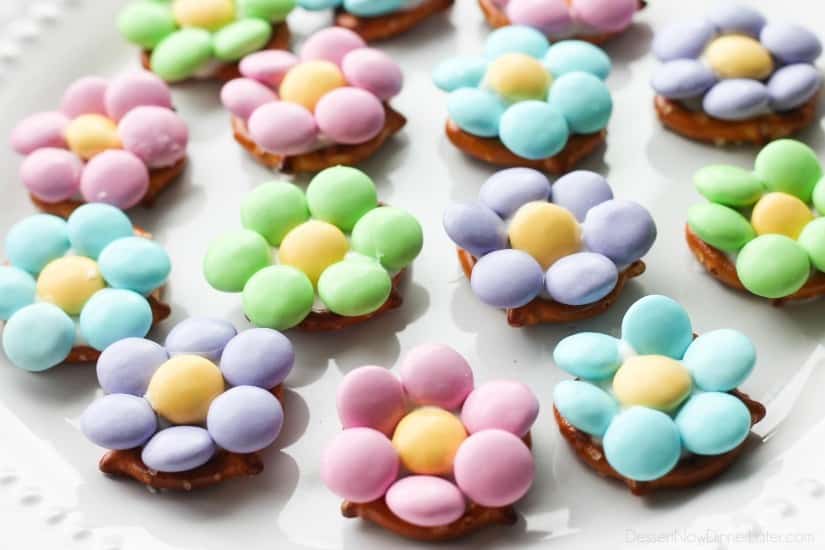 If you're like me, then you love salty-sweet combos. I also have a slight addiction with pretzel treats. I've made pretzel hugs, cookie dough pretzel bites, and peanut butter pretzel bites. All delicious for different reasons. These Flower Pretzel Bites are equally delicious and totally cute. They are a fun food craft for the kids too. You literally microwave candy melts on top of pretzels and top them with M&M's. So easy! Be sure to use a paper plate so the candy melts melt quickly.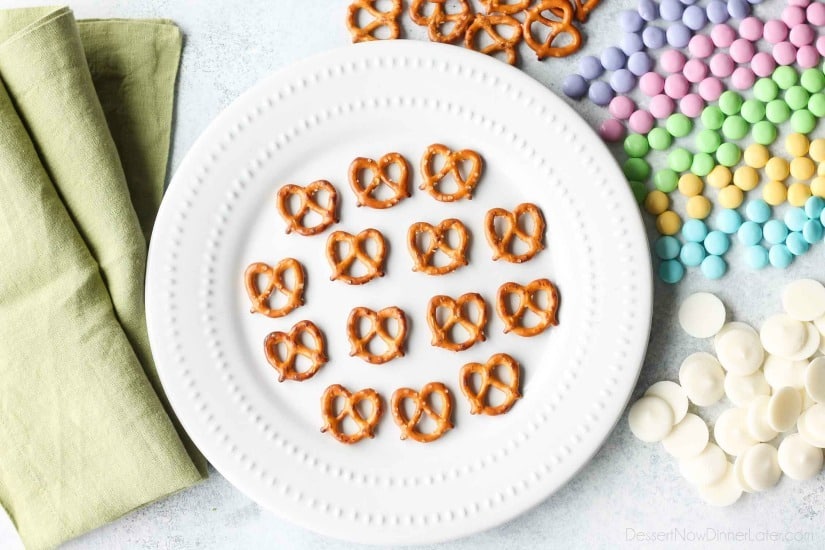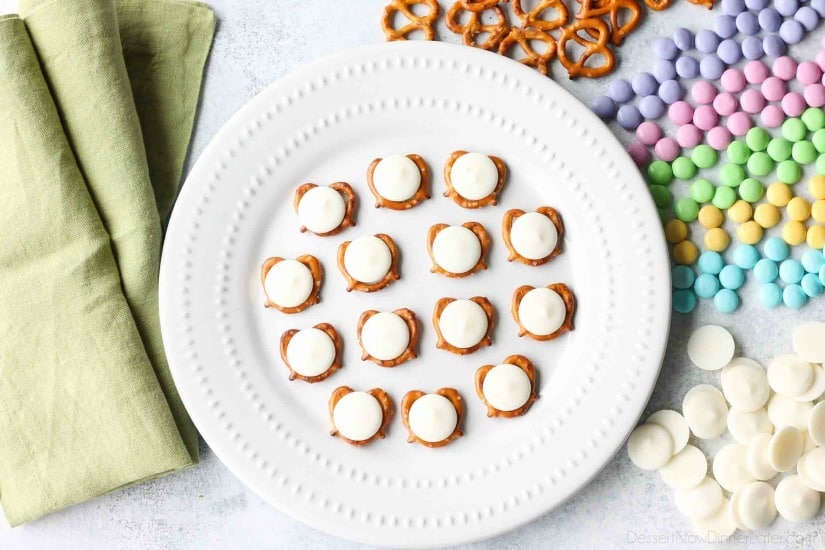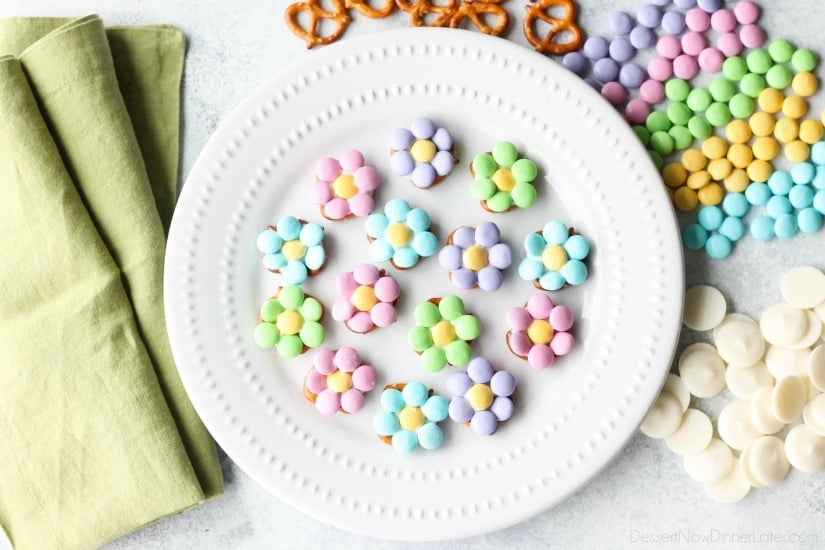 The thing I love about pretzel treats is the versatility. You can literally melt whatever chocolate you want, and top it with whatever candy you want. This candy melt + M&M combo is really tasty! Plus the colored M&M's are so fun!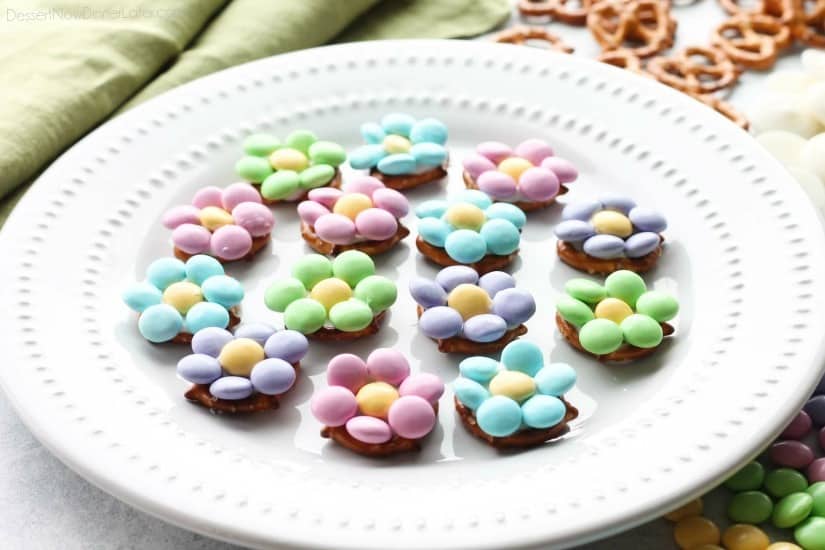 Flower Pretzel Bites would be great for Easter, Mother's Day, or any spring party. You can switch up the colored M&M's for different holidays too. Think of all the possibilities! Have fun with it!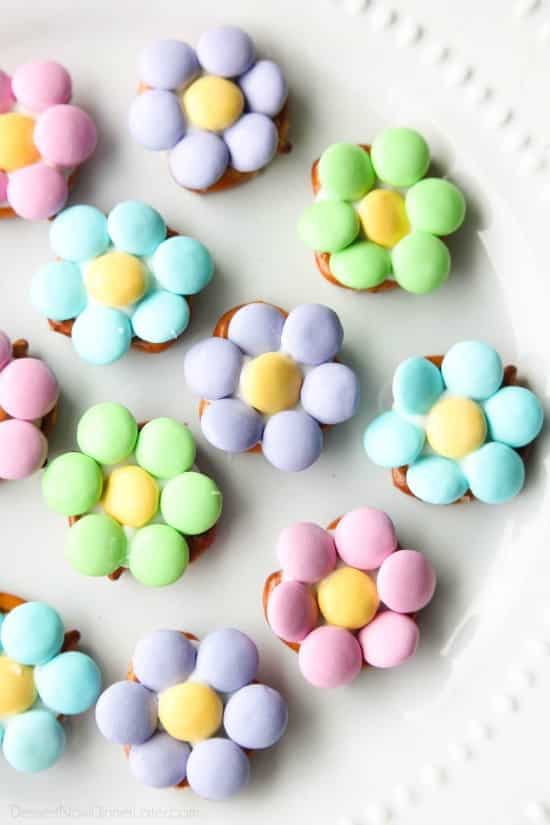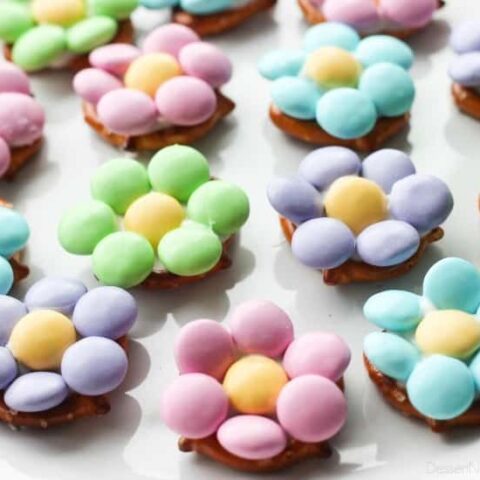 Flower Pretzel Bites
Ingredients
Mini Pretzels
Wilton Candy Melts - White
Easter/Pastel M&M's
Instructions
Arrange pretzels on a PAPER plate. Place a candy melt in the center of each pretzel.
Microwave until soft, but not runny. (The time will depend on how many pretzels are on your plate and how strong your microwave is. My plate of 14 pretzels took roughly 1 minute 20 seconds.)
Immediately place one M&M into the center, then six more M&M's around the center for the flower petals. Work quickly. Refrigerate/freeze pretzel bites until solidified. Eat or package treats as gifts.
TIP: Keep the "M" side of the M&M's down for better looking flowers. You may also need to overlap them slightly on a regular shaped pretzel. If you can find the square shaped pretzels, those hold the M&M's better.
Notes
TO MAKE IN THE OVEN: Place on a baking sheet. Bake at 200 degrees Fahrenheit for 4 to 5 minutes or until the chocolate is soft.
Nutrition Information:
Amount Per Serving:
Unsaturated Fat: 0g