Ham Fried Rice
This post may contain affiliate links, meaning that I may receive a commission at no cost to you if you use a link provided. All opinions shared are my own. You can review my full disclosure policy here.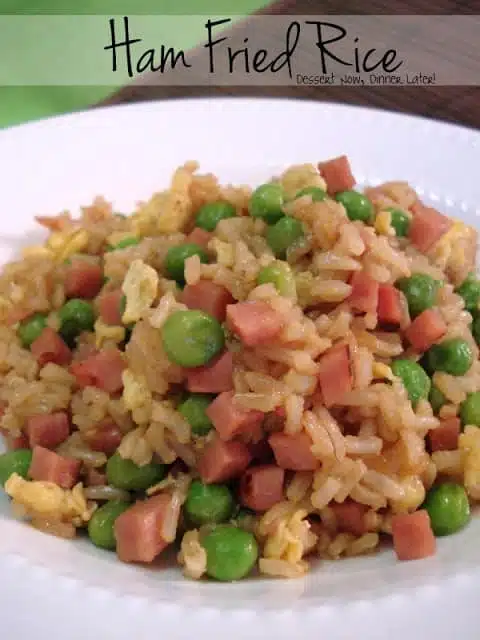 So Easter is coming up…okay in like 2 months, but I know many of you are going to have ham leftover, so this is me thinking ahead & planning some meals with your leftovers. I was so happy with how this dish turned out! Since I am a cheater & use Minute Rice, it's so fast. Like 30 minutes start to finish. We gobbled it up! Plus, what's not to love about a one pot meal? Enjoy!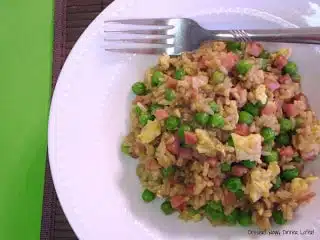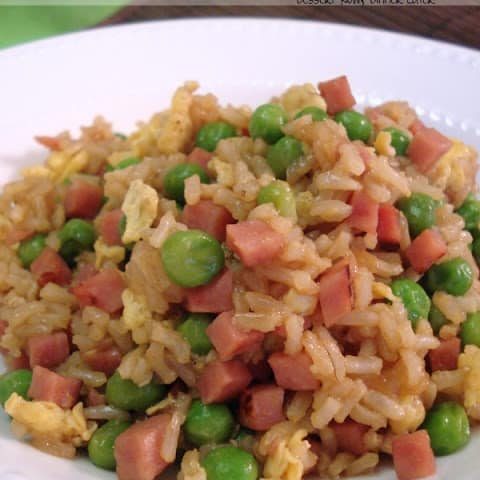 Ham Fried Rice
Ingredients
1 1/2 Tbsp canola oil, divided
2 eggs, whisked
Salt & Pepper
1/2 onion, chopped
2 cloves garlic, minced
8 oz diced ham (approximately 1 1/2 cups)
3 cups cooked rice (white or brown, I used brown minute rice)
1/4 cup soy sauce
2 Tbsp apple cider vinegar
1 Tbsp brown sugar
1 1/2 cups frozen peas (thawed under warm water)
Instructions
In a wok or large skillet, heat ½ Tbsp oil, add whisked eggs & season with salt & pepper. Scramble eggs until cooked. Remove eggs from pan & set aside.
Heat 1 Tbsp of oil in the same pan. Add onion & garlic. Saute for 5 minutes. Add ham & heat until it starts to brown & crisp up. (Keep the heat medium-high.) Once ham is browning, add the cooked rice & fry it until it starts to brown.
Add soy sauce, apple cider vinegar, & brown sugar. Stir. Add thawed peas & reserved scrambled eggs. Heat thoroughly & serve immediately.