Light Italian Meatball Soup
This post may contain affiliate links, meaning that I may receive a commission at no cost to you if you use a link provided. All opinions shared are my own. You can review my full disclosure policy here.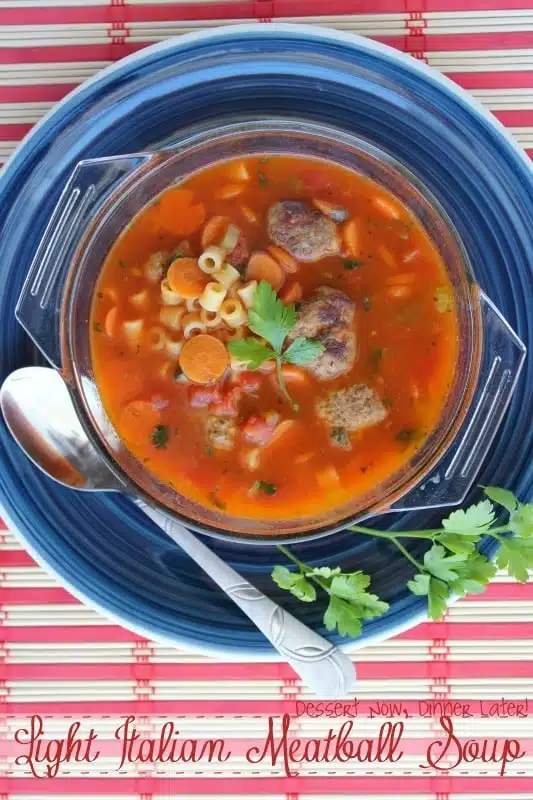 Hopefully by now you have noticed that I am soup lover, if not just go to my recipe page & scroll down to Soup/Stews/Chilis, you should find something you'll like.
I tend to prefer the cream based soups, but lately I have tried my hand at some healthier soups. This one was delicious! It made a LOT for my young family of four, but the leftovers were still good to eat!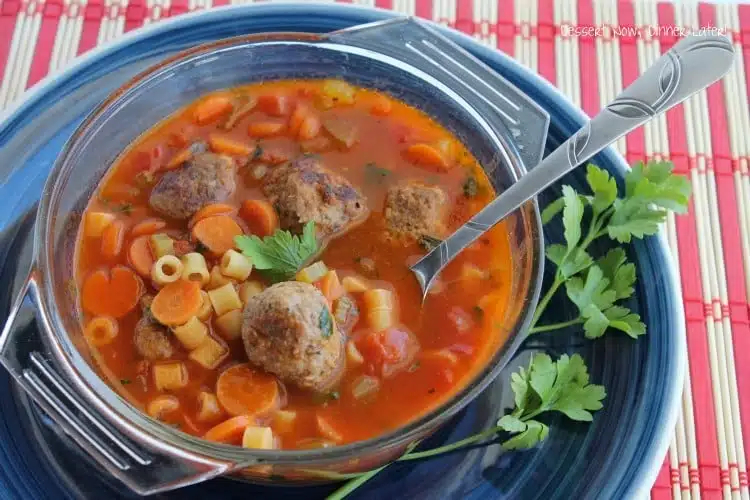 This soup is tomato & beef broth based, so that makes it healthier without any cream. The meat is lean & the vegetables give it the perfect balance between the pasta, meat & broth. The fresh basil & parsley really makes this soup taste wholesome & good for you. I loved this fresh, Light Italian Meatball Soup!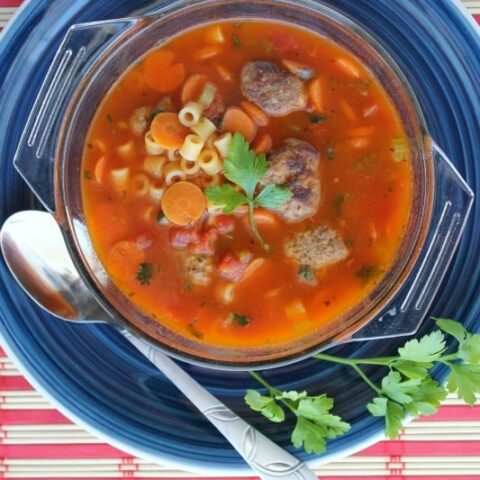 Light Italian Meatball Soup
Ingredients
Soup:
1 Tbsp Olive Oil
4 carrots, peeled & diced (or about 12-14 thick baby carrots thinly sliced)
2 celery rib, washed & diced
8 cups low sodium beef broth
2 cups water (I left this out, but the noodles soaked up the majority of the liquid as it sat while we were eating which actually made a nice leftovers dish.)
4 Tbsp tomato paste
1 (14.5oz) can fire roasted diced tomatoes with garlic (I used S&W Petite Cut Tomatoes Diced with Sweet Onions & Roasted Garlic in Rich Juice)
1/2 lb Ditalini Pasta
2 Tbsp chopped Italian parsley
2 Tbsp chopped basil
Meatballs:
1 lb (97%) lean ground beef
1/2 cup Italian breadcrumbs
1/4 cup shredded Parmesan cheese
1 tsp garlic powder
1 tsp onion powder
1 Tbsp Italian seasoning
1/2 tsp kosher salt
1/4 tsp ground black pepper
1/2 tsp fennel
1 large egg
Instructions
Make meatballs by combining all the ingredients into a large bowl. Mix with hands to combine. Use a 1 Tbsp scoop to portion the meat, & then roll the meatballs in your hands to make them nice & round.
In a large 8 quart non-stick stock pot over medium high heat, sear the meatballs on two sides. Don't cook all the way through. Remove meatballs & save on a plate. (You can eliminate this step & just add the meatballs in step #5, but I think searing them adds good flavor.)
Return stock pot to the stove & warm olive oil. Add carrots & celery. Cook for 1-2 minutes.
Add broth, water, tomato paste, & tomatoes. Stir to combine. Cover & bring to a boil.
Drop seared meatballs into the broth. Cover the pot & allow to boil for 5 minutes. Stir meatballs gently.
Add pasta & cook an additional 10 minutes or until pasta is done. Add basil & parsley; stir & serve.
Nutrition Information:
Yield: 8
Amount Per Serving:
Unsaturated Fat: 0g
Recipe lightly altered from Parade