Shredded Pork Wonton Tacos
This post may contain affiliate links, meaning that I may receive a commission at no cost to you if you use a link provided. All opinions shared are my own. You can review my full disclosure policy here.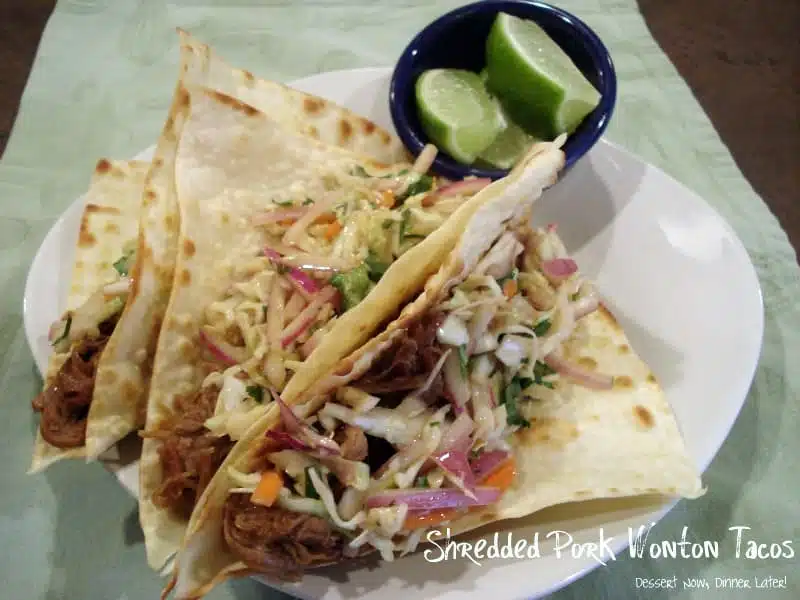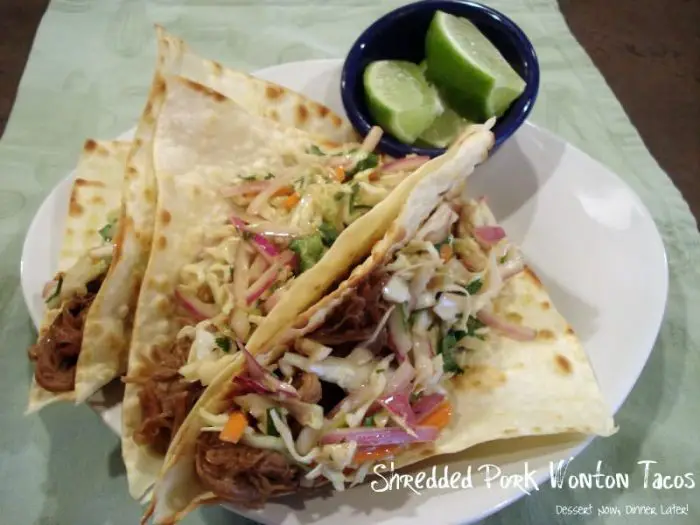 Whenever my hubby & I go to Applebee's we get the pork wonton tacos & they are so good, but oh so very salty & greasy from the fried wontons. These are slightly healthier; not as much salt, & the shells are browned on a griddle. Anyway, I was at the store one day & I got a really good deal on a pork roast & knew I had to come up with an at-home version of this favorite appetizer & turn it into dinner.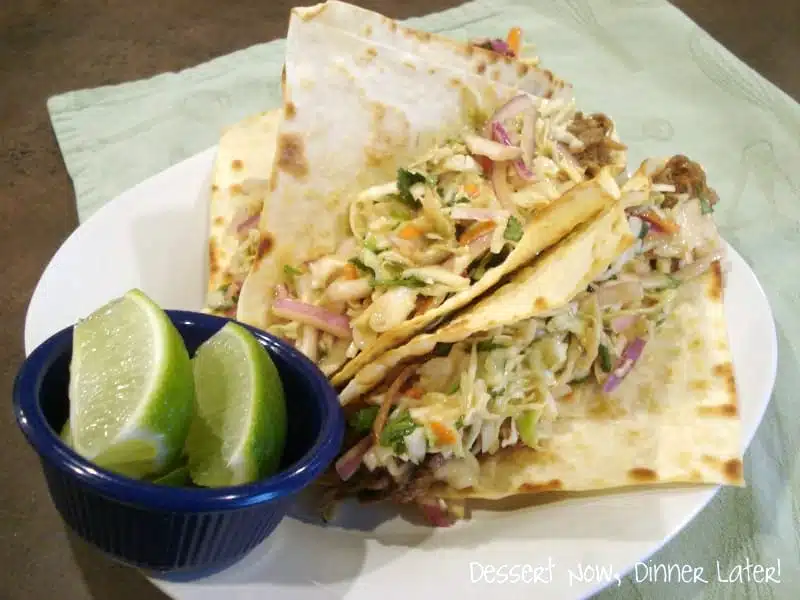 You will notice that my recipe has no spices added to it, just a lot of sauces. You really won't need any salt/pepper b/c the chinese/asian ingredients in it have the flavor & all the sodium you need without overdoing it.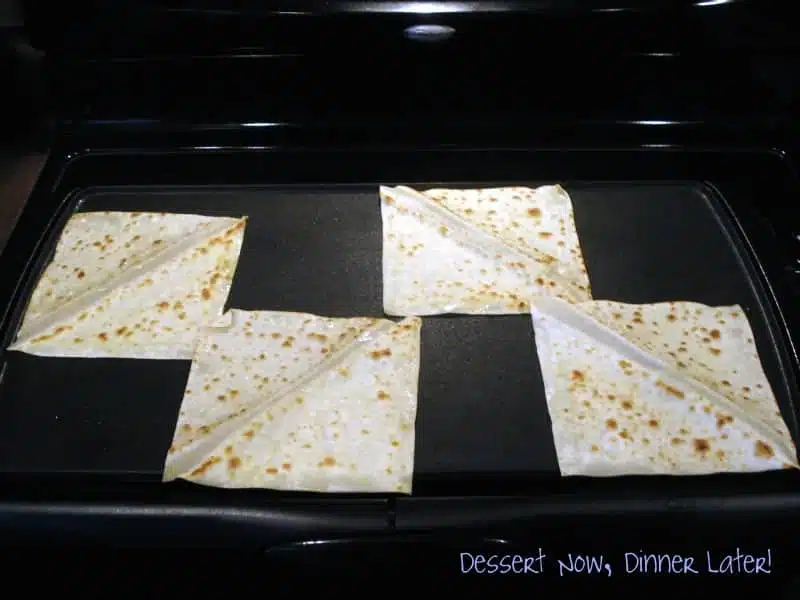 Luckily there were lots of recipes for chicken wonton tacos out there that helped guide my version of this dish. This recipe makes a TON of pork (for our small family) so you can make about 14 large tacos (egg roll size wrapper) or use some of the leftover pork for a salad topper or whatever else you desire. Enjoy! We sure did!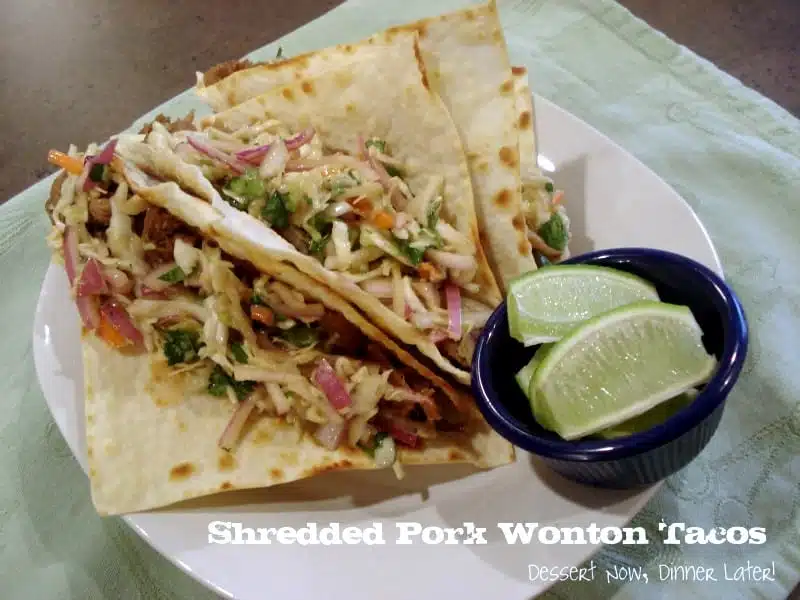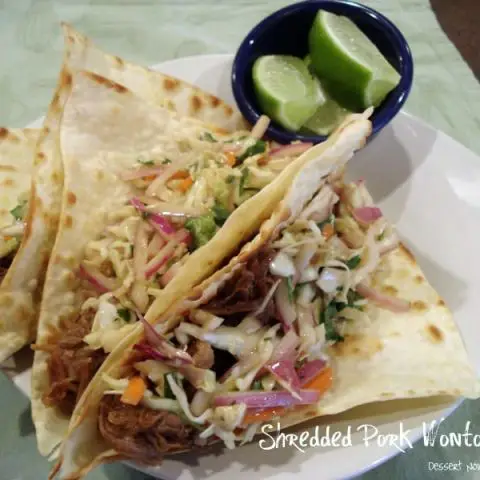 Shredded Pork Wonton Tacos
Ingredients
Pork:
3 lb pork roast (I used the butt or shoulder I believe, but you could use a loin as well.)
1 cup rootbeer (or can of whatever dark soda you like: coke, dr. pepper, pepsi)
6 Tbsp stir fry sauce
3 Tbsp teriyaki sauce
2 Tbsp molasses
12 Tbsp (3/4 cup) Kraft Light Asian Toasted Sesame Dressing
Asian Slaw:
2 cups coleslaw mix
1/2 small red onion (about 1/3(+) cup, diced or thin slices (like cabbage in slaw))
2 Tbsp cilantro, chopped
4 Tbsp Kraft Light Asian Toasted Sesame Dressing
1 tsp apple cider vinegar
Other:
Egg Roll Wrappers (or wonton wrappers if you want appetizer size)
Pan Spray
Limes, cut into sixths (for squeezing over your taco)
Instructions
Pork & Slaw: Cook pork overnight in crock pot with rootbeer for 8-10 hours on low.
Pull cooked pork out & shred it, dump rootbeer in sink & rinse crockpot out/lightly scrub (doesn't have to be all the way clean, but get any dark spots off so it doesn't burn on the sides, etc.) Return shredded pork to crock pot.
Dump stir fry sauce, teriyaki sauce, molasses, & Asian dressing on top of shredded pork. Incorporate well & heat in crockpot on low for an additional 2-3 hours until most ofthe sauce is soaked up in the pork.
Make slaw about an hour before ready to serve tacos (or earlier/later depending on how crunchy/broken down you want your slaw to get.) Combine coleslaw mix, onion, cilantro & toss with Asian dressing & cider vinegar. Cover & keep refrigerated until ready to use. **This makes enough for about 6 egg roll size tacos, so adjust the recipe as needed if you are using all of the pork.
To make "taco" shells: Spray egg roll wrappers lightly on ONE side. Using a griddle also sprayed with pan spray & heated to 350*F, fold egg roll wrappers (spray on outside, dry on inside) into a triangle (in half diagonally) & place on griddle. Cook 1-2 min or so until they bubble/puff up & get brown.
Flip to other side of triangle. Cook until brown & bubbly.
Open triangle, lightly spray inside, & cook the whole inside of the taco, again until brown/bubbly. You can press the seam down as well to cook the fold. (You may use a wooden spoon handle or dowel to keep a big enough gap to hold your filling; ours did ok, but they did crack on the seam the further we ate them.)
Fill shells with shredded pork, top with slaw & squeeze fresh lime juice on top. DO NOT LEAVE OUT THE LIMES! That is the best part & makes it the flavor profile complete. Enjoy!