Blonde Orange Brownies
This post may contain affiliate links, meaning that I may receive a commission at no cost to you if you use a link provided. All opinions shared are my own. You can review my full disclosure policy here.
Blonde Orange Brownies are moist and citrusy with fruity cream cheese glaze.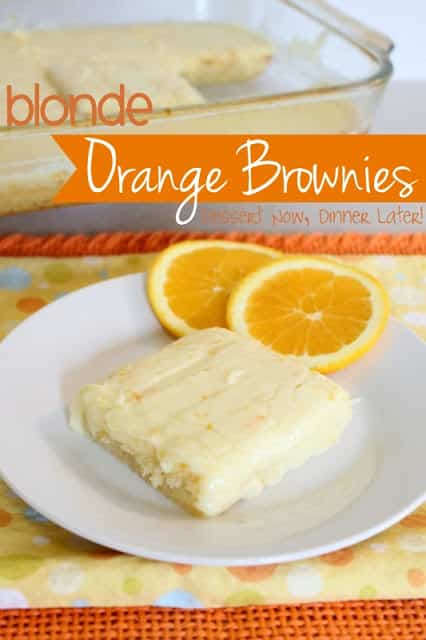 Reader Cathy noticed that I am a fan of citrus. Really? No way…haha. I guess it's not a secret, I practically shout it from the top of my lungs in every post that includes lemons or limes! So Cathy thought I would like to try this "Orange Brownies" recipe that she has, makes often & loves. I have had it on the back burner for a little while, but I have finally gotten to it & I must say, it's a wonderful treat!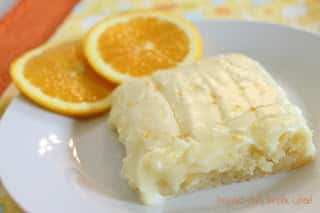 I googled "Orange Brownies" to see if Cathy got the recipe somewhere online so I could link the recipe to a source & it looks like it is an altered version from Paula Deen. I love Paula Deen! Anyway, I decided to read the reviews from Paula Deen's recipe. A lot of the readers complained that the brownies were more cake-like, so I further altered it just a tad & I got this moist, dense Blonde Orange Brownie with Cream Cheese Glaze. It's a fabulous Springtime dessert.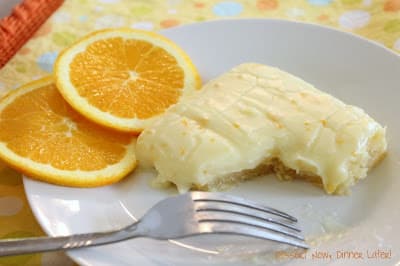 The title "Orange Brownies" is a little deceiving when there is no chocolate in them, so I changed the name in order save myself any angry readers. Anyway, I loved this treat a lot… until I calculated the calories into MyFitnessPal because I am trying to get back to counting & stay on track weight-wise. So, let's just say if you cut big pieces like me: 1 pan made into 12 LARGE pieces, you should probably cut those in half & savor every bite. Enjoy!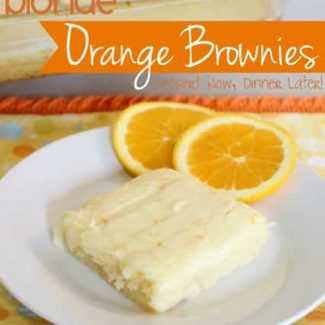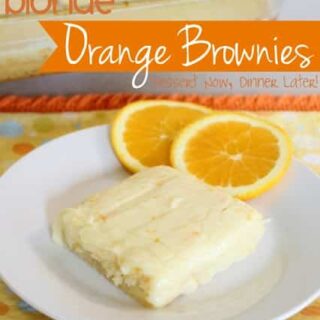 Blonde Orange Brownies
Ingredients
*This recipe needs 2-3 fresh oranges for juice & zest
Blonde Orange Brownie:
1 cup (2 sticks) unsalted butter
1 1/2 cups sugar
3 large eggs
2 tsp pure orange extract (can substitute 2-3 Tbsp freshly squeezed orange juice)
1 tsp orange zest
1 tsp salt
1 cup all-purpose flour
Orange Cream Glaze:
1 (8oz) package cream cheese, softened
4 Tbsp unsalted butter, softened
2 Tbsp orange zest
3 Tbsp freshly squeezed orange juice
2-3 cups powdered sugar, depending on taste & desired consistency
Instructions
Cream butter with sugar. Add eggs, mix well. Add orange extract/juice & zest. Scrape bowl. Add salt & flour, mix until just combined.
Spread into a greased 13x9x2" pan. Bake at 350*F for 30 minutes; edges & top should be lightly browned.
Make glaze: Combine cream cheese & butter. Cream until no lumps appear. Add orange zest, orange juice & powdered sugar until desired consistency & taste.
Pierce the entire sheet of brownies with a fork while still hot. Spread glaze over the top & let cool to room temperature cut & serve. Keep refrigerated if not serving right away.
Nutrition Information:
Yield: 24
Amount Per Serving:
Unsaturated Fat: 0g