Frosted Lemonade Recipe + Video
This post may contain affiliate links, meaning that I may receive a commission at no cost to you if you use a link provided. All opinions shared are my own. You can review my full disclosure policy here.
This copycat Chick-Fil-A frosted lemonade recipe is creamy and sweet with the wonderful tang of lemon. A delicious frozen drink that turns lemonade into a fruit milkshake. Perfect for summer!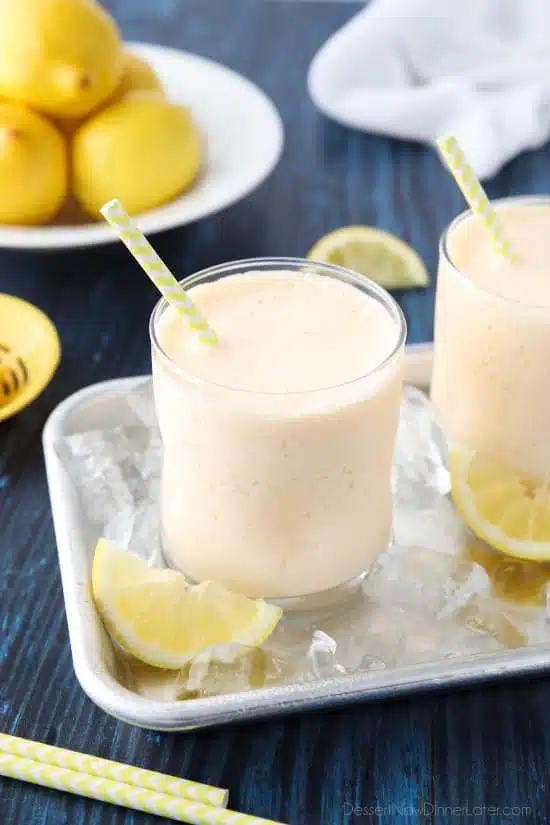 If you've ever been to Chick-Fil-A, you know about frosted lemonade. This frozen drink is a hand-spun combination of Chick-fil-A's homemade lemonade and their famous soft-serve vanilla Icedream®. It's like lemonade and a milkshake combined into one. Talk about refreshing!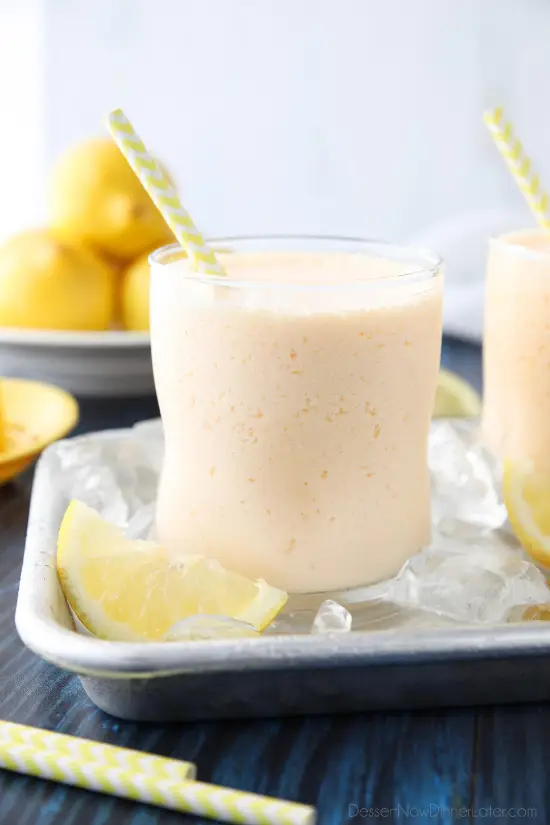 Chick-Fil-A will come out with new frosted lemonade flavors throughout the different seasons, especially spring and summer. It's fun to try new flavors, but you've got to love a classic!
Frosted lemonade is one of our family's absolute favorite summer treats. I wanted to make a version we could enjoy at home anytime, so I'm sharing this recipe with you. After all, I almost always have a gallon of vanilla ice cream in my freezer during the hot summer months. (Which is also great for Root Beer Freezes!)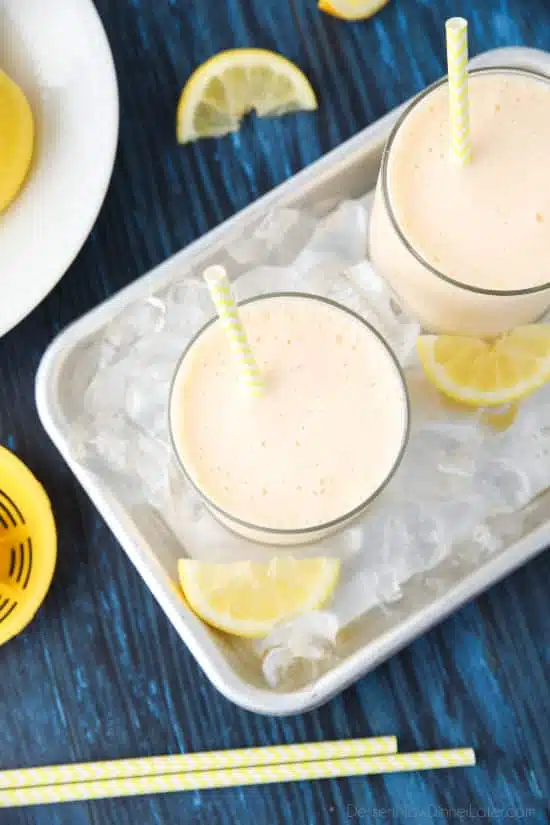 Frosted Lemonade Recipe
All you need to make frosted lemonade is lemon juice, sugar, water, vanilla ice cream, and a blender.
Chilling the lemonade mixture beforehand will help dissolve the sugar into the water and help keep the shake thick. Using cold (ice) water and a blender to quickly dissolve the sugar works well too.
The lemonade mixture itself is small, but concentrated so you get a nice punch of tangy lemon to come through that creamy vanilla ice cream. And you don't have to worry about any leftovers sitting in your fridge either.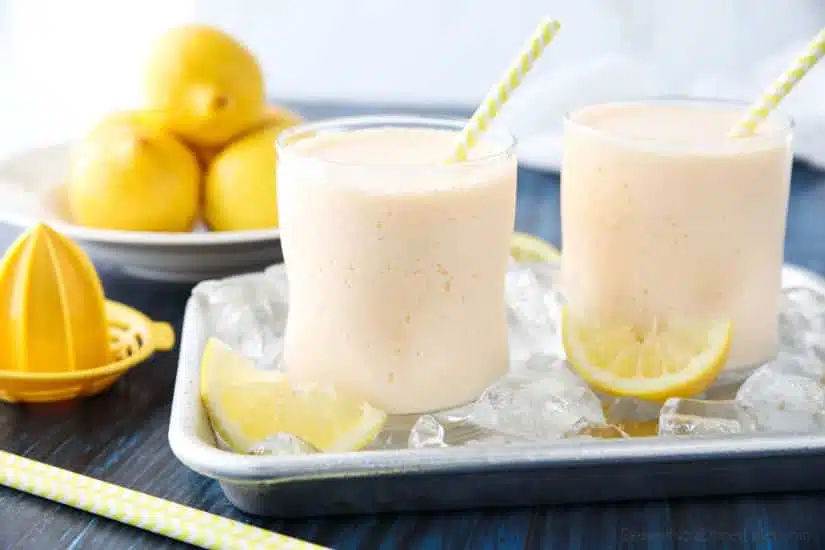 This frosted lemonade recipe makes enough for two to three (8-12oz) servings. It'll be hard to go back to a plain glass of lemonade after trying this lemon milkshake.
If you're ready for a creamy, sweet, and tangy summer treat, this frosted lemonade recipe is for you!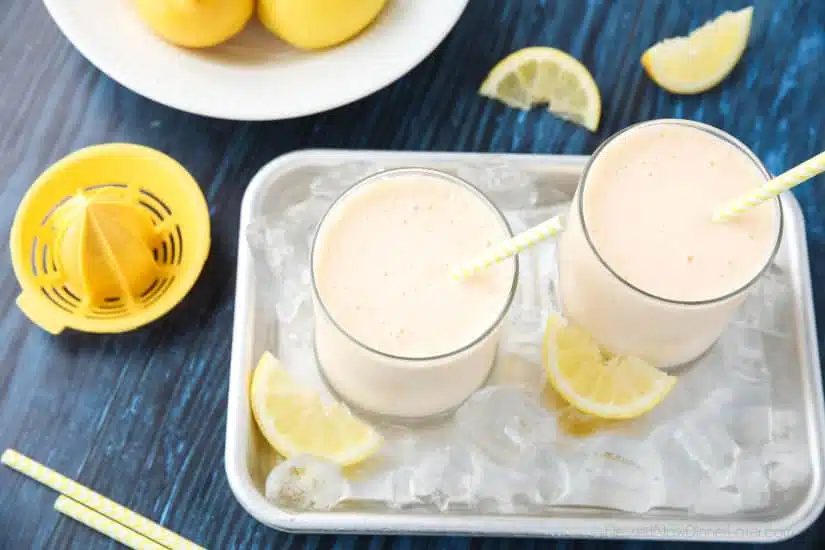 More Lemonade Recipes:
– Brazilian Lemonade – Brazilian Lemonade (also known as Swiss Lemonade) is actually a creamy limeade that is perfectly sweet and slightly tangy. The secret ingredient that makes it creamy will have you pouring glass after glass of this refreshing drink.
– Watermelon Lemonade – Bad watermelon? Don't throw it out! Make watermelon lemonade with this easy, 3-ingredient recipe!
– Frozen Raspberry Peach Lemonade – Frozen lemonade, fruit, and ice is all you need for this fruity frozen drink.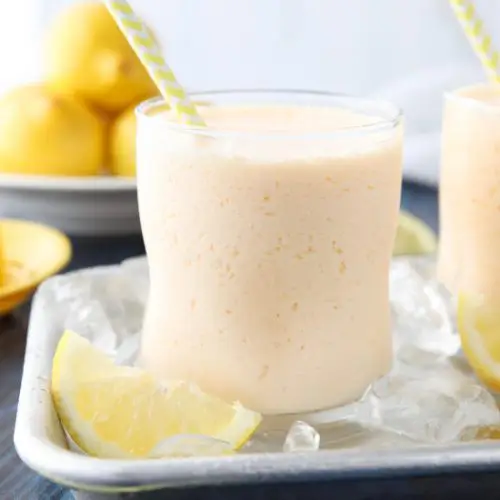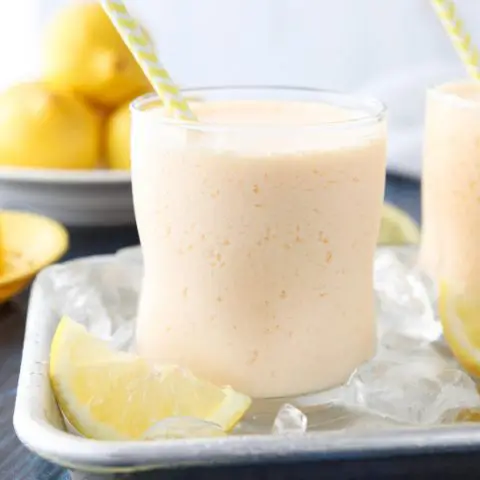 Frosted Lemonade Recipe
Prep Time: 5 minutes
Total Time: 5 minutes
Yield: 3 servings (8oz each)
Ingredients
1/3 cup lemon juice, freshly squeezed
3 Tbsp granulated sugar
1/3 cup COLD (ice) water
3 cups vanilla ice cream
Instructions
*Chill water with ice cubes for several minutes.
Pour lemon juice, sugar, and 1/3 cup COLD water (no ice) into a blender. Blend until sugar dissolves.
Add ice cream to the blender. Blend until combined. Divide into 3 cups. Serve immediately. Enjoy with a spoon or straw.
Nutrition Information:
Serving Size: 8oz
Amount Per Serving:
Calories: 270