Homemade Meals from McCormick – Taco Casserole
This post may contain affiliate links, meaning that I may receive a commission at no cost to you if you use a link provided. All opinions shared are my own. You can review my full disclosure policy here.
This post brought to you by McCormick & Company. All opinions are 100% mine.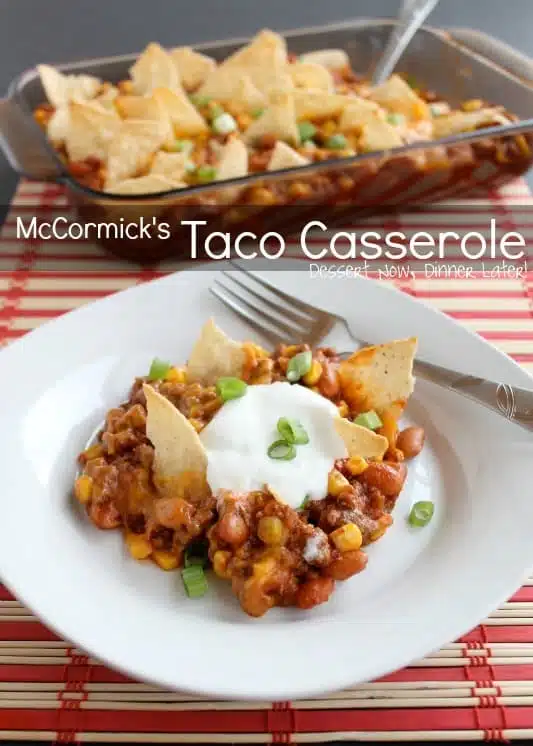 Sometimes I get tired of cooking. Especially at the end of the day when the kids are going crazy & my husband's not quite home from work yet.
It's those times when the kids are screaming & I am trying to get around the kitchen to cook dinner with one kid hanging onto my leg, that I wish we could just go out to eat.
Then I realize, not everything has to be "from scratch" to be "homemade." Thanks to McCormick, we had a fabulous homemade dinner the other night using McCormick Taco Seasoning Mix.
Combine that taco mix with some ground beef & a few cans of ingredients like pinto beans, mexi-corn, & tomato sauce. Top it all off with cheese & tortilla chips & we had a super quick & delicious dinner on the table in no time!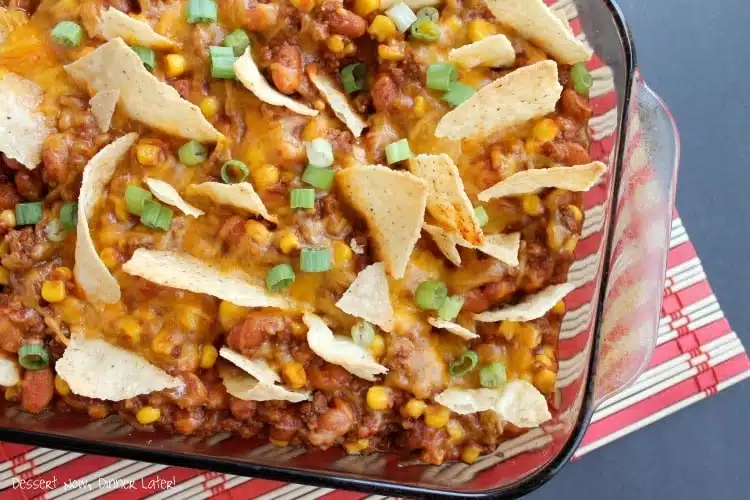 I mean, who doesn't love to eat chips with their dinner? My kids were jumping for joy when they saw that dinner was "jelly beans" & "chippies." And my kids don't always eat ground beef, especially taco meat, but they gobbled this one up!
We added sour cream & green onions to ours. Sliced black olives would be delicious too!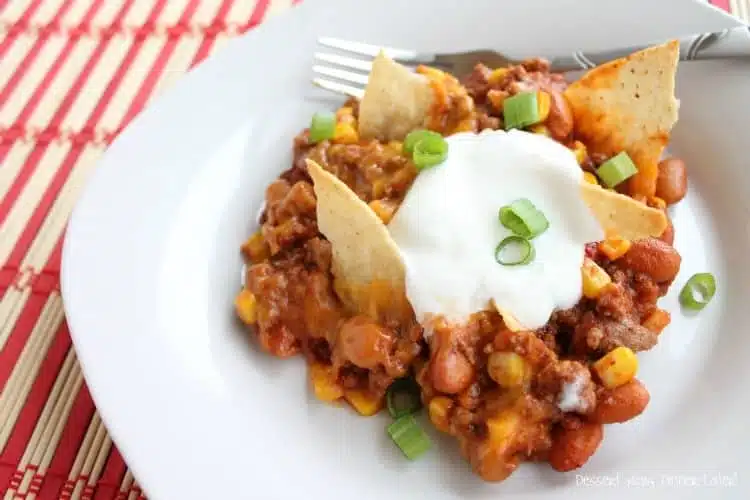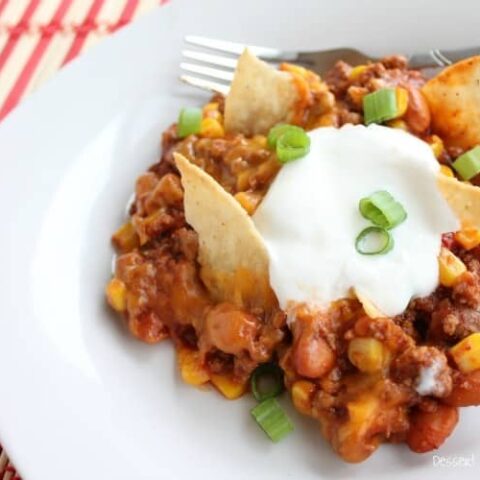 McCormick's Taco Casserole
Ingredients
1 1/2 lbs ground beef
1 packet taco seasoning
1 (16oz) can pinto beans, drained and rinsed
1 (15oz) can tomato sauce
1 (11oz) can corn, drained
1 cup shredded cheddar cheese
1 cup coarsely crushed tortilla chips
Instructions
Preheat oven to 400°F. Brown meat in large skillet on medium-high heat. Drain fat.
Stir in Seasoning Mix, beans, tomato sauce and corn. Bring to boil. Reduce heat to low; simmer 5 minutes. Spoon into 2-quart baking dish. Sprinkle with cheese and tortilla chips.
Bake 5 to 10 minutes or until cheese is melted. Serve with assorted toppings, if desired.
Nutrition Information:
Yield: 6
Amount Per Serving:
Unsaturated Fat: 0g