Raspberry Mousse
This post may contain affiliate links, meaning that I may receive a commission at no cost to you if you use a link provided. All opinions shared are my own. You can review my full disclosure policy here.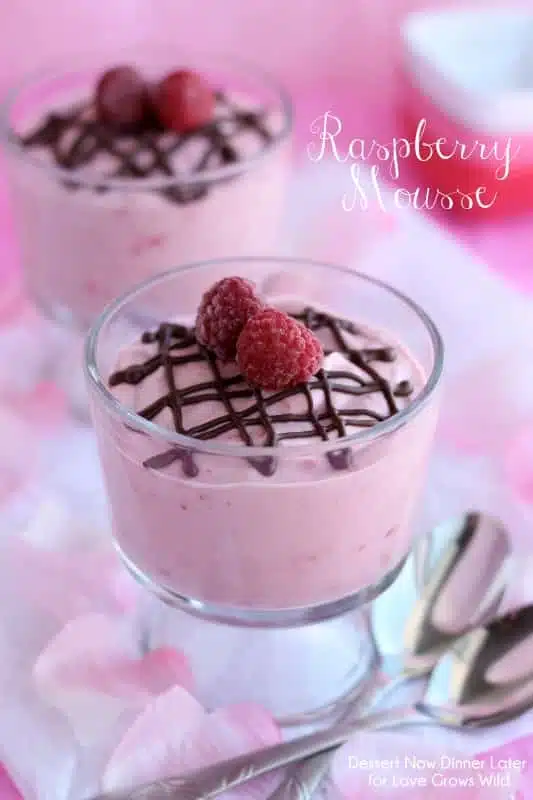 Oh my gosh! Hasn't January just flown by?! For me it has! I can hardly believe that February & Valentine's Day is right around the corner! With that said, I love to try & share some fancy, romantic desserts that you can make for that fun holiday!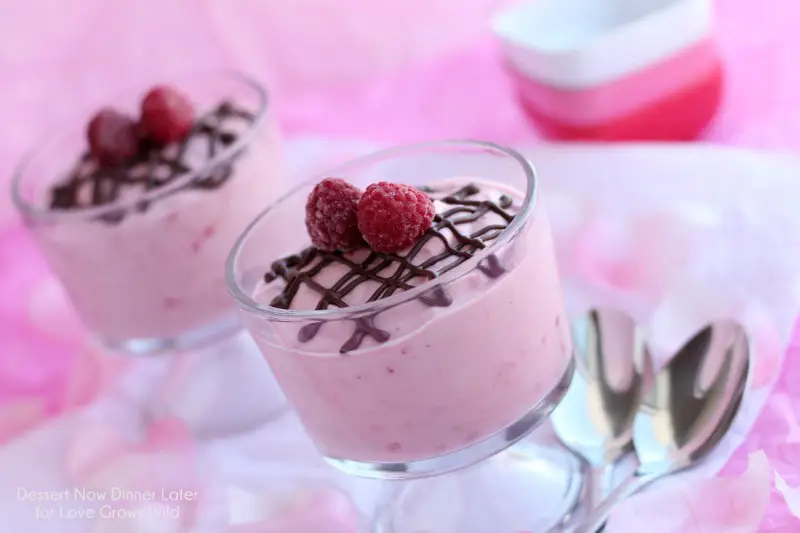 Last year I made these Red Velvet Cake Hearts & my kids loved them! You should most definitely check those out too. Today's dessert is fancy, yet simple & since chocolate dipped strawberries is a common Valentine's treat, I thought I would switch it up a bit, but keep with the fruit & chocolate theme.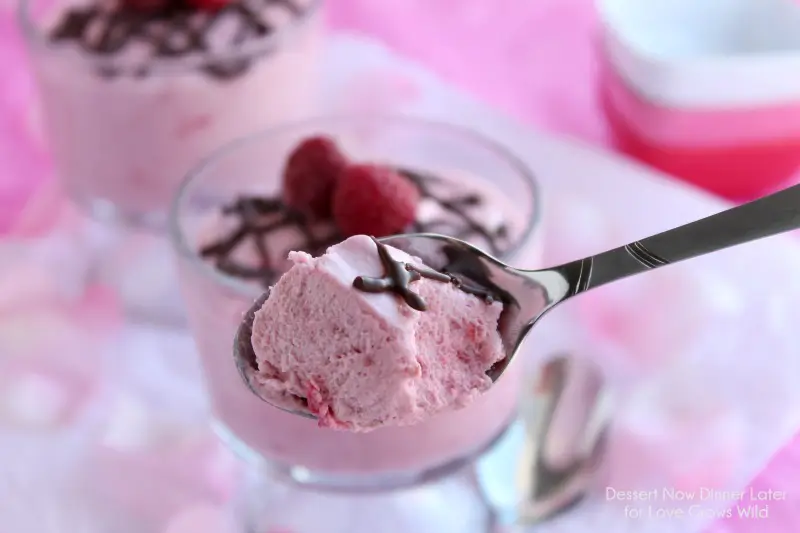 This raspberry mousse is velvety & light in texture. The chocolate drizzle on top adds just the right contrast to the fruity, fluffy mousse. This dessert has romantic evening written all over it! You can make these as early as 2 days in advance, so even if you decide to go out for dinner on Valentine's day you can come home to enjoy your dessert alone with your spouse, if you know what I mean?! *wink wink* Enjoy!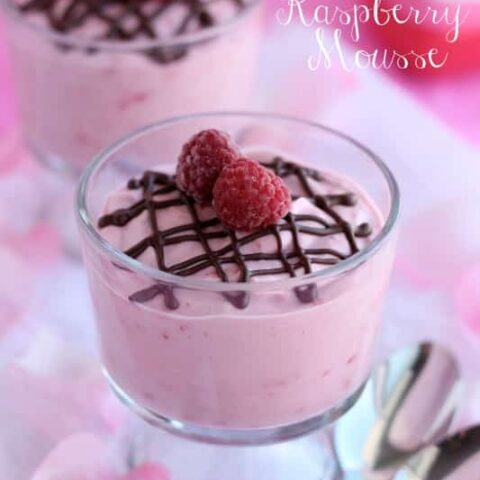 Raspberry Mousse
Raspberry Mousse with a decadent chocolate drizzle is the perfect way to end any meal. Try this light and luscious dessert for Valentine's Day or date night!
Ingredients
1 envelope unflavored gelatin
3 Tbsp cold water
2 cups fresh or frozen raspberries
1/2 cup sugar (or more if you have especially tart berries)
1 1/2 cups heavy cream
1 tsp vanilla
6 Tbsp semi-sweet chocolate chips
1/2 Tbsp shortening, to thin the chocolate
Instructions
In a small bowl, mix gelatin with 3 Tbsp cold water. Let stand to dissolve & solidify.
Combine raspberries and sugar in a medium saucepan; cook over medium-low heat, stirring, until sugar dissolves and mixture is warm, about 5 minutes. Optional: Gently mash the berries with a potato masher, but keep the texture slightly chunky. Stir in gelatin until it melts/dissolves. Pour mixture into a bowl to cool and set aside.
Combine heavy cream and vanilla in the bowl of a stand mixer. Using the whisk attachment, whip cream until soft peaks form. Gently fold in raspberry mixture. Spoon mousse into 6 dessert goblets. Lightly cover with plastic wrap; refrigerate until set, at least 2 hours or up to 2 days in advance.
Before serving, melt chocolate with the shortening in a small bowl using short bursts in the microwave. Pour melted chocolate into a zip-top bag and cut off the corner. Zig-zag the chocolate over the top of the set mousse. Garnish with a couple of fresh or frozen raspberries.
Nutrition Information:
Yield: 6
Amount Per Serving:
Unsaturated Fat: 0g
Recipe added 9/10/15. Also seen on Love Grows Wild.