Pudding Buttercream Frosting + Video
This post may contain affiliate links, meaning that I may receive a commission at no cost to you if you use a link provided. All opinions shared are my own. You can review my full disclosure policy here.
Pudding Frosting is easy to make without Cool Whip or whipped cream. All you need is butter, instant pudding mix, milk, powdered sugar and vanilla. Try this white chocolate pudding buttercream frosting or switch it up with any flavor of instant pudding mix.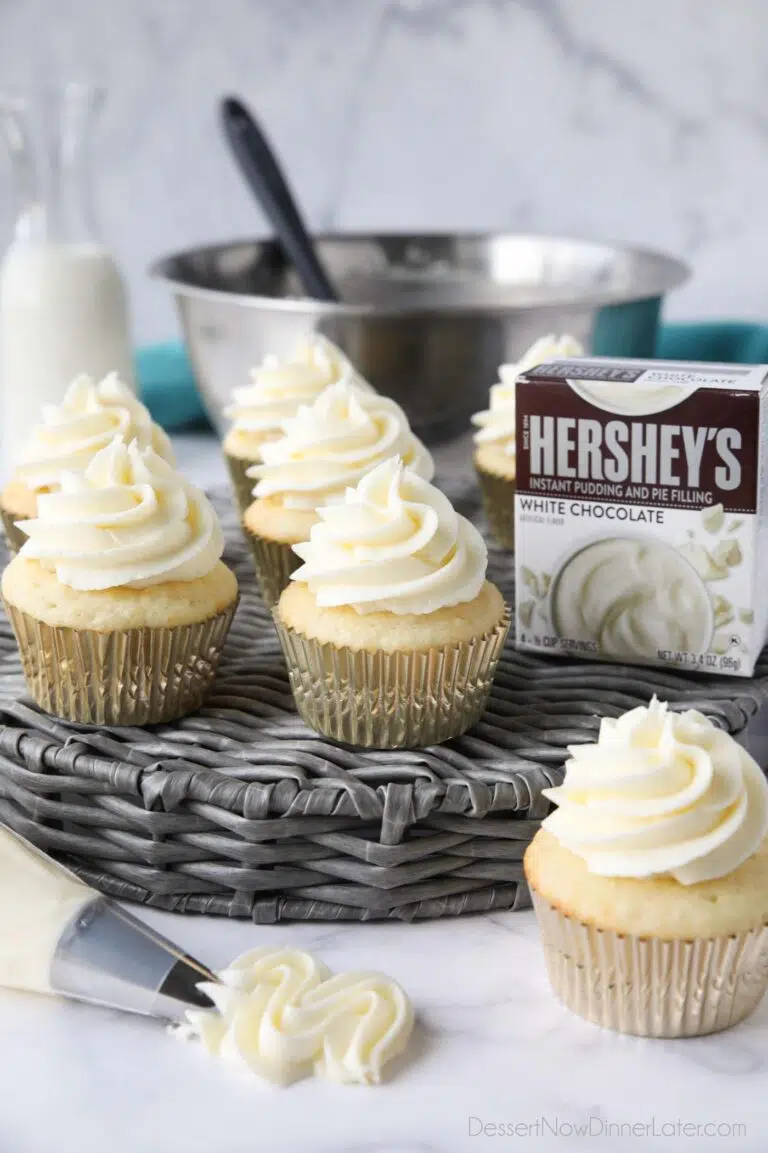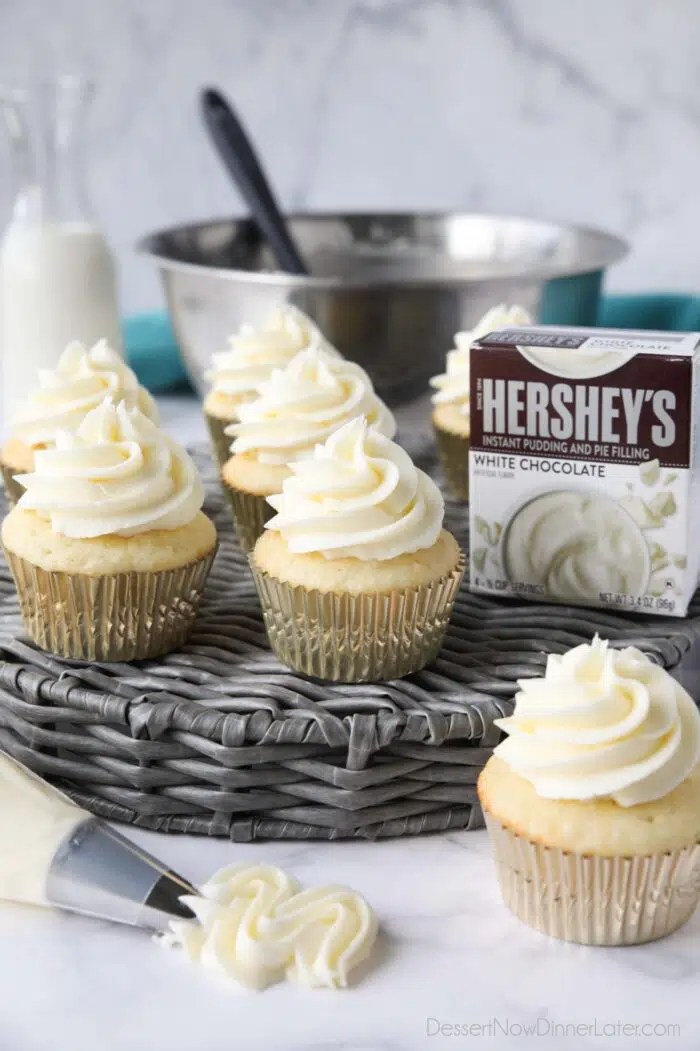 Buttercream
"I've never really been a fan of buttercream. Too sweet and too greasy. I use bare minimum on the cakes that I actually eat, or I'll scrape it off if it's served to me."
This was my opinion back when buttercream was primarily (or partially) made with shortening. Especially in grocery store bakeries. Bleh! Pure homemade vanilla buttercream frosting made with all butter is MUCH better.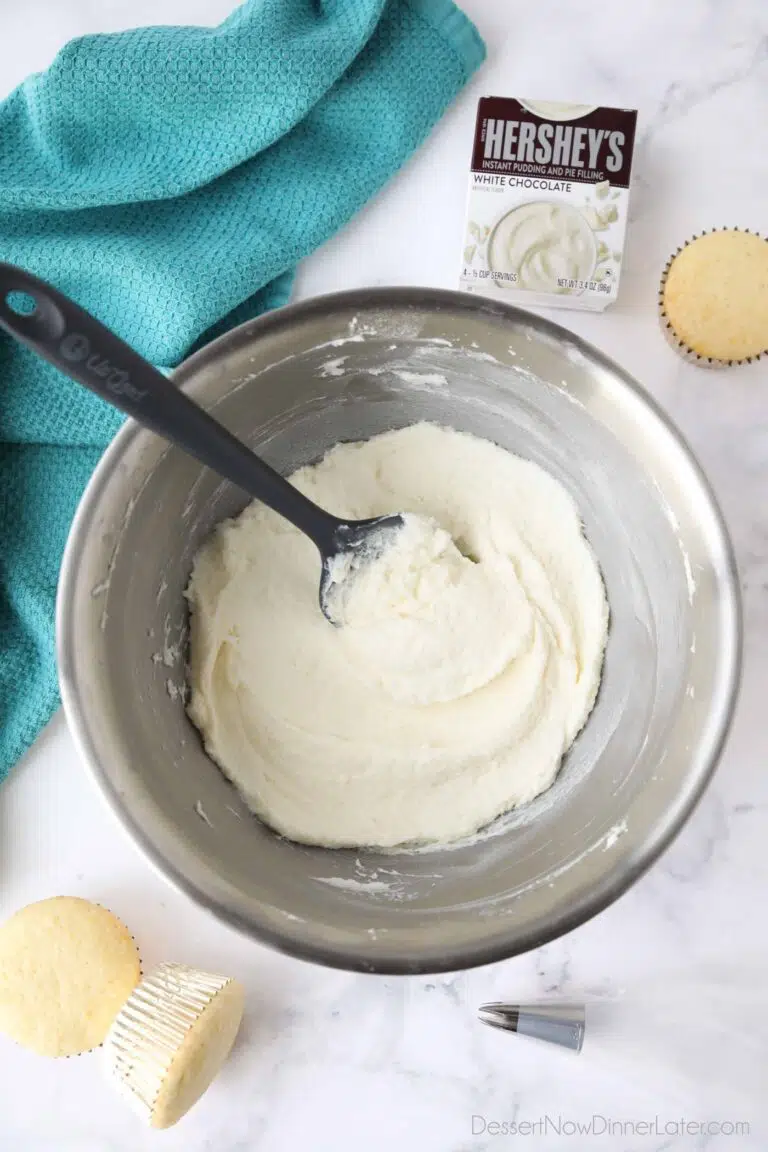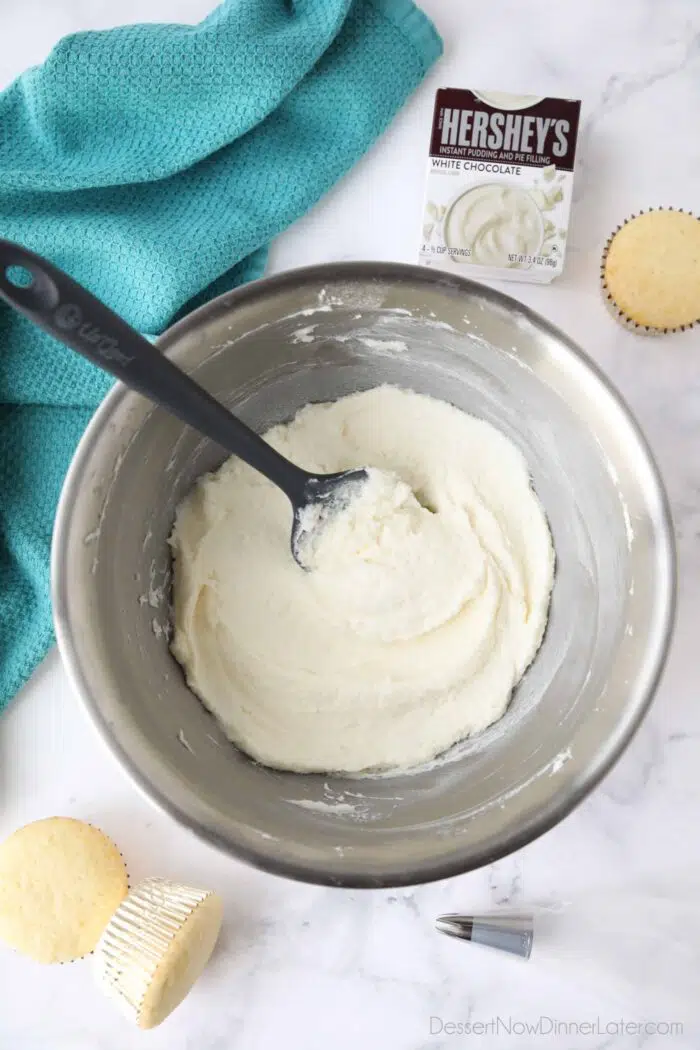 Pudding Frosting
Now there is an even funner way to spruce up buttercream!
You've heard of pudding cake and pudding cookies, but have you ever heard of pudding frosting?
I hadn't, until I searched it and only found like one recipe. I adapted it to my liking and I loved the results!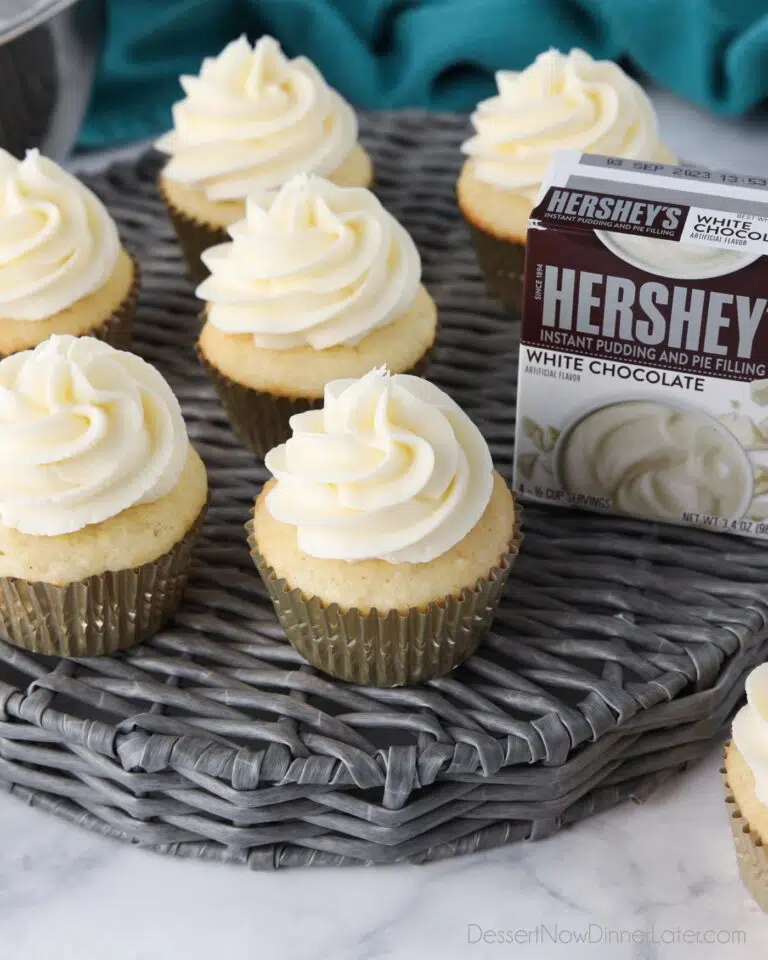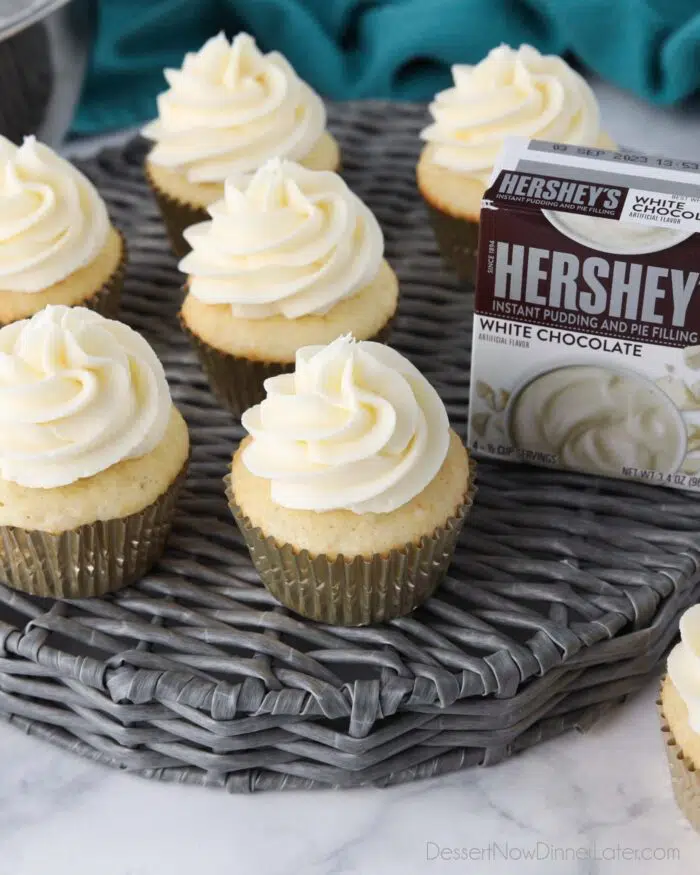 No Cool Whip or Whipped Cream
Most pudding frosting will be made with cool whip or whipped cream. Which is fine, but if you want a frosting you can pipe with, you need to make pudding buttercream frosting — with butter.
The texture is perfect: smooth and velvety, yet durable and holds its shape. You also use less powdered sugar than typical buttercream, while adding flavor (not just pure sugar) to the frosting. It's genius! Or at least I think so.
Ingredients
For this recipe you will only need 5 ingredients.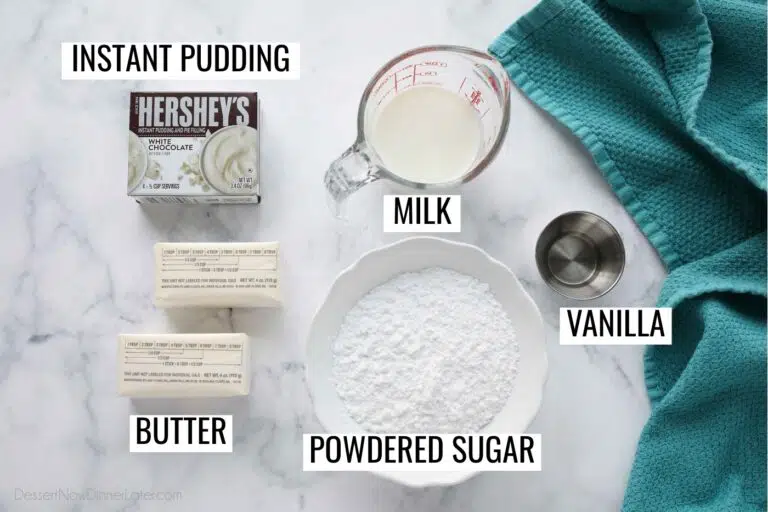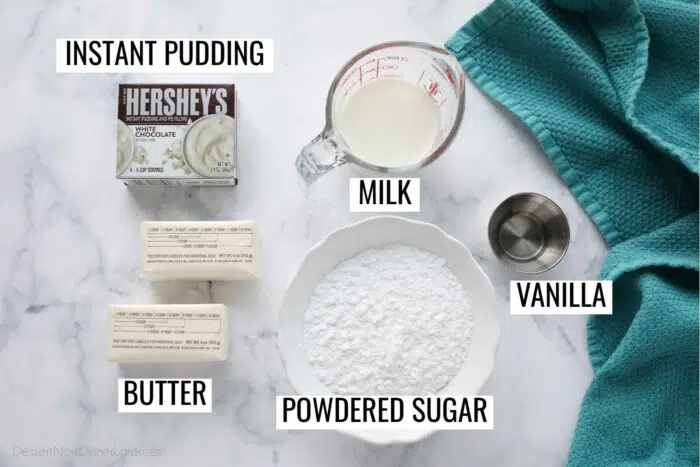 Instant Pudding Mix – One small box (4 serving size; approximately 3.4 oz); any flavor. Just the dry powder. Do not follow directions on box to make pudding.
Milk – To mix with the pudding and thin the frosting to the desired consistency. Whole, 2% or skim milk all work well.
Butter – At room temperature. Unsalted butter is preferred, unless you love salted butter. You can always add a pinch of salt to the frosting if you'd like. Better to control the salt, than for it to be too salty.
Powdered Sugar – To add a little extra sweetness and volume to the frosting.
Vanilla Extract – To enhance the flavor.
How to Make Pudding Buttercream Frosting
It's easy to make pudding frosting with an electric hand mixer or stand mixer.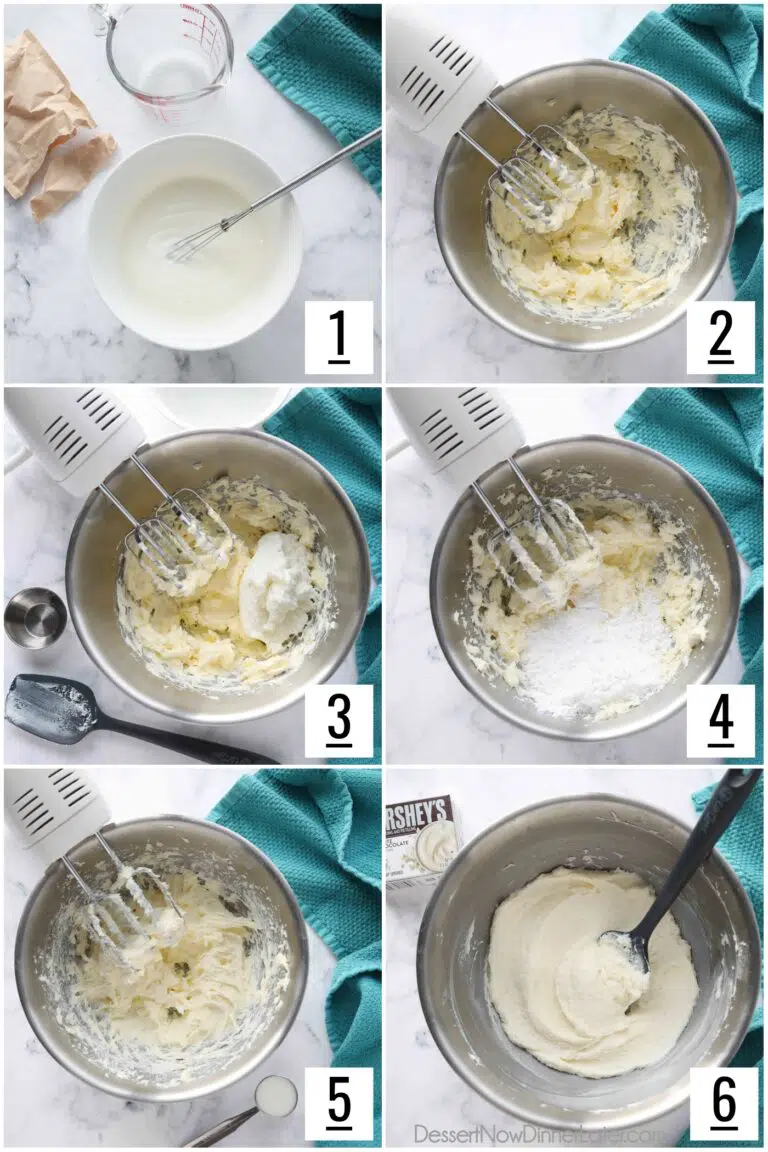 Whisk together the pudding mix and milk in a bowl. Set aside.
Cream the butter until smooth, using an electric mixer.
Add the prepared pudding and vanilla extract. Beat together.
Add the powdered sugar. Mix completely.
Add extra milk 1 Tablespoon at a time to the desired consistency.
Frosting is ready to spread or pipe onto cakes or cupcakes. For best results, use immediately.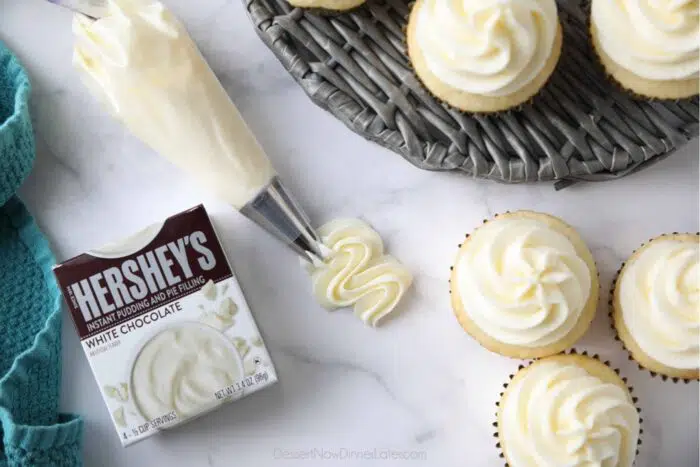 Tips and Storage
Extra Milk: I add between 4-6 Tablespoons of extra milk to get it soft and thin enough to pipe.
NOTE: The frosting will look a little more thick and slightly lumpy straight in the bowl, but it will smooth as it is piped. You can add more milk if you plan to spread it on a cake with a spatula.
Use immediately. This pudding frosting can get quite firm, especially when refrigerated. For best results spread or pipe the frosting directly after making it. If you refrigerate the frosting before using it, simply mix in more milk to a spreadable consistency.
Refrigerate leftovers. Since the frosting is made with a substantial amount of milk, it is best to refrigerate any leftovers. Be sure to remove the cupcakes/cake from the fridge 20-30 minutes before serving, to take the chill off the cake and frosting. Otherwise they may both be quite stiff.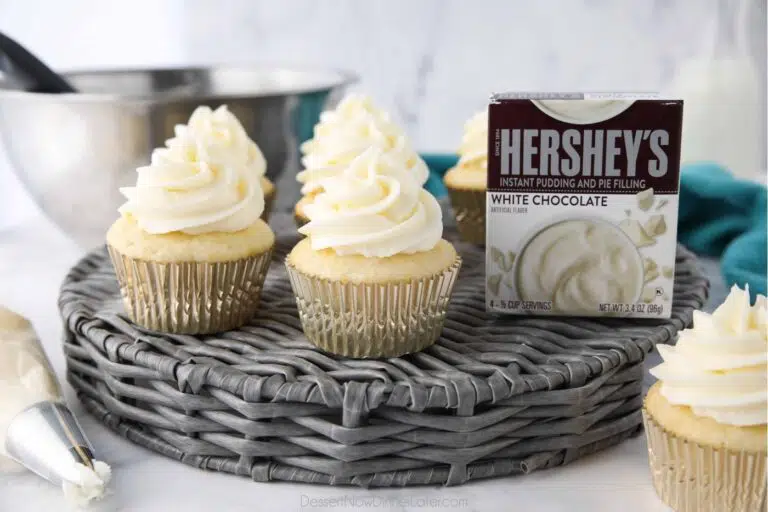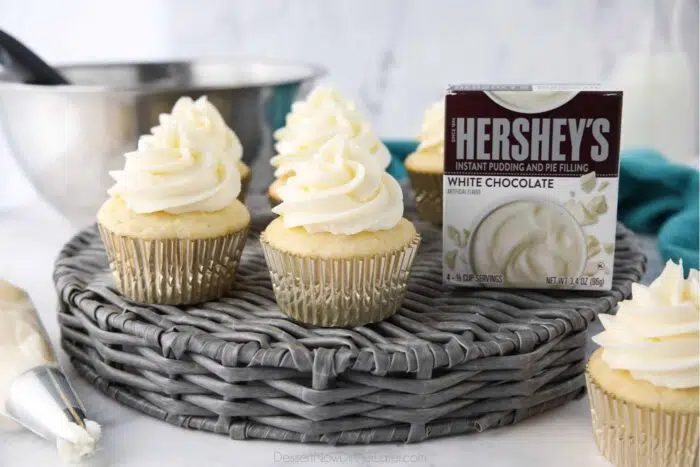 Pudding Mix Flavors
Now that you see how easy it is to make pudding frosting, just think of all the flavor combinations! Crazy amounts of pudding boxes waiting at the store for you to make frosting with!
Of course there's vanilla and chocolate, but there's also, cheesecake, pistachio, lemon, banana cream, butterscotch, and white chocolate. And that's not even seasonal or specialty flavors like pumpkin spice or Oreo.
I just happened to have this Hershey's instant white chocolate pudding mix in my cupboards and needed something to make with it, so that's what I did. I like it! And I hope you will too!
Great Cupcakes to Pair with this Pudding Frosting
If You Make This Recipe, Please Rate and Review it in the Comments Below. THANKS!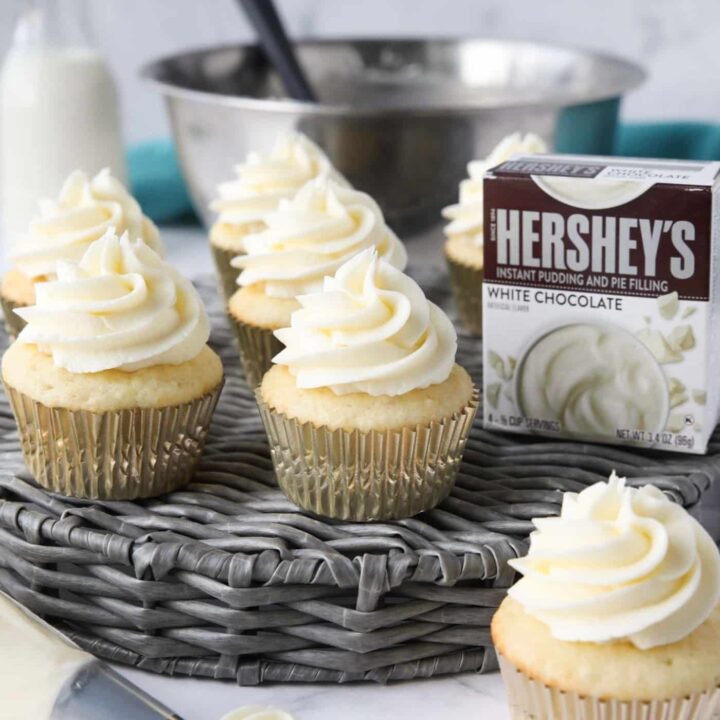 White Chocolate Pudding Buttercream Frosting
Prep Time: 10 minutes
Total Time: 10 minutes
Yield: 2 1/4 cups frosting
Buttercream frosting flavored with pudding mix for piping or spreading onto cakes and cupcakes.
Ingredients
1 small box white chocolate (or other flavor) instant pudding mix (the 4 servings size box; approximately 3.4 oz)
1/2 cup cold milk, plus extra for thinning
1 cup (2 sticks) unsalted butter, room temperature
1 tsp vanilla extract
1 cup powdered sugar
Instructions
Whisk pudding with milk in a small bowl. Set aside until thickened; about 3 minutes; it's not very long.
Meanwhile beat butter in a large bowl with an electric hand mixer until creamy and smooth. Add thickened pudding and vanilla. Blend until combined.
Add powdered sugar and blend again.
Add additional milk, 1 Tbsp at a time until desired consistency is achieved. (I added about 4 to 6 Tablespoons.) Fill pastry bag and pipe icing onto cupcakes or spread onto cake with a spatula.
Notes
Use pudding frosting promptly after being made. If prepared beforehand: thin with additional milk to a spreadable consistency. Keep refrigerated.
Remove decorated cake/cupcakes from fridge 20-30 minutes before consuming to take the chill off of the cake and frosting.
Yield: 2 1/4 cups frosting; enough to pipe high onto 16-18 cupcakes, spread on top of a 13x9-inch cake, or decorate a single layer round cake.
Recommended Products
As an Amazon Associate and member of other affiliate programs, I earn from qualifying purchases.
Nutrition Information:
Yield: 16
Serving Size: 1/16
Amount Per Serving:
Calories: 160
Total Fat: 11g
Saturated Fat: 7g
Trans Fat: 0g
Unsaturated Fat: 1g
Cholesterol: 31.6mg
Sodium: 93.1mg
Carbohydrates: 13.8g
Fiber: 0g
Sugar: 12.3g
Protein: .4g
This data was provided and calculated by Nutritionix, and is an estimation only.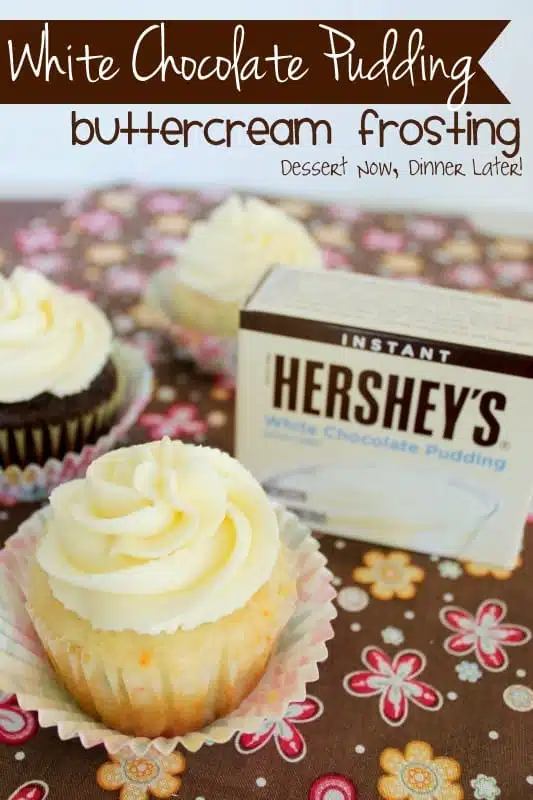 *Originally published 4/16/13. Photos updated December 2021.