Cinnamon Roll Sugar Cookies
This post may contain affiliate links, meaning that I may receive a commission at no cost to you if you use a link provided. All opinions shared are my own. You can review my full disclosure policy here.
These Cinnamon Roll Sugar Cookies have cinnamon in the batter of the soft, chewy cookies, with additional cinnamon sprinkled on top of the fluffiest cream cheese frosting!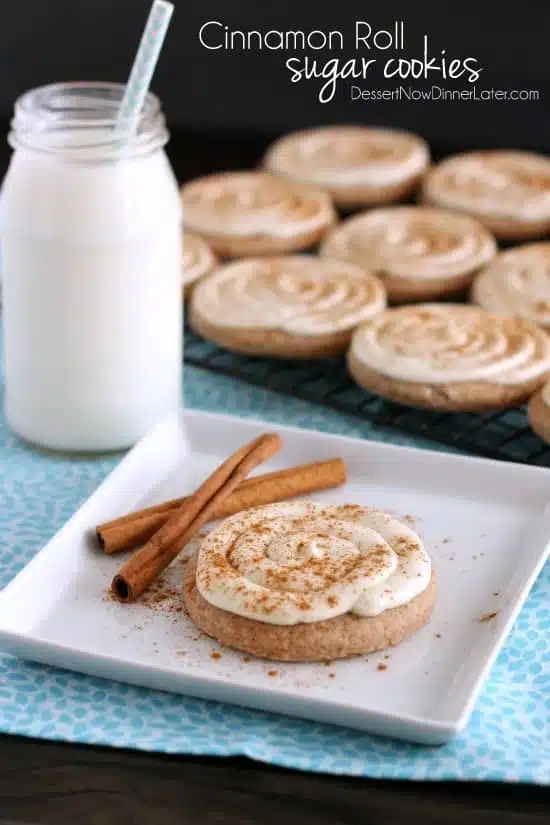 Seven-ish months ago, I was at a blogger event where my friend Laura brought the treat for the night, which ended up being dirty diet cokes and a variety of cookies from Smart Cookie Company in Midvale, Utah. You can take a peek at the instagram post about it here. It's actually kind of funny, because when I decided to make these, I hadn't tried looking for that picture as a reference. I just knew I remembered loving that cookie and wanted to re-make it at home.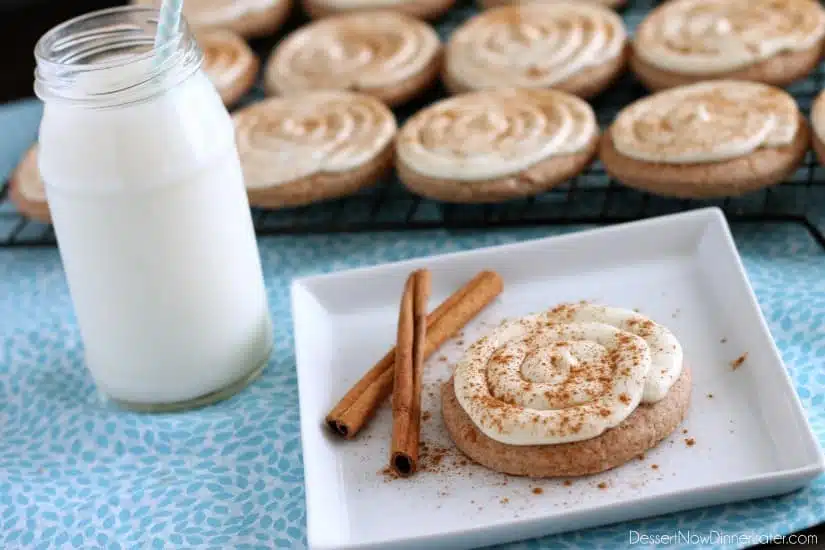 I can't believe how close I got it to look like the real deal without even looking at that instagram picture until I stared typing this post! These Cinnamon Roll Sugar Cookies are made from my favorite cut-out sugar cookie recipe with the addition of cinnamon and my absolute favorite cream cheese frosting on top, again with a dash of cinnamon! These are "cinnamon roll" sugar cookies after all! I mean, look at the swirl on top!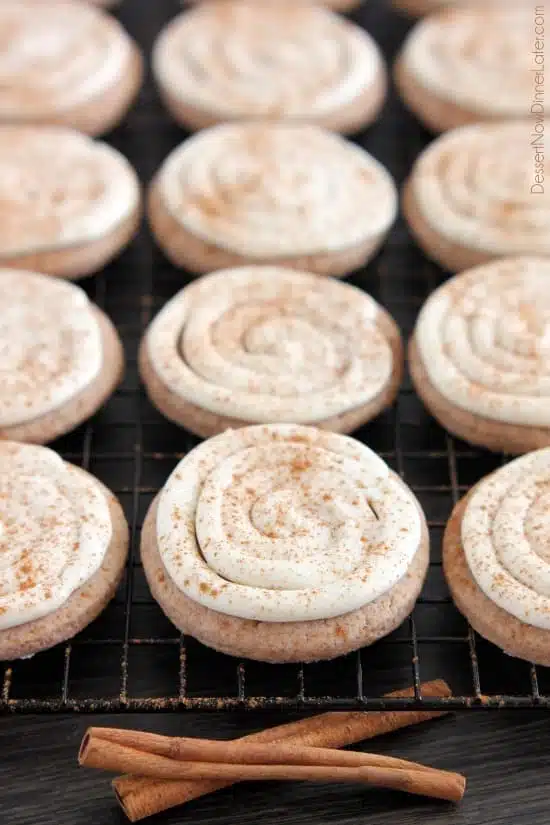 I had a really fun time shooting these cookies if you couldn't tell. 😉 It was REALLY hard to narrow down the pictures I chose, but not only are these cookies cute to look at, they are delicious to eat! My friends devoured them super fast, and my husband took what I had saved for me and the kids to work…. I was mad, to say the least! Haha! Such a fun twist on the regular sugar cookie!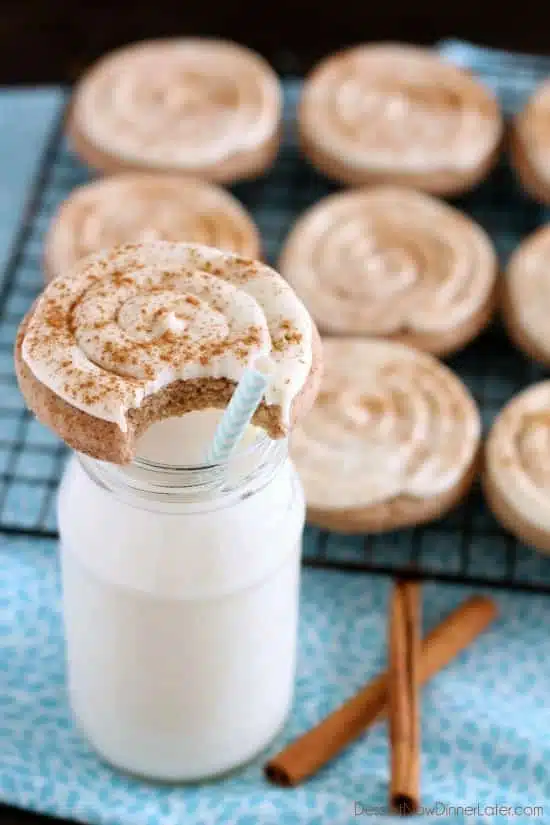 Don't you just want to take a big bite out of that thick chewy cookie with a sip of milk to wash it down?! That's totally an old fudge jar by the way, but it makes a great milk glass, don't you think?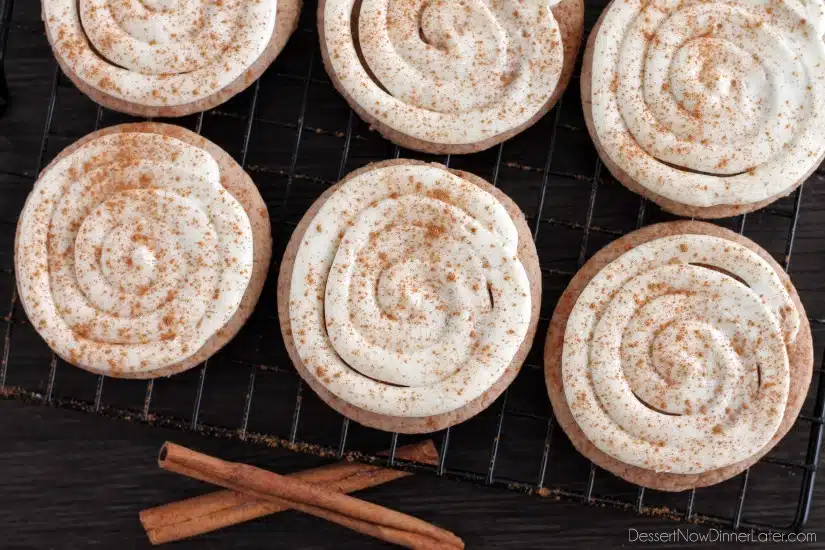 Okay, okay! Enough of the banter… here's the recipe!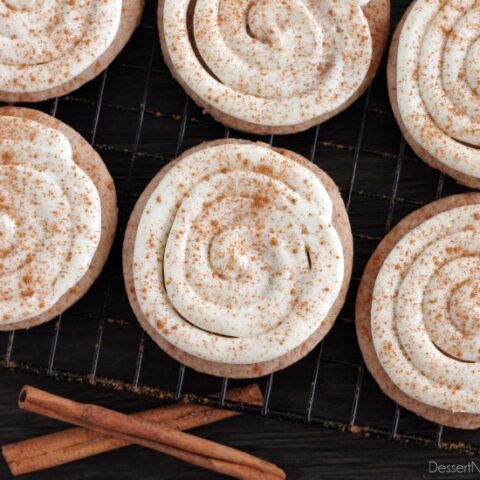 Cinnamon Roll Sugar Cookies
*This recipe has been updated (12/4/14) to make these cookies even better! (More moist and cinnamon-y; cookies may appear darker than pictured here because of the extra cinnamon.)
Ingredients
1 cup butter (unsalted, at room temperature)
1 cup sugar
1 large egg
1 1/2 tsp vanilla
3 cups flour (Lightly spooned into the cup and leveled with a knife when measured. (If you are worried about being heavy handed with the flour, only use 2 3/4 cup.))
1 1/2 tsp baking powder
1 tsp salt
2 1/2 Tbsp cinnamon, plus extra for garnish
Instructions
In the bowl of a stand mixer with the paddle attachment, cream the butter with the sugar. Add the egg, and vanilla. Mix well.
In a separate bowl, combine the flour, baking powder, salt, and cinnamon. Add dry ingredients to bowl of wet ingredients and mix until just incorporated.
Cover the dough and chill in the refrigerator for 1 hour.
Roll out dough onto a lightly floured surface until ¼-inch thick. Cut circles out and place onto a baking sheet with parchment paper or a silicone baking mat. Press scraps together and continue cutting cookies until all the dough is used; try not to overwork the cookie dough.
Bake at 350 degrees Fahrenheit for 8 to 12 minutes depending on if you want a soft cookie (8 to 9 minutes) or crisp cookie (10 to 12 minutes). Allow to cool on tray for a few minutes before transferring cookies with a spatula onto a wire rack.
While cookies cool, prepare The BEST Cream Cheese Frosting and place it in a pastry bag with a coupler and a large round tip. Pipe a thin layer of frosting in a swirl motion on each cookie starting from the outside, and working your way in towards the center. Sprinkle with cinnamon and serve. Store in an airtight container.
Notes
*You may roll out the cookie dough between 2 sheets of parchment or wax paper and chill for 20 to 30 minutes as opposed to the 1 hour of chill time.

*The cookies may be stored covered with plastic wrap or in an air tight container at room temperature or in the refrigerator. Once the cream cheese frosting is made and the cookies are frosted, they either need to stay at room temperature or stay refrigerated; moving the cookies in and out of the fridge for large periods of time may cause food poisoning.
Nutrition Information:
Amount Per Serving:
Unsaturated Fat: 0g
This is a cell phone picture of my second attempt at making these cookies better for everyone. You can see they are darker than the original ones because there is more cinnamon in them.