The BEST Cream Cheese Frosting + Video
This post may contain affiliate links, meaning that I may receive a commission at no cost to you if you use a link provided. All opinions shared are my own. You can review my full disclosure policy here.
The BEST Cream Cheese Frosting – thick, sturdy, and pipeable, plus not overly sweet!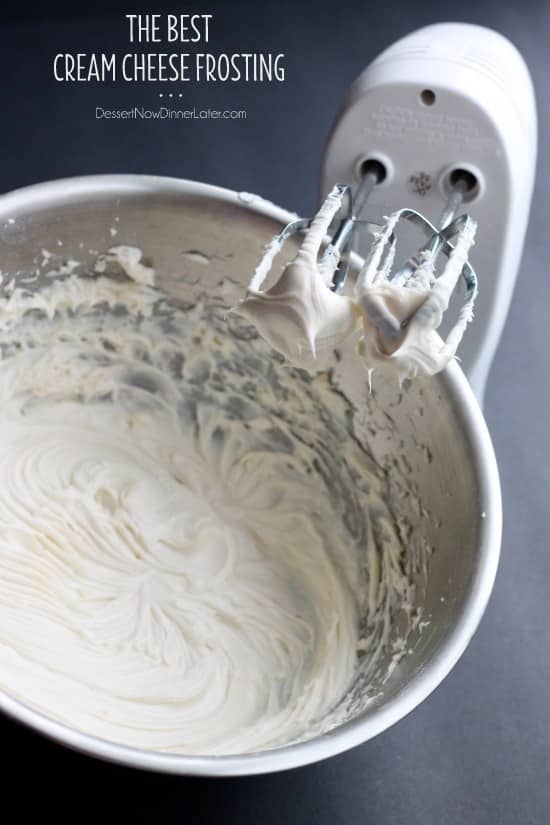 Okay ya'll! I'm serious when I say this is the BEST Cream Cheese Frosting recipe out there! I've tried so many kinds, and they work out okay, but I've always struggled with soft, stringy frosting. This cream cheese frosting is stiff, sturdy, pipe-able, spreadable, you name it! It's not overly sweet like the other recipes either.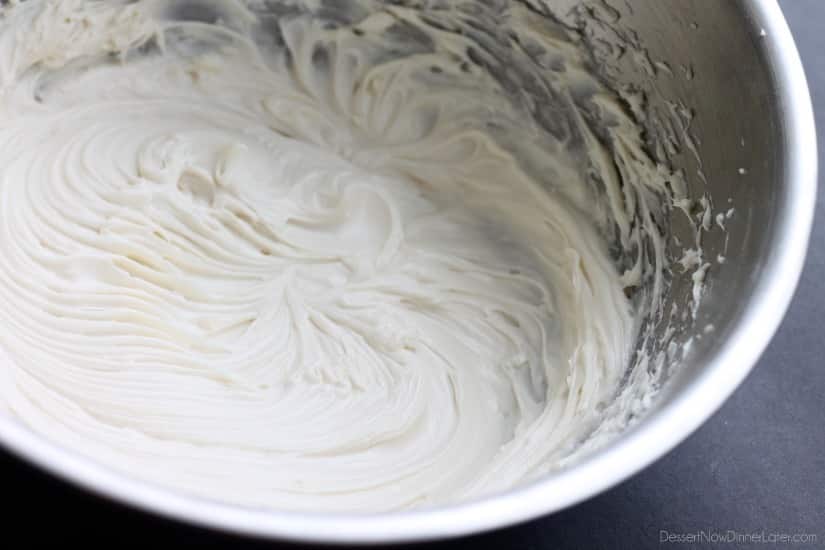 See the ripples in that frosting? Yep, that's proof right there that it's stiff enough to decorate with. The big difference between this recipe and all those other ones floating around the web, is that this recipe uses more butter and less powdered sugar.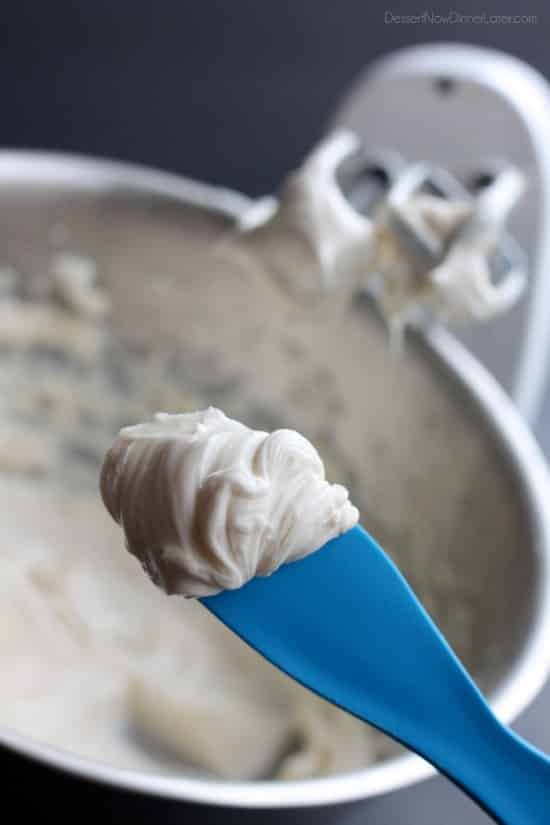 This variation of more butter and less powdered sugar gives the cream cheese frosting a buttery, creamy texture, yet still has that tangy cream cheese flavor to it. Less powdered sugar helps it not be stringy, and the butter helps lighten and fluff up the frosting.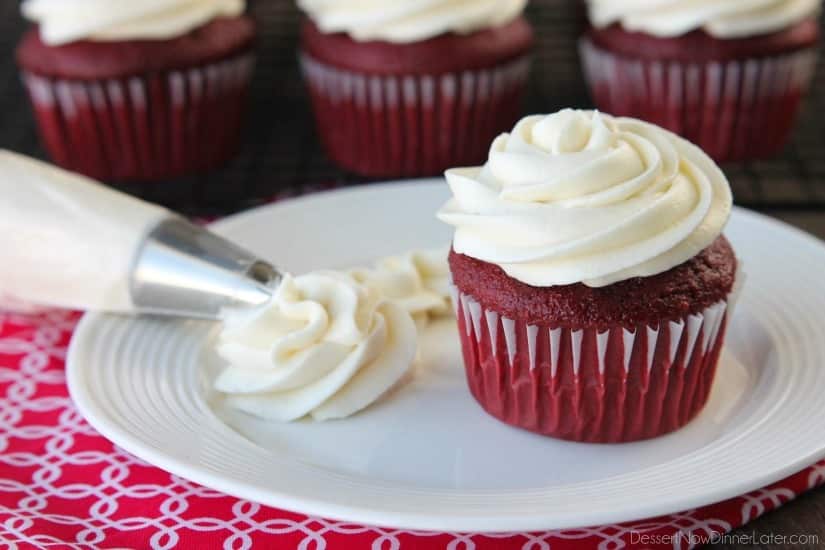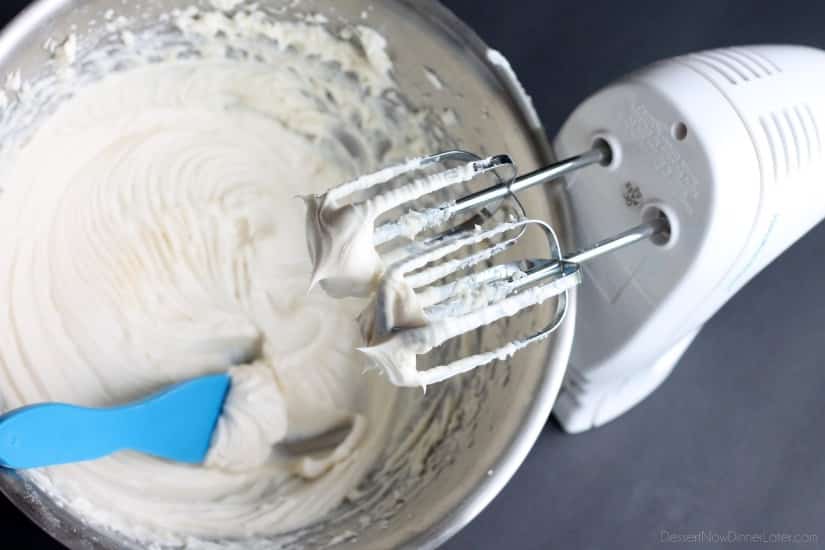 This is seriously my go-to cream cheese frosting recipe now. I will not use any other cream cheese frosting recipe in the future, so I am sharing this recipe, separately, in it's own post, so you can refer to this post as often as I make this frosting in my culinary creations! Have you tried it this way yet? Make this ASAP!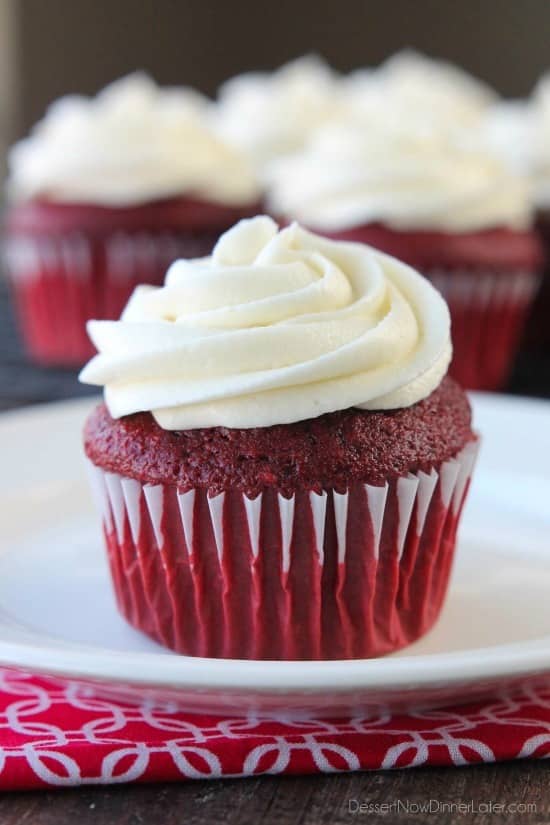 More Cream Cheese Frosting Recipes: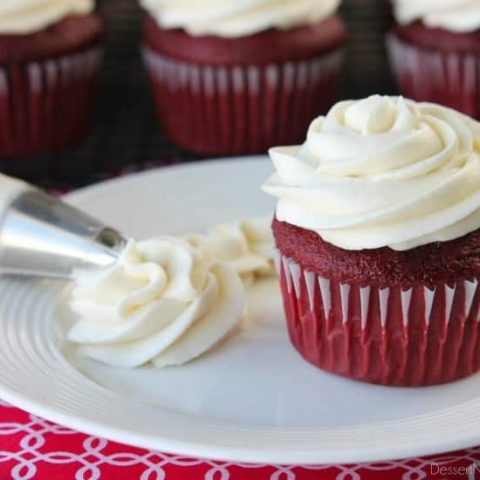 The BEST Cream Cheese Frosting
Prep Time: 5 minutes
Total Time: 5 minutes
Yield: 1 1/2 cups frosting, which will frost about 12-14 cupcakes.
Ingredients
8 ounces brick cream cheese, cold (I typically use Neufchatel cream cheese)
1/2 cup (1 stick) unsalted butter, room temperature
1 cup powdered sugar
1 tsp pure vanilla extract
Instructions
Place the cream cheese in a mixing bowl.
Using a hand mixer, beat until smooth.
Gradually add the butter 2 Tablespoons at a time, and continue beating until smooth and well blended.
Add powdered sugar and vanilla all at once. Blend until combined and smooth. (Don't beat too long or the frosting will be too soft to pipe. If this happens, place the frosting in the refrigerator or freezer until it firms back up.) Use for any recipe that calls for cream cheese frosting.
Notes
*You can store this frosting either at room temperature (which is 70 degrees Fahrenheit) or in the refrigerator. Do not go back and forth storing from one to the other, for food safety reasons. Use your own judgement.
YIELD: 1 1/2 cups frosting, which will frost about 12-14 cupcakes
Nutrition Information:
Yield: 12
Serving Size: 1
Amount Per Serving:
Calories: 107
Total Fat: 7g
Saturated Fat: 4g
Trans Fat: 0g
Unsaturated Fat: 2g
Cholesterol: 20mg
Sodium: 63mg
Carbohydrates: 10g
Fiber: 0g
Sugar: 10g
Protein: 1g
This data was provided and calculated by Nutritionix, and is an estimation only.
Extra pictures and video added 4/1/17.